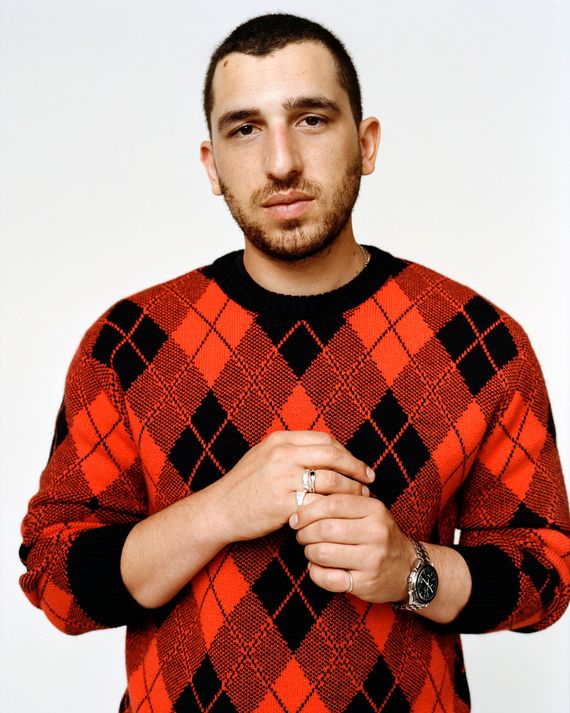 Nikolai Rose, the men's jewelry line created by Jacob Melinger, is more interesting — you could even say it's more romantic — than your average collection. One of the most striking pieces is a gold, signet-like ring engraved with "Fuck" on one side, a heart at the center, and "Love" on the other side. The inside of the ring is also engraved with "Flesh Blood" in a Gothic font. Sure, it's designed for men, but what sensitive punk could resist? Melinger says he has a strong base of non-male customers as well. We spoke with Melinger about Bob Dylan, Carhartt, and the best brisket in Texas.
Whats your most-used emoji?
Two dice — snake eyes.
If you could spend three months anywhere, where would it be and why?
Tokyo.
What superpower would you have?
Time travel.
What's the best album ever made?
Nashville Skyline by Bob Dylan.
Who do you think is cool?
My dog Pony.
What fictional character would you love to hang out with?
Fox Mulder.
If you could speak to animals, which animals would you want to talk to?
Wolves.
Jeans or sweats?
Carhartts.
What's something your social-media followers don't know about you?
I love ghost stories.
What was the last website you looked at?
Weather.com
If you could be outfitted by one designer for the rest of your life, who would it be?
Dries Van Noten.
What do you eat for breakfast?
Black coffee.
If you could only eat three things for the rest of your life, what would they be?
The burger at Fanelli's in NYC, the brisket at Smitty's in Lockhart, Texas, and tacos at home
If you were a color, what would it be?
Navy blue.
Jacob Melinger wears a sweater by AMI.