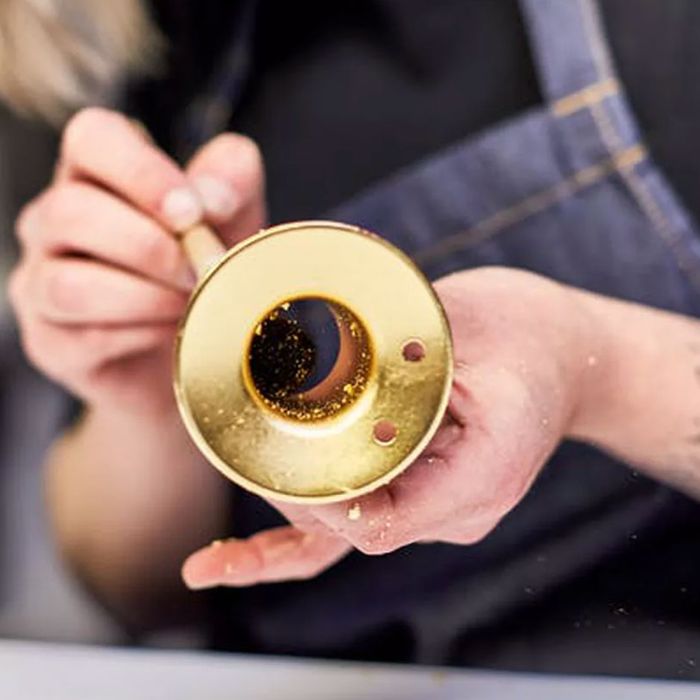 For anyone who has ever agonized, "Gee, all my hair tools are really basic and I have an extra $500, whatever shall I do?" Dyson is here for you. They are debuting a brand new Supersonic Hair Dryer that is hand-gilded in 23.75-karat gold leaf.
Dyson is a brand that is already pretty well known for being extra. They have effectively turned sucking dirt off the ground into a status symbol. The original Supersonic Hair Dryer gained popularity as the preferred drying tool used by celebrity hairstylist (and brand spokesmodel) Jen Atkin, whose clients like the Kardashians and the Hadids have decidedly luxurious hair and a decidedly wide social-media fan base. It's sleeker, lighter, quieter, faster, and produces sleeker, smoother hair than a typical hair dryer (or chicken skin crisper). Plus, it looks like it was stolen off the set of Zenon: Girl of the 21st Century, which is reason enough to buy one.
But some wise soul at Dyson knew that it could be more: MORE exclusive, MORE glam, and MORE covered in almost-24-karat gold leaf. Each dryer's face is covered in five individual sheets of gold leaf and hand brushed to fit together seamlessly. The original boring non-gilded version is still $400, so honestly, if you're already going to splurge, you might as well go for the gold.
If you buy something through our links, New York may earn an affiliate commission.