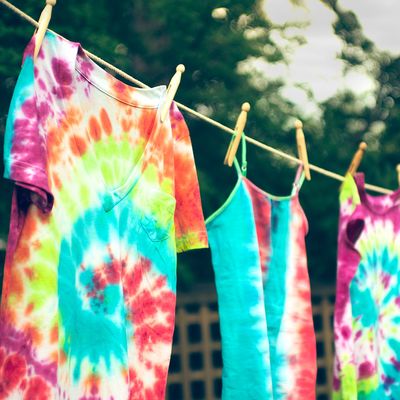 Photo: Melissa Ross/Getty Images
Fashion happens faster than ever these days. Each week, we attempt to make sense of it in a column called, "What Is Fashion?"
Jonah Hill made me do it.
This is the unexpected story of my summer. It all started in July when I was reporting on the second annual Jonah Hill Day in Williamsburg. Hill has become something of a menswear icon for his rotation of tie-dye Grateful Dead T-shirts, and in his honor, the event's co-founders erected a life-size cardboard cutout of him wearing one. The plan was to get drunk and take photos with Hill's likeness. But then the actual Jonah Hill showed up. And of course, he was wearing tie-dye.
I'll admit that Hill and his style rubbed off on me a little bit that afternoon. He said that he'd made an effort to get over his "social anxiety" this year and just be himself, and I mean, look at him! He's glowing! If tie-dye was the secret to that sort of blind, uninhibited confidence, then I needed a lot more of it in my closet. So I dug out old tie-dye camp T-shirts and spent the next few weeks searching for a secondhand Proenza Schouler tie-dye shirts on TheRealReal. I even bought a pair of tie-dye ankle socks.
Jonah Hill knows he is partly to thank for this summer's resurrection of tie-dye. He told me so, and even asked for credit, which I am duly giving him. But he is certainly not the only fan of tie-dye. After a Dead & Company revival tour this summer and the emergence of indie brands like Online Ceramics, the trend peaked in late June, when Virgil Abloh made his Louis Vuitton debut on a rainbow-colored runway. When I asked Abloh about tie-dye at a Nike event a few weeks ago (where he wore a tie-dye T-shirt from his "Queen" collection), he waxed poetic about how the trend was a "visual metaphor."
"Tie-dye is key," Abloh declared in typically cryptic Abloh-speak. "It's color theory. It's exciting to look at. It's a new flag that's not so defined. It's literally a chemical process that's exciting and natural. So it's not digital, in a way."
That weekend, I gave in and bought a tie-dye "Party Kit" on Amazon to finally DIY the damn trend myself. I'd seen a number of people on Instagram posting about doing tie-dye this summer ("not digital" my ass), and it looked like a fun arts and crafts project, at the very least. I think what Abloh was trying to say is that tie-dying can bring people together, and also force them to put down their phones. A challenge, sir!
I think I read the "Party Kit" instructions ten times before we started, and I still didn't understand them. There was apparently a "wet" method and a "dry" method, and I couldn't tell which was one better. I was one step away from YouTube-ing "How to tie-dye," but my friends advised that I "just try it" and "see what happens," instead. Generally, this is not how I roll — especially not when the fate of my precious T-shirts is at stake. But I guess this is how you roll when you're someone who wears tie-dye. It's chill, man. Just go with the flow.
I just could not get the swirl right, though. And the harder I tried, the more frustrated I got. Pretty soon, I started sweating, and actually had to excuse myself to twist my T-shirts in private so that I could focus. When I finally got them properly rubber-banded, the dye refused to squirt in a straight line. It's all ruined, I thought. My friends tried to comfort me by saying it was impossible to know how each shirt was going to turn out, but that was precisely why I was freaking out. Tie-dying was a stressful scam not meant for type-A personalities, and I blamed Jonah Hill for everything.
Maybe I wasn't just upset about tie-dye, though. Maybe I was just a little upset over the long, shapeless days of summer coming to an end. I wanted something to show for it, and it had to be perfect. If it wasn't, then summer was a hot garbage waste of time and I was surely setting myself up to fail this fall.
These were the anxious thoughts that ran through my mind as I begrudgingly unraveled my T-shirts at the end of the day. Lucky for me, though, tie-dying is maybe the only thing in life that you cannot screw up. In fact, the more you screw it up, the better. Everything turned out insane, but the good kind of insane, where you notice something new and slightly off every time you take a closer look. They had personality and movement, and embodied a spontaneity that I could never dream of achieving in real life. They were chill! We actually did it.
I look forward to wearing all my bad decisions this fall.