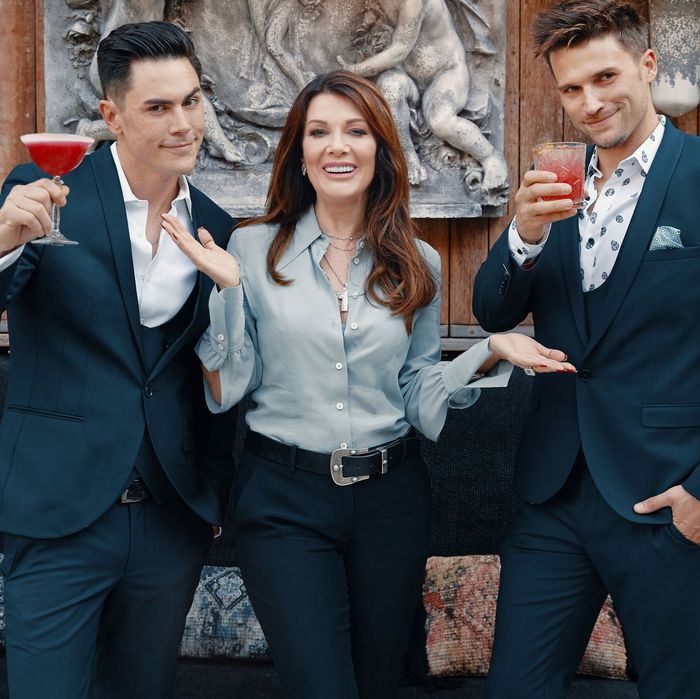 Tom and Lisa and Tom. Photo: Michael Harvey / Palm + Ocean
"A bar always needs a face, and we were thinking of calling it Tom Tom." With these words, spoken during the reception following Tom Schwartz's marriage to Katie Maloney, Lisa Vanderpump ushered in an exciting new adventure for the Toms of Vanderpump Rules, and for us. "What?! No. I can't." With his response, spoken — to the horror of Tom Sandoval — quite resolutely, Tom Schwartz set the tone for an alarmingly disastrous journey to fruition.
With the Thursday, August 9, 2018, opening of Tom Tom, West Hollywood's newest Vanderpump property, it seems we've finally reached our destination. But how did we get here? Let's take a look back on the stops and starts, the drunken meetings and even drunkener meetings, and the time Tom Sandoval said "sweat equity."
Season 5, Episode 21: Lisa Vanderpump Propositions the Toms
"That's too much pressure on me." Tom Schwartz, drunken Peter Pan who has never been portrayed on camera as having a job other than the half-day he worked at Pump before having a meltdown and the photo shoot with Jax during which Jax held a saxophone, immediately turned Lisa down after being offered some sort of job (?) at an upcoming Vanderpump bar named after him. Lucky for us, he was convinced to give whatever his job is going to be at Tom Tom (still unclear) a shot.
Season 6, Episode 1: Tom Sandoval Accidentally Complains About Lisa's Handling of Tom Tom in Front of Lisa
Oh my god, remember this? "I'm venting to my girlfriend with the assumption that we are alone!" Oh, Tom. In the very first episode of season six, Tom Sandoval, worried Lisa wouldn't accept his input on Tom Tom, a bar in which he will eventually own a 5 percent stake, bitched about her to Ariana over drinks at SUR only to find that — gasp! — Lisa and her husband Ken were seated behind them. Who would've thought Lisa and Ken would have also been at SUR? "I'm giving you an opportunity and straight away I hear your negativity and it makes me think — what the fuck am I doing here?" A potent question, Lisa.
Season 6, Episode 3: Sweat Equity
"Our real value is in the work we're going to be doing — like a sweat equity, in a way." Ah, yes, the incredible moment in Tom Tom history when it was revealed that Tom Sandoval looked up what sweat equity meant and internalized the definition halfway in an effort to not give Lisa the amount of money necessary for a 10 percent stake in the bar. "I'm not giving you 10 percent each for 60 grand each," she countered. "80!" Schwartz said, embarrassing himself in a delightful way, as is his nature. The group settled on the boys owning a 5 percent stake each for $50,000 each, though where either of them got $50,000 remains a mystery.
Season 6, Episode 10: The Toms Write Checks
Tom Tom's permits were approved, and, to celebrate, Tom and Tom wrote Lisa checks for half of the amount they owe. Congratulations to the gang on these alleged checks and the $25,000-holding bank accounts to which they are allegedly connected.
Season 6, Episode 13: The Toms Go to Vegas on Business and Show Up Drunk to an Important Fixture Meeting
"I'm still sweating out Fireball, my hair smells like cigarettes, but if we don't keep going — at least on some level — we're gonna crash," reasoned Schwartz, as he took Fireball shots to pre-game for a meeting with Lisa while still drunk from the night before. The gang decided to turn a trip to Vegas, ostensibly to look at fixtures and cups, or whatever, with Lisa, into a business and birthday trip for Sandoval. Why not? The results, as you might guess, were perfect. The duo showed up late to meet Lisa before a meeting at fixture designer Nick Alain's design studio. In the studio, the drunken duo lolled about, touching things they shouldn't touch, and sharing thoughts about design they shouldn't share. Lisa mused aloud that she "may need to redesign their role." It may be for the best. What Schwartz's role was in the first place, however, remains unclear.
Season 6, Episode 14: Tom Sandoval Oversteps
"How far is that bar gonna come out from the back here? I wanna make sure the ice wells are definitely in the middle." On a tour of what would be Tom Tom, Tom Sandoval walked around assessing the space with Ken and Lisa as if he knew anything about how to build a bar. "He's built more bars than you've had hot dinners," Lisa said, of her husband. Maybe so, Lisa, but has Ken ever shaved his forehead? It's something to think about. Ultimately, Lisa told Tom Sandoval that he should focus on the drink menu rather than design and construction, and he accepted his role. What should Tom Schwartz have been focusing on at this or any point? Still unclear.
Season 6, Episode 15: Tom Sandoval Makes a Cocktail and Brings It to the Construction Site
"They wanna make a cocktail here for me to try. I'm like, why now? But they brought it with them, so how can I say no." The boys redeemed themselves by Tom Sandoval creating a cocktail — "cilantro, cucumber, mezcal, fresh-squeezed orange juice, and scorpion chili-infused honey" — to which Tom Schwartz added a dash of chili powder. "It could have more of a spice in it, but I love it. Okay, good job." It seems things are looking up for the Toms.
Season 6, Episode 18: Sandoval Convinces Lisa to Let Him Throw a "Progress Party"
Though Tom Tom was still very much a construction site at this point, Tom Sandoval convinced Lisa to let him throw a "progress party" for his friends. Okay.
Season 6, Episode 19: More Talk of the "Progress Party"
"We still have a lot of shit to do before our progress party at Tom Tom," Tom Schwartz lamented, walking around the construction site where he planned to have a party. They had to get a tablecloth, Sandoval noted, and also ice. I don't know how the boys managed to make the progress party happen, hearing about the to-do list they had to tackle, but as a spoiler I will tell you they did.
Apr 24, 2018, on Watch What Happens Live: Tom Sandoval Answers a Viewer Question About Tom Tom
Appearing on Bravo's Watch What Happens Live a week before the Vanderpump Rules season six "progress party" finale, Tom Sandoval received a question from a viewer about when Tom Tom would finally open. "Okay, Tom Tom is opening end of May, early June, we don't have a date set yet," Sandoval said incorrectly. But it was nice to hear an update.
Season 6, Episode 21: The "Progress Party" and the Final Signing of Checks
Oh fucking thank God, finally, the "progress party." The whole gang heads to what will be Tom Tom to don construction hats and drink cocktails with sawdust at their feet while imagining what Tom Tom will be one day in the faraway future. While at the party, the Toms sign their second $25,000 supposed checks over to Lisa. "Can I just say that when I moved here I had $3,800 to my name, so this is like … yeah." Indeed, Schwartz, it is. Then Lisa gave a nice speech.
Season 6, Episode 21 "After-Show": Lisa Attempts to Explain What Tom Schwartz Will Do at Tom Tom
Finally. Offscreen, during Vanderpump Rules's YouTube after-show, a Bravo producer asked Lisa the question on everyone's mind: what exactly she expects Tom Schwartz will do at Tom Tom. "Well," she replied, as Schwartz looked on nervously. "Show up?" Yes, yes. Eventually she explained that he will be a, uh, greeter.
Season 6 Reunion, Part 1: Lisa Vanderpump Reveals She Has Not Cashed the Toms' Checks
In the first part of the three-part Vanderpump Rules reunion special, Lisa Vanderpump revealed that she had not, at that point, cashed the Toms $50,000 checks. Incredibly kind of Lisa Vanderpump, in my opinion. The Toms were aghast, however. Apparently they had not noticed the "$50,000" had "remained" in their "checking accounts." She promised she would cash them soon.
July 11, 2018: Tom Tom Holds DailyMail.com and DailyMailTV's Summer Party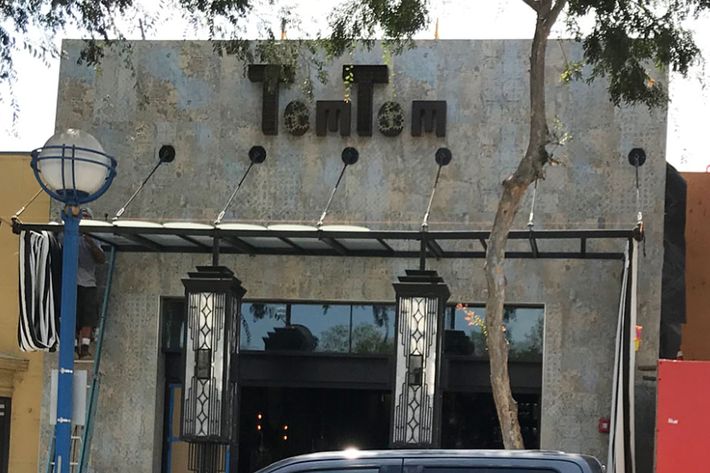 Finally, the bar opened its doors for DailyMail.com and DailyMailTV's summer party, whatever that is, and also for Jax Taylor's birthday. The gang celebrated and Tom Sandoval gave an interview where he described the food as "elevated bar food" and "share plates." But a public opening date remained elusive, no matter how often one reporter bothered various PR representatives. Until —
Tuesday, August 7, 2018: Tom Sandoval Announces Tom Tom's Opening Date on Instagram
This Thursday.