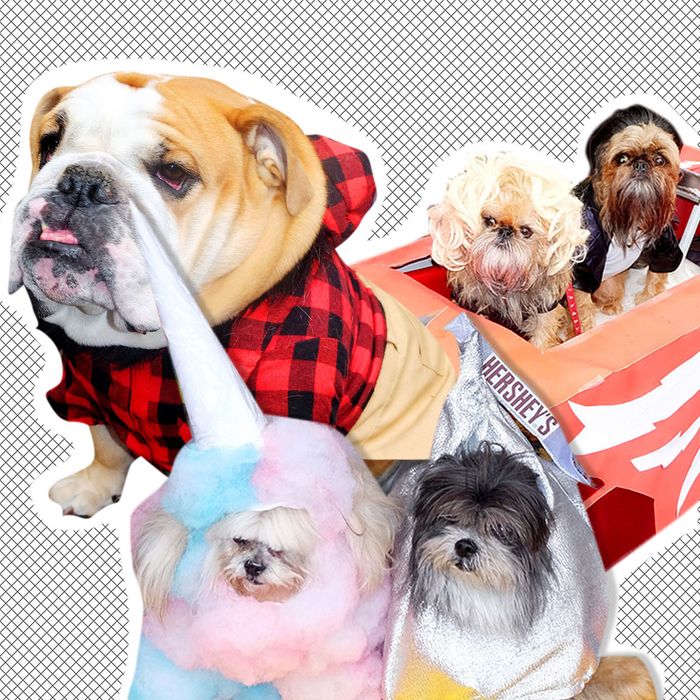 Attendees from 2016's parade.
Photo: Kristiina Wilson
Every year, thousands of people descend upon New York City's East Village with the sole purpose of admiring dogs in costume: dogs dressed as candy, dogs dressed as lumberjacks, dogs dressed as what I believe to be Sandy and Danny from Grease riding around in a small cardboard car. Yes, the Tompkins Square Halloween Dog Parade is an annual event beloved by most — except for the most virulently anti-dog costume humans and, probably, the dogs themselves.
Here's where I show you a picture of my dog Fritz dressed as an aviator for the 2016 parade, before I decided it was probably undignified to keep subjecting him to this.
But that's neither here nor there because, on Wednesday night, the parade's organizers shared some shocking news: this year's event, previously scheduled for October 20, would not be happening.
"It's with a very heavy heart that I have to announce that the annual Tompkins Square Halloween Dog Parade will be CANCELLED this year," they wrote in a Facebook post. "Although the parade has grown over the past 28 years, it has always been the creation of a small group of volunteers from the dog park. The Parks Dept is asking for a large insurance & liability policy in order to hold the event this year — and we simply don't have the funds or sponsor willing to provide it." The news was not received well.
Garrett Rosso, the volunteer manager of the Tompkins Square Dog Run and the event's founder, elaborated on the situation in a phone call with the Cut. Last year, the New York City Department of Parks & Recreation required that the Dog Parade be insured for the first time because it had grown so popular. But this year, the insurance company was requiring them to purchase insurance for 20,000 potential attendees. An estimated 10,000 people showed up for last year's event.
"People are saying they're going to hold an unofficial parade in the park anyways, I saw that a GoFundMe account got started which is nothing to do with me," Rosso said of the public's reaction to the cancellation. "The phone has not stopped ringing. People who I haven't seen in 20 years are calling and saying 'how can I help?'" At the time of writing, a GoFundMe to help cover some of the costs has raised $761 of its $15,000 goal. Insurance costs aside, the money typically raised at the event every year goes back into maintaining the Tompkins Square Dog Run.
"Puppies donning the cutest costumes is something we and all New Yorkers have looked forward to each Halloween since the parade's inception," the Parks Department said in a statement. "This year is no different."