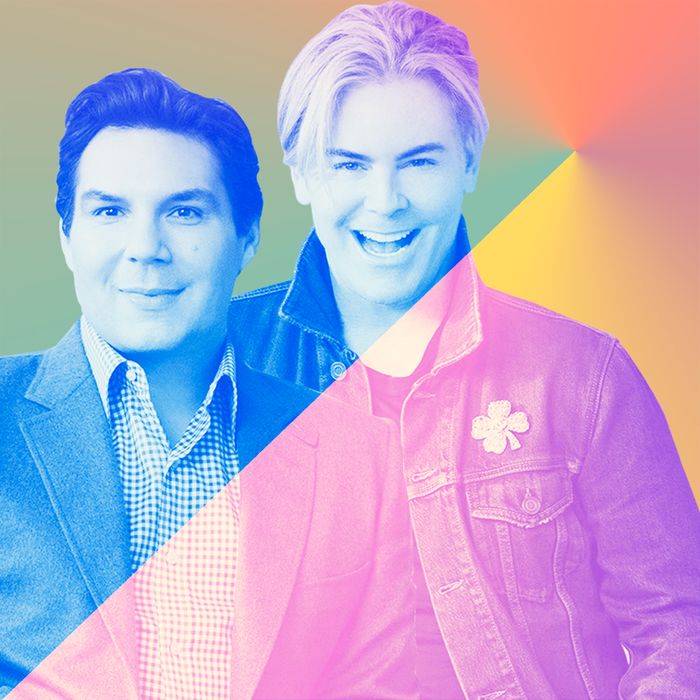 When Jerrod Blandino first met Jeremy Johnson at a San Francisco hair salon in 1995, he was impressed. "From the very beginning, I could see that Jeremy has the most amazing instincts," remembers Blandino. "I knew I'd want to ride on this kid's coattails."
Like Céline Dion and René Angélil, Too Faced co-founders Blandino and Johnson are the yin-yang power couple of beauty. Both originally from Southern California, Johnson was a business manager and Blandino, a rising star at the Estée Lauder counter in I. Magnin in Palos Verdes. Despite being the highest seller in his region, he bored easily. For excitement, he would roll up his sleeves and hand-mix recipes — say a Chanel glitter-infused blush with another brand of shadow. "Celebrity makeup artists would come in and buy 15 things. Then I'd take them home, melt them in the microwave, then give my new creations back the next day."
When the two decided to create a line, they found a lab in the white pages. "We told them we worked for Estée Lauder, which wasn't exactly a lie, so of course they brought us in," recalls Johnson. "We parked our Tercel down the street."
Blandino showed up at the appointment wearing a black shirt with silver thread. "I told them I wanted an eye shadow like the shirt. They said it can't be done — something about the binders. I grabbed a big jar of silver glitter and said, 'Do it!' They did, and it worked. We developed the first glitter eye shadow ever." Shimmer eye shadow existed before, but according to the brand, they were the first to develop and bring glitter shadow to market.
They named their line in honor of a certain type of customer ("The crazy ones, but they were so passionate!") and hawked the ten lipsticks, ten eye shadows, and eight nail polishes during lunch breaks. After a piece in Vogue came out, everyone from Julia Roberts to Drew Barrymore wanted in.
In late 2016, Lauder acquired Too Faced for $1.45 billion (that's a lot of Tercels). This month, the brand celebrates 20 years with reimagined versions of their original shades, and a Wilhemina model search whose winner, Samantha St. Louis, is the face of TF 20.
"The stronger you are and the more successful you become, the harder that safe landing becomes," says Jerrod, who counts Madonna and Erika Jayne as close friends. "As gay men, we're so attracted to strong women in a primal way. We just want to lift them higher and be there so they can land safely." They spoke with the Cut about diamonds, their mutual love of La Mer, and the color that best represents "lady balls."
Bath or shower?
JB: Bath with French Girl Sea Soak Bath Salts and L'Objet Rose Noire Bath Salts.
JJ: Shower with Le Labo soap Bergamote 22.
Most relied on hairstyling product and/or tool:
JB: I have really curly, kinky hair so I love the Rahua Omega 9 Hair Mask and I leave it in all day long. Also, the Yves Durif vented hair brush. I get it at Violet Grey.
JJ: Le Labo pomade.
Facial moisturizer of choice:
Both: Creme de La Mer.
Scent of choice:
JB: Dior Ambre Nuit.
JJ: Le Labo Poivre 23.
Lip balm of choice:
JB: My new peach lip balm coming soon!
JJ: I hate lip balm. Actually, hate is strong word. I could never find one that had a non-sticky texture, smelled good, and was hydrating. So we had to create it! Our new Peaches and Cream Lip Balm is it.
What beauty look do you wish you saw more of?
JB: Red lips and lots of lashes.
JJ: Defined brows.
What do you splurge on?
JB: Diamonds.
JJ: Cars.
Favorite travel destination:
JJ: Amalfi Coast.
JB: Lake Como.
Bed linens of choice:
Both: The sheets from Hotel Bel-Air.
What do you carry your stuff around in every day?
JB: Hermes Birkin 40cm in black, green, orange, or purple.
JJ: Tom Ford leather backpack.
What is your standard "uniform"?
JB: I always wear a black long-sleeved T-shirt under everything. Saint Laurent or Gucci jeans.
JJ: Jeans, T-shirt, and Tom Ford suede jacket.
What do you usually wear to a black-tie event?
JB: I'm a fashion whore so I have multiple tuxedos. My custom hot-pink Tom Ford tux is my most recent favorite.
JJ: Tom Ford black classic tuxedo with Cartier cuff links.
Work shoe of choice:
JB: Gucci, Louis Vuitton, or Lanvin slip-ons. I don't wear shoes with laces.
JJ: Too many favorites to name.
What fashion look do you not get?
JB: Yoga pants are for yoga.
Exercise regime:
JB: Yes. Pilates, weights, and cardio.
JJ: Peloton and Crossfit.
What tests your patience?
JB: People who don't have a point of view.
JJ: Incompetent people.
Last great book you read?
JB: Furious Love: Elizabeth Taylor, Richard Burton, and the Marriage of the Century.
JJ: The Evil at Heart.
Best-selling book that you just couldn't get into?
JB: The Secret.
What do you do or take when you can't sleep?
JB: Read The Secret.
Sadness cure:
JB: Cartier.
JJ: Our dog, Clover.
Favorite smell?
JB: Gingerbread.
JJ: The ocean.
What do you think Pantone's color of 2019 should be?
JB: Pink, always pink. Pink represents lady balls. Growing up in the '80s, femininity was power and women were taking over the world being feminine. And, everyone's complexion looks better when they're wearing pink!
What would you still like to invent?
JB: Jane Jetson's robot helmet that would do her hair and makeup.
Name a trait or talent you possess that few know about you:
JB: I am very flexible and have killer dance moves.
JJ: I'm a really good cook and a thriple [spelled like this on purpose] threat; choreographer, singer, dancer, and actor. J.Lo to the next power.
What celeb would be your friend if only you two met?
Both: Dolly Parton.
If you could hire anyone, who would it be?
JB: Oprah.
JJ: Gayle King.
Favorite meal and where:
JB: L'Atelier de Joel Robuchon in Paris. Food is art and art is food. The ambiance is like walking into a magical fairy-tale world.
Yes, this is cruel, but what is your favorite product in your domain?
JB: Better Than Sex mascara. It was the most difficult product to create in my career and the most successful.
JJ: Hangover Primer. I use it as my skin-care serum.
What do you foresee as the top beauty trends in 2018?
JB: Fresh, dewy skin, glossy lips, and super thick lashes.
JJ: Scented active ingredients and skin-care ingredients in makeup.