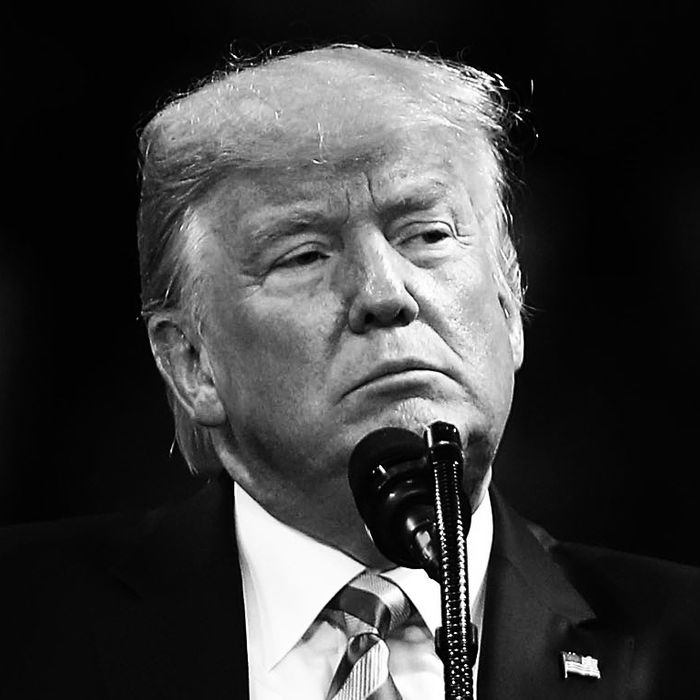 Donald Trump.
Photo: Spencer Platt/Getty Images
In an interview with Fox News Thursday, Trump was asked whether Democrats would try to impeach him if they regain control of the Senate. His response was … confident, to say the least.
"If I ever got impeached, I think the market would crash, I think everybody would be very poor," he said. "You would see numbers that you wouldn't believe." He added: "You know, I guess it says something like high crimes and all — I don't know how you can impeach somebody who has done a great job."
Trump went on to say that he would give himself an "A+" for his work so far, citing his appointment of "star" Supreme Court Justice Neil Gorsuch and his expectation that his next Court nominee, Brett Kavanaugh, will soon be confirmed.
In the past month alone, Trump has failed to reunite the immigrant families that were separated as a result of his "zero tolerance policy;" repeatedly called the media the "enemy of the people;" had to deny saying the N-word on a tape allegedly heard by one of his former staffers, whom he went on to publicly decry as "that dog," despite hiring her; and most recently, watched two separate members of his inner circle plead guilty to several criminal charges as a result of campaign-financing violations.
Nevertheless, Trump insisted in the Fox interview, "The only thing I'm doing badly in is the press doesn't cover me fairly."