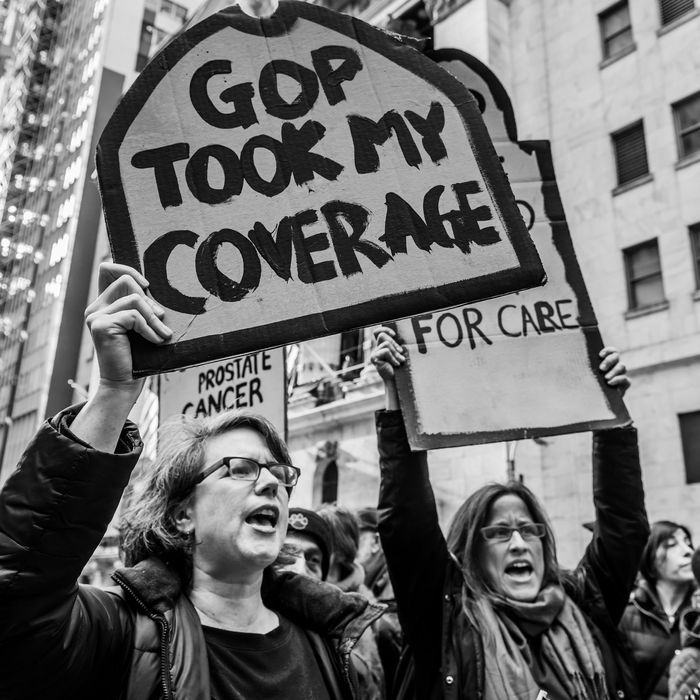 Photo: Erik McGregor/Pacific Press/LightRocket via Getty Images
This morning, the Trump administration rolled out new insurance rules allowing more Americans to use seemingly inexpensive, skimpy health plans. These plans — among their litany of shortcomings — sidestep the ACA's requirements to cover maternity care.
By extending the legal limit of these short-term plans from three months to 12 months, the administration is encouraging Americans to buy insurance policies that health policy lobbyists have described as a "sham" and "junk insurance." More important, hospitals and patient advocacy groups have been swift to warn Americans of the plans' limitations: For example, unlike plans bound by the ACA, short-term plans can charge higher prices for customers with certain medical conditions, deny them coverage, and avoid covering certain preexisting conditions completely. While the plans present lower premiums for patients, they will require higher out-of-pocket costs, in addition to the limitations on coverage. When the Kaiser Family Foundation looked into short-term plans from two private insurance companies this past April, it found none covered maternity care, slightly over one quarter provided prescription drug coverage, and roughly half allowed for mental health benefits.
Since more widespread use of these short-term plans would drive patients away from Affordable Care Act marketplaces, prices would go up for those still covered by the ACA. Despite the "wall of opposition" by health-care professionals in response to the new rules, as described by the Washington Post, experts from conservative groups, like the Heritage Society and Cato Institute, commended the change.
"These plans aren't for everyone," Health and Human Services Secretary Alex Azar said in a press release. But considering these plans' incomprehensive coverage, it might be more accurate to say they're for no one.