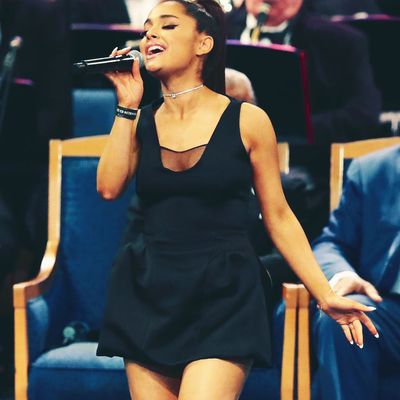 Photo: Scott Olson/Getty Images
Ariana Grande performed "Natural Woman" at Aretha Franklin's funeral. Her rendition has been lauded as "fiery" and "emotional," but other aspects of her performance were far more divisive — namely, the dress she chose to wear. Search for "Ariana Grande" and "Aretha Franklin's funeral" and you'll see thousands of tweets wondering the same thing: Was that dress okay?
The singer opted for a black minidress and stilettos for the funeral. The color was right, but many of those watching at home and tweeting about it are saying that it's too short for church.
Some pointed out that she was singing in front of a panel of men, including Bill Clinton and Al Sharpton, who were seated behind her.
Which prompted this headline.
Some supported Grande — it's hard to sing "Natural Woman" on any given day! The best defense was one that compared her to Adriana La Cerva in the Sopranos.
But really, this is Aretha's day. So everyone calm down.