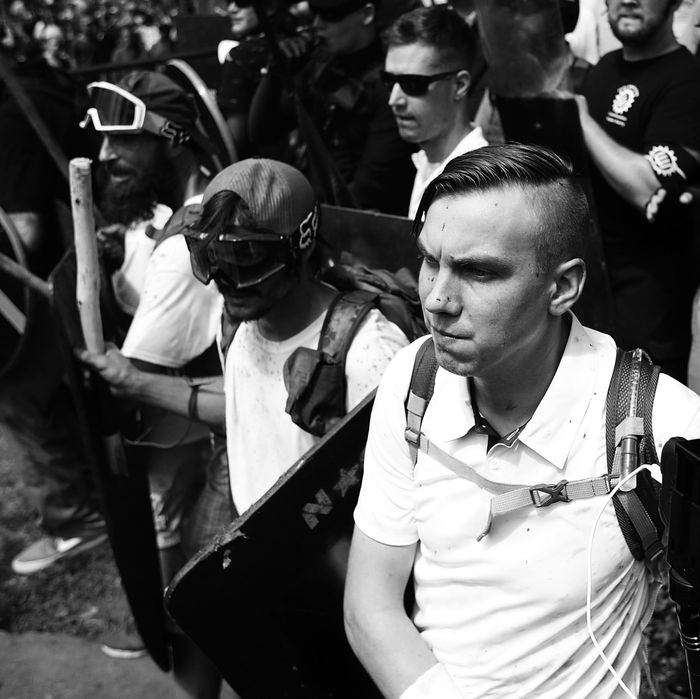 Photo: Chip Somodevilla/Getty Images
Exactly one year after Unite the Right, the violent white-supremacist rally in Charlottesville, many of the same white-nationalist, paramilitary, and other right-wing groups are planning once again to come together for a (second-anniversary) rally — this time, in Washington, D.C. Its purpose, ostensibly, is to "protest civil rights abuses in Charlottesville," where white supremacists brutally beat a 20-year-old black man and murdered Heather Heyer. (It is unclear what civil rights abuses the organizers think they suffered.)
This year, the event's organizers are expecting there to be hundreds of people in attendance — but that's not taking into consideration the number of people who will show up to counterprotest the rally. Below, everything to know about the upcoming demonstration.
Where and when is it?
The second Unite the Right rally will start in Lafayette Park in Washington, D.C., from August 11 to 12, the anniversary of the original in Charlottesville, Virginia; according to the rally's website, the main demonstration is planned to start at 5:30 p.m. in Lafayette Square on the 12th. Jason Kessler, the main face of the rally, initially wanted to hold the second demonstration in Charlottesville, but the city denied his request, which led him to the nation's capital.
Kessler received initial approval for the D.C. event from the National Park Service in late June, but his permit was not officially approved until Thursday before the rally, the New York Post reports.
According to the Richmond Times-Dispatch, the National Park Service released documents on Monday showing that Kessler's confirmed speakers include neo-Nazi Patrick Little, former Ku Klux Klan Grand Wizard David Duke, Suidlanders spokesman Simon Roche, Patriot Prayer follower Kevin Cormier, Revolutionary Conservative editor Avialae Horton, attorney Corey Mahler, and "pro-white" town manager Tom Kawczynski.
Why is this allowed to happen?
Because last year's rally was so violent, it wasn't as easy for Kessler to get approval the second time around. Still, the National Park Service told ABC 12 that it must approve "First Amendment events."
"We are confident in the ability of our law enforcement officers to be prepared," spokesman Mike Litterst said.
Even though the event has nearly official approval, people in D.C. are already protesting in their own ways. Last week, for instance, a Washington Post report revealed a potential plan by the city's metro system, in which "Unite the Right" attendees would be provided with separate trains to the rally — a plan that was leaked by the D.C. Amalgamated Transit Union, which refused to provide transportation for the right-wing groups.
"More than 80% of [the transit union]'s membership is people of color, the very people that the Ku Klux Klan and other white nationalist groups have killed, harassed and violated," the union told ThinkProgress. (According to the Washington Post, this plan is now off the table.)
Local universities are also ramping up security in preparation for the large crowds that are expected to descend upon D.C. over the weekend, according to WTOP. George Washington University, for example, will close down its health center and library on Sunday, and the University of Virginia will have increased police presence on campus throughout the weekend.
Even AirBnb has appeared to denounce the rally, issuing the following statement on Thursday: "When we identify and determine that there are those who would be pursuing behavior on the Airbnb platform that would be antithetical to the Airbnb Community Commitment, we seek to take appropriate action, which may include removing them from the platform."
How many people are expected to attend?
According to Kessler's permit application, organizers are expecting approximately 400 people to join the demonstration. There will certainly be more than 400 people in Lafayette Park, though, as that number likely does not account for counterprotesters and law enforcement.
When denying Kessler the permit to hold the event in Charlottesville, the city wrote that his application "likely underestimates the number of participants," and that "no reasonable allocation of city funds or resources can guarantee that event participants will be free of any 'threat of violence.'"
But Joan Donovan, a researcher who has studied media manipulation and white supremacy for Data & Society, isn't so sure that the white supremacists' presence will be so large. She tells the Cut that she hasn't personally observed the online mobilization that's necessary for mass demonstrations, as much of the energy she's seeing for these sorts of events is coming from the West Coast.
"I don't see a lot of people asking for money to travel or coordinate caravans and cars to go to the rally, and I don't see a lot of coordination in terms of circulating memes and promoting the event," she told the Cut. "That's what I look for when I'm trying to understand if an event is going to be large, because large events have to be organized online."
She does, however, expect there to be a "very large" police presence, due to "the amount of attention that has been put on the event," which could dissuade people who have criminal records from coming. Come this weekend, she told the Cut that she'll be watching for other smaller, related mobilizations in cities around the country.
Are there any planned counterprotests?
Twenty-two organizers from groups including Black Lives Matter Charlottesville, Black Lives Matter D.C., Maryland Antifa, the D.C. Antifascist Collective, and the Frederick Socialists are planning a mass counterprotest, according to DCist. This specific demonstration is called Shut It Down D.C., which will go on for the entire weekend.
"This is for Heather Heyer, ICE abolition, open borders, dismantling the prison industrial complex, and ending the settler colonial system. We will confront fascism, antisemitism, Islamophobia, white supremacy, and state violence on August 10-12," reads the counterprotest's website.
The Daily Beast reports that 18 anti-racist, anti-fascist, and feminist groups are also part of the "DC United Against Hate" coalition, which will be counter-protesting throughout the weekend. According to the Forward, organizers are expecting more than 1,000 people to partake in these demonstrations. Per the Hill, the National Park Service issued a permit for this demonstration on Wednesday — before the Unite the Right rally received approval.
According to WTOP, a number of specific groups have applied to host counter-protests of their own: the Democratic Socialists of Metro D.C., which anticipates 1,000 people will participate in their own protest in Freedom Plaza; the ANSWER Coalition, which anticipates 1,500 people in total will protest at various locations around D.C.; and Interfaith Assembly, which anticipates 100 people will protest in Judiciary Square.
What has the response been like so far?
While few organizations have put out official statements, activists have already started to speak up about their intention to stand up to the explicit displays of racism and fascism on the right this weekend.
"We are stronger than they are," Makia Green of Black Lives Matter D.C. told Fox 5. "So it's important that we let D.C. and the rest of the world know that we are not going to stand for the hate."
On Friday, Maryland Governor Larry Hogan condemned the rally, calling it an "invasion of vile and perverted ideology."
"Hate has no place in our society, and these white supremacists and the racism and bigotry they spew are not welcome in our state — today, this weekend, or ever," his statement reads. "As we face this invasion of vile and perverted ideology infesting our region, we stand united in our conviction that a diverse and inclusive Maryland is a stronger Maryland."
Politicians and activists in Charlottesville have also denounced the rally, even though the city is not hosting the main event. However, there a number of smaller demonstrations planned in the city, which compelled Virginia Governor Ralph Northam and the city of Charlottesville to declare a state of emergency ahead of this weekend.
"Virginia continues to mourn the three Virginians who lost their lives in the course of the demonstrations a year ago," Northam said. "We hope the anniversary of those events passes peacefully."