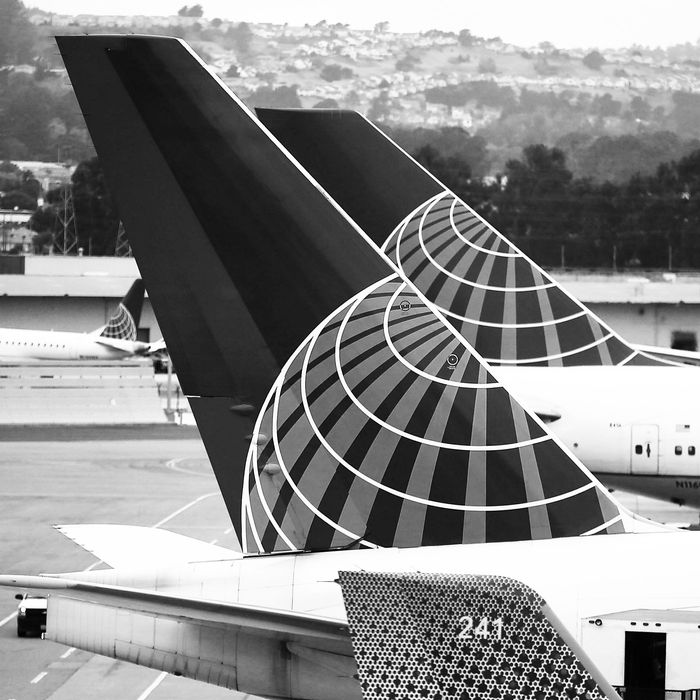 United Airlines.
Photo: Justin Sullivan/Getty Images
For several years, a United Airlines pilot posted nude images online of a flight attendant he formerly dated. Not only did United allegedly know about the harassing behavior — but the airline also did nothing to stop it, a new lawsuit claims.
Filed on Thursday by the Equal Employment Opportunity Commission, the United pilot — Mark Uhlenbrock — "freqently" shared sexually explicit photos of a flight attendant across several websites — and included identifying details about her (including her name and home airport). McClatchy reports that the pilot would often include comments with his postings, writing "look at her when you fly!" and that she was "a new reason to 'Fly the Friendly Skies.'"
The woman and the pilot were reportedly in a relationship from 2002 to 2006. She allegedly allowed him to take intimate videos and photographs. But in 2006, she was told by a male gate agent at an airport that he saw nude images of her on a website for "swingers." The gate agent also told her that he had been under the impression he had been chatting with her online, during which he was sent more nude photographs of the flight attendant, the lawsuit claims.
Per McClatchy:
That's when the flight attendant realized her boyfriend had been secretly sharing the images she had intended to be private, and in some cases was pretending to be her, the lawsuit said. Around that time, the woman broke up with Uhlenbrock. But for the next decade, Uhlenbrock "continued to regularly post sexually explicit photos, videos, and stories" about her online, the lawsuit said.
The lawsuit claims the flight attendant regularly reported the harassment to the airline and provided evidence, but United "failed to prevent and correct the pilot's behavior." Uhlenbrock was arrested by the FBI in 2015 for stalking (over his posting of the nude images). He pleaded guilty in June 2016 and was sentenced to 41 months in prison. But in January 2016, he was given long-term disability from United and was permitted to remain on the company's payroll until July 2016.
United told McClatchy in a statement:
"We have reviewed the allegations in the complaint and disagree with Equal Employment Opportunity Commission's description of the situation. United does not tolerate sexual harassment in the workplace and will vigorously defend against this case."