Every downtown woman wants to look as cool as Vanessa Carlton walking into Lower East Side restaurant El Rey. The singer — her 2002 hit "A Thousand Miles" still probably plays in your head every few months — is wearing bell-bottom jeans, with her long dark hair swept over her shoulders, and talking about how much she misses this neighborhood: the garbage juice on the streets, the recently closed tofu distributor outside of the apartment she owns. Someone is currently renting the apartment, but she stays at hotels in the neighborhood when she visits the city so she has access to her favorite places.
The afternoon is drenched in nostalgia. Some of it is mine: I'm sharing banana bread with a woman whose music makes up some of my earliest sonic memories. Some of it is hers: We're looking out the window at a familiar bar. "Arlene's Grocery is one of the first places I played in the city," she remembers. "Nineteen-ninety eight. I was 18. Some things never change in this town."
In the decade and a half since Carlton rode a flying piano across the country in her "A Thousand Miles" video, she's moved to Nashville, gotten married (to Deer Tick singer John McCauley; Stevie Nicks officiated), and had a daughter, 3-year-old Sidney. She's also released five albums, most recently 2015's Liberman, which Pitchfork said could "share headspaces with Perfume Genius or Angel Olsen." Like Aimee Mann or Mandy Moore, Carlton seems happily freed from the tyranny of making pop music. Her sixth record is coming out early next year. And she's developed a reputation as someone who's willing to speak out about abuses of power — both in the music industry and ballet.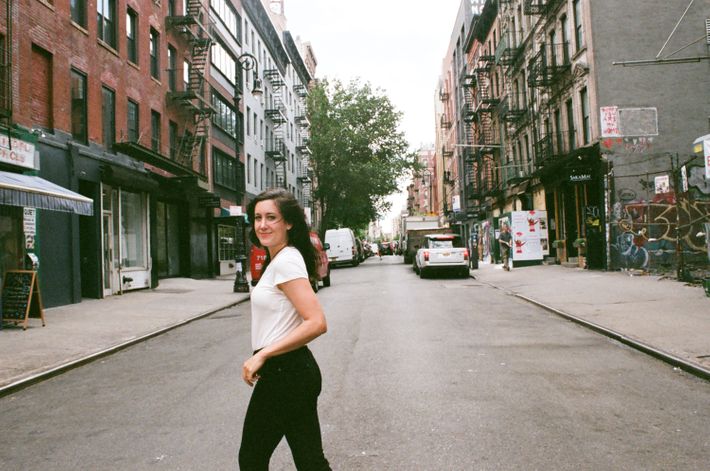 Before she was a musician, Carlton was a student at the New York City Ballet's School of American Ballet. "Ballet is an amazing art form. You're so used to pain and injuries that you put up with so much beyond what you have to in terms of the work environment," she says. She's alluding to Peter Martins, who ran the New York City Ballet for almost 30 years before resigning in January after allegations of sexual harassment and abuse. At the time, Carlton sent an email to Robert I. Lipp, a vice chairman of City Ballet, saying "Every single ex-dancer that I know, including myself, will be devastated if Peter is allowed to waltz back into his office."
Later, she spoke to the New York Times — along with Ashley Judd and Gwyneth Paltrow — for a story about what happened to women after saying #MeToo. "I was absolutely shocked by some of the stories I heard from ballerinas I thought were untouchable," she told the Times. "That floored me. These were queens."
Carlton believes the music world isn't that different from the ballet world in terms of the way people are conditioned to stay quiet. "The music industry … it's such a fishbowl that a lot of times people don't speak out because they risk this whole house of cards falling for them and their own career. Especially for major label artists." She mentions Kesha, who has publicly accused producer Dr. Luke of emotional abuse and rape, as a rare exception. "But there are a lot more Keshas. The music industry will catch up at some point. I think the tide is turning."
Earlier this year, Carlton launched a campaign against Neil Portnow, the president of the Recording Academy, after he suggested that women were underrepresented as Grammy Awards winners because they didn't "step up." "It was just bizarre," she told Vulture. "I have no idea why he would infer that women are needing to get off the bench in any way shape or form. Women are in the game. A statement like that is just clearly being behind the times." Portnow has since announced his resignation.
In the same story, Carlton came forward about an NDA she signed five years ago for someone who performed at the Grammys. "It makes my blood boil," she said. "I do know a lot of women in the industry who've had very similar situations to me."
"You know, my daughter is still really young, but I really want to lead by example," she tells me when I ask her about the importance of using her voice. "If she looks back on this time, she'll be proud of who her mom is. There's a time and a place to speak out on something and make a decision and not be 'middle ground girl.' Some people will do anything to avoid conflict."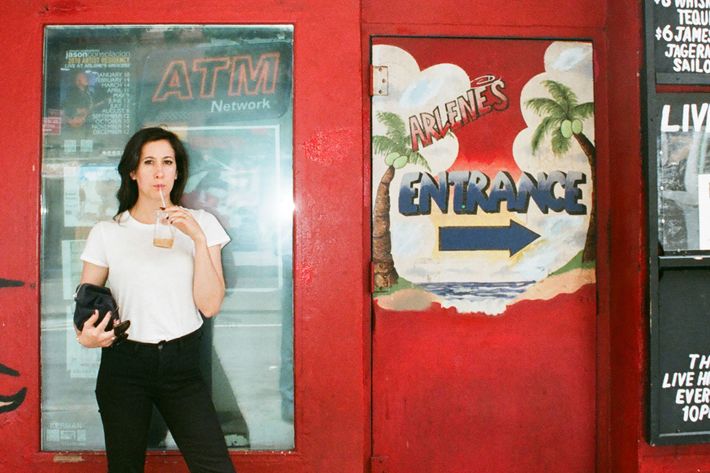 Carlton doesn't do small talk, preferring to bounce between assertive statements about the music industry, moments of poignant silent, and breaking off more pieces of banana bread. "I took LSD recently and I had this really profound shift afterwards which doesn't always happen. I've never felt so present in my body." She goes on to tell me about her new album, partially inspired by Michael Pollan's new book How to Change Your Mind. The concept came about a few years ago, based on a collaboration with indie music producer Dave Fridmann.
"I feel like my ego has been quieted too," she says of life post-LSD, "Which allows me to express more authentically because it's not being shrouded with How is someone going to think of this? I feel so liberated. You know, when you start writing for an audience it's the end. No one wants that."
Her early aughts career, she says, was a different time. "And I was a different artist. We all have permission to change and grow and evolve, it doesn't mean you have to disown your past, because everything is a building block for who you are. I was definitely sold as 'piano girl'. We were all sold as these one-dimensional characters." Ashanti (hip-hop's princess), Avril Lavigne (the skater chick), and Jennifer Lopez (the flyest of them all, Jenny from the block) joined her in the charts during her peak Billboard year. "It was the end of the heyday of major labels; they were still making some money. I was probably one of the last people before streaming took off, and then it was the end."
This year, she's been working on cover songs, which she releases on Instagram. "Doing covers is a way, as a musician, to see A) where your head's at, because how are you going to interpret this? It's like a mirror. And then B) it's also a place where you can experiment and try different sounds. They've been done for a while now, so it's just doing promotion." She compares Instagram to YellowPages for artists, because of all the connections she's made through it.
She doesn't take social media too seriously: "All you have to do is erase your app and it's over." But when she does speak, though, she knows her words hold weight. "You can't just dump your brain onto the internet and think it's going to be ok," she says. "I think words matter. What you say matters."
Vanessa Carlton's latest cover song is "Lonely Girls (Lucinda Williams Cover)".