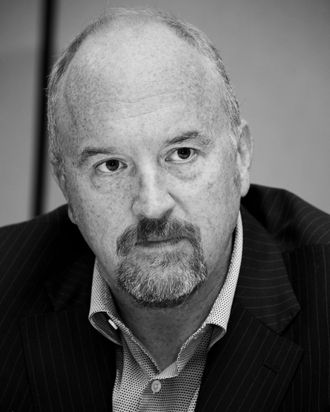 Louis C.K.
Photo: Vera Anderson/WireImage/Getty Images
Back in November, one day after the New York Times published a report in which five women accused him of sexual misconduct, Louis C.K. issued a statement in which he admitted all of their claims were true, mentioned thrice how much he was admired, and said he would now "step back and take a long time to listen." Nine months later, he apparently decided he had done enough listening and was ready to start talking again, and on Sunday, he dropped in for an unscheduled performance at New York's Comedy Cellar.
Is C.K. back from his brief time-out? Who knows. News of his set prompted a lot of backlash on social media, but it's hard to believe that he would be turned away from any comedy club should he choose to randomly show up and do another tone-deaf rape whistle bit. After all, most audiences and venues still value a powerful man's work more than they value that humanity of the women he hurt.
And while nine quiet months were all it took C.K. to feel he had been sufficiently absolved of his misconduct, the road forward has been more complicated for the women who dared to speak out after he took his penis out in front of them and masturbated (or asked them whether he could masturbate in front of them, or masturbated while talking to them on the phone). Here's how they have said C.K.'s actions affected their careers.
Dana Min Goodman and Julia Wolov
After C.K. stripped naked and masturbated in front of them in his Aspen hotel room in 2002, comedians Dana Min Goodman and Julia Wolov began to tell others about the incident ("Something crazy happened to us," Goodman told the Times). They said they hoped to shame C.K. and stoke outrage against him, but instead "guys were backing away from us," and that in the days following the assault, "we could already feel the backlash."
They also told the Times their managers were soon contacted by C.K.'s manager Dave Becky, who wanted the women to stop telling people what had happened with his client. Goodman and Wolov said they still worry about Becky, and in the 16 years since C.K. invited them to his hotel room, they have taken themselves out the running for multiple projects Becky — a prominent agent to stars like Kevin Hart and Amy Poehler — has been involved in.
Rebecca Corry
In an essay for Vulture in May, comedian Rebecca Corry said C.K. put her in a "lose-lose" situation when he approached her on the set of a TV pilot they were working on in 2005, and asked if he could masturbate in front of her. Word of C.K.'s actions got back to Courteney Cox and David Arquette, who were producing the pilot, and who offered to shut it down, but as Corry told the Times, "Things were going well for me, and I had no interest in being the person who shut down a production."
In the years after, she wrote, she tried to stay silent, but everywhere she went, as a comedian, she would find people defending C.K. and attacking the women who spoke out against him. When she finally came forward with her own story, she received death threats.
"Now I'm being asked if I think C.K. will make a 'comeback,'" Corry wrote in May. "The idea that C.K. reentering the public eye would ever be considered a 'comeback' story is disturbing. The guy exploited his position of power to abuse women."
She added: "Everyone deserves to do their job without fear of being forced into an impossible situation. And no one should ever be attacked or judged for standing up for themselves."
Abby Schachner
Writer, actress, and illustrator Abby Schachner told the Times that when she called to invite him to one of her shows in 2003, C.K. started telling her about his sexual fantasies, and she heard him masturbating. In 2009, he emailed her to apologize, but per the Times, "the original interaction left her deeply dispirited, she said, and was one of the things that discouraged her from pursuing comedy."
C.K. didn't just subject these women to sexual harassment and the personal struggles that come with that, he subjected them to threats from strangers, to alienation from their colleagues and peers, to lost professional opportunities. As far as I know, none of them have done an impromptu set at the Comedy Cellar.