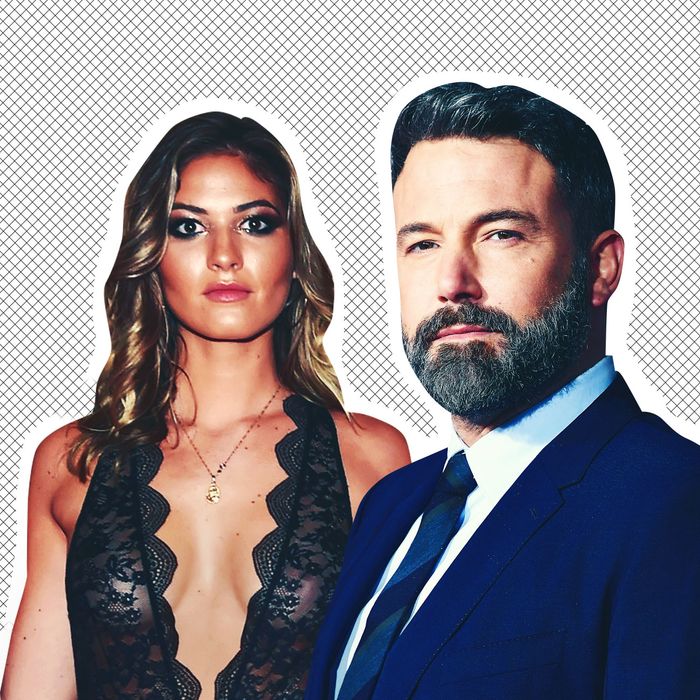 Shauna Sexton, Ben Affleck.
Photo: Getty Images
Welcome to You Know What I Heard, the Cut's weekly celebrity gossip column about the peregrinations of the rich and famous.
Last week in this column, we discussed Ben Affleck and Jennifer Garner's protracted divorce negotiations. The estranged couple has been working on a settlement for over a year now, and L.A. Superior Court has threatened to throw out the case because the warring parties can't seem to finalize anything. The tabloid theory on the delay is that Garner is holding out on Affleck because she wants him to be in a more stable place before she agrees to a custody plan for their three children. "The one thing she's not flexible on is sobriety," a source told Us Weekly earlier this summer, referencing Affleck's history of alcohol abuse. "Jen is hesitant to sign off until she's certain that the kids will be in the best hands at all time. Finalizing the divorce has been a long process because of it."
Well, Affleck's behavior this week does not inspire confidence that Garner will sign on the dotted line anytime soon. Here's a recap, in case you missed it: He celebrated his 46th birthday last Wednesday without his SNL producer girlfriend Lindsay Shookus, 38. Then he showed up at the paparazzi haunt Nobu in Malibu with a 22-year-old Playboy model named Shauna Sexton. (She was Miss May 2018.) Two days later, photogs caught him hanging out of his car, sweating, in the Jack in the Box drive thru. And the very next day, he was back at the drive-thru, this time with Sexton in the passenger's seat. Sometime in the last week, Shookus deleted her Instagram.
So, uh, Affleck is doing great! According to People, he was "never fully committed" to Shookus, which is convenient. Shookus and Affleck went public with their relationship last July, but according to the tabloids, their love story began with an affair a few years ago, when Shookus was married to her ex-husband, producer Kevin Miller, and Affleck was married to Garner.
As for Sexton: Affleck is "getting to know" her, according to People. After the two went to Jack in the Box this weekend, they reportedly stayed over at Affleck's $19 million mansion in the Pacific Palisades. Shookus used to stay there, but she never officially moved in.
I'm sad to say good-bye to Shookus, but I'm even sadder to let go of Shookus and Affleck's famous iced-coffee pap strolls. It seems the defining image of the Shauna Sexton era will be the Jack In the Box drive thru. At least, for Affleck, that's a bit more … honest.
In other celebrity relationship news, the model Cara Delevingne, 26, and the Pretty Little Liar Ashley Benson, 28, are a couple now. They were photographed making out at Heathrow last week, and then a couple days later, they hung out with Delevingne's sisters at a screening of the Leo DiCaprio and Claire Danes classic Romeo + Juliet in London. Think Benson will get Delevingne to join her Pentecostal megachurch, Zoe Church? (Chris Pratt and his new girlfriend Katherine Schwarzenegger are Zoe followers, as is Justin Bieber, of course. Zoe pastor Chad Veach has not explicitly stated his views on same-sex relationships, but last year, he executive produced a Christian film about "sexual brokenness" that lumped same-sex attraction in with "sins" like porn addiction and infidelity. Yeesh.)
Nick Jonas, 25, another Pentecostal megachurch fan (he prefers Hillsong) confirmed his engagement to Priyanka Chopra, 36, this week. The two traveled to India to celebrate with Chopra's family. According to Jonas, Chopra is going to change her last name when they get married.
Jonas's brother Joe Jonas, 29, was photographed in Manhattan this week with his fiancée Sophie Turner, 22. She was uh, sobbing in the street. But she says everything is just fine. Which Jonas will make it down the aisle first, do you think?
One small blessing from this week:
Bristol Palin, 27, is coming to Teen Mom. She famously had her first child, Tripp, with Levi Johnston when she was 16, and she's since had two more — Sailor Grace, 2, and Atlee Bay, 1 — with her now-ex-husband Dakota Meyer.
Finally, I'll leave you with this photo from the red carpet at last night's MTV VMAs. Will you watch the newly announced Hills reboot?
Thanks so much for gossiping this week. Don't forget to send me a message on Twitter, or contact me on Signal, if you'd like to chat.