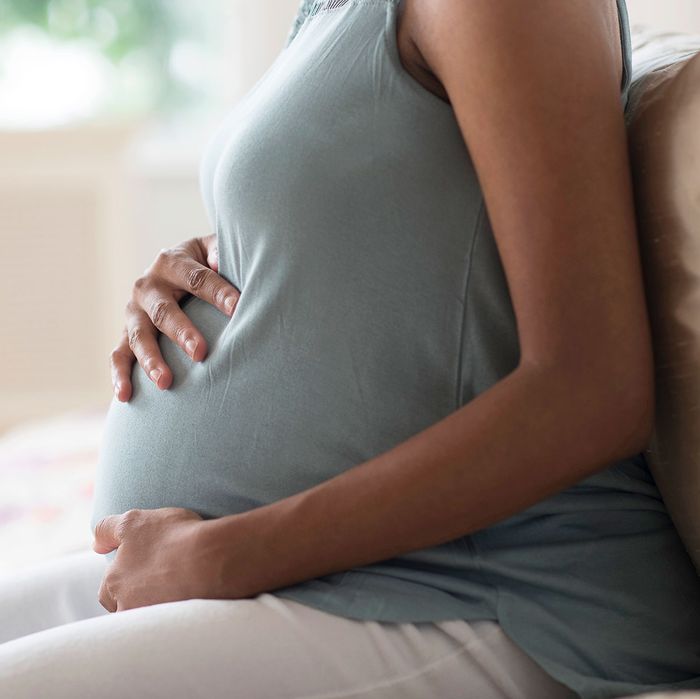 Photo: JGI/Tom Grill/Blend Images/Getty Images
Doulas — non-medical professionals who help pregnant women before, during, and after childbirth — typically cost at least $1,000 and are not covered by insurance. While this makes them a luxury enjoyed by the lucky few, some doulas also work with low-income women — and specifically low-income women of color — often as volunteers, to help improve their odds of a healthy birth. As these doulas guide their clients in a variety of hospitals and birthing environments, they witness the way women often receive different standards of care depending on their race, their insurance, and their location.
Public attention on the race gap in maternal mortality has pushed Governor Cuomo to announce plans to make childbirth safer for women of color. This includes a pilot program to expand Medicaid to cover doulas, as they tend to improve the health outcomes of new mothers and infants. While the state's Health Department irons out the details of this experiment — which has seen some success in Minnesota and Oregon — six doulas who work with low-income women of color in New York City discuss the challenges of their jobs, the differences in care experienced by clients who are white versus women of color, and the need for Medicaid reimbursements for their work.
"My clients who were women of color didn't get the same attention as my white clients."
Chanel Porchia-Albert, founder of Ancient Song Doula Services, an organization in Bedford-Stuyvesant, Brooklyn, that offers doulas and childbirth services to women of color and low-income families
Before I met my husband, I happened upon a "natural"-birth expo in Union Square. I met black midwives and a black doula and I was like, wow, I didn't even know this was a thing. A couple of years later I was having a baby with my husband and I went to an obstetrician, but it wasn't the care I wanted. She didn't answer my questions, and I would leave feeling like I didn't really understand what was going on. So, I got in contact with the midwives and the doula and ended up having a home-birth experience, which was amazing. I decided I wanted to train to become a doula myself.
At the time I was a commodities broker and I had private insurance. After I was laid off during the recession in 2008 I became a doula full-time. Most doula trainings prepare you to have a private practice, which I did for a bit — but then I started to see how my Medicaid clients were treated differently from those who have private insurance. My clients who were women of color didn't get the same attention as my white clients. I sometimes sat with women for over six hours for prenatal appointments. I put a call out on a list-serve and asked if other doulas are interested in working with those who otherwise can't afford doula services. Over 23 people showed up in my living room, and Ancient Song got started from there.
The organization came out of a need to address basic human rights in childbirth. Our primary focus is women of color, low-income families, and marginalized communities. We assist those who have criminal cases and ACS cases. We have doulas who go to Rikers Island twice a week to assist those who are pregnant and incarcerated. We wanted to help those who felt like they weren't being listened to. I noticed there was a lot of food insecurity, a lot of housing issues and mental-health problems. We provide spaces for people to get groceries while they get their prenatal care. We offer culturally relevant doula training and childbirth education. We see everyone. We never turn anyone away.
Ancient Song is always under financial constraints. It's by the grace of the community and a few grants that we're able to sustain ourselves. About 85 percent of the individuals who walk through our doors are Medicaid recipients, so if we could accept Medicaid we could have a flourishing organization. Most of our doulas are volunteers.
Institutionalized racism affects how black and brown women experience health care. As a woman of color, I know that whenever I take my children to the ER I have to worry not only about my sick child, but about whether the hospital is going to call Child Protective Services on me. I've assisted folks who have had ACS called on them after a drug test taken without their consent revealed a trace of marijuana in their blood. This stuff happens on a regular basis and no one talks about it.
Some doulas say we should not be able to accept Medicaid. I would be in these doula chat rooms and there would be all this talk around having a business, about how much to charge people. Nobody was talking about people who can't afford to pay. I believe everybody should be able to get equitable health care. You want to get paid, get paid. For me, I'm trying to serve the people who otherwise can't afford it. Those folks need care.
The problem is urgent when it comes to black infant and maternal health, especially for black women who are birthing in New York City. In order for us to have equitable change, we have to address the underlying issues of institutional racism as well as implicit bias in health care.
"New York City, where I moved in 2015, is saturated with doulas. Most are white."
Efe Osaren, a doula and reproductive justice advocate who is studying to become a midwife in Texas
When I became a doula in Houston in 2014, I saw racial disparities everywhere. I noticed that with black clients, my job involved more activism and advocacy. It was my job to make sure these women had access to the things they are supposed to have access to, that their birth plans were respected, that they were seen and heard. I'm on the front lines with them. We're not just going in and rubbing backs, lighting candles, and having special oils. It's a lot more about empowering women to speak for themselves, to know their rights and know when they are being mistreated. Most moms don't know that they are customers in these hospitals and that they have the right to ask for different care.
New York City, where I moved in 2015, is saturated with doulas. Most are white. They can afford to focus more on the business aspects of being a doula. I assisted mostly low-income women of color. They couldn't afford to pay, so I had to work as a volunteer. I supported myself with births with white clients and side jobs. I worked in a café in the mornings. A lot of time I was just as low-income as my clients. The majority of doulas who are black and brown are often burnt out. The work is very taxing. It's hard to make this a long-term career.
It's easier with white clients in New York City. I'm not running around. I don't have to advocate as hard. If she asks for something she usually gets it. I do more back-rubbing. A lot of babies for my white clients have been eight pounds and over. My black clients often have babies with lower birth weight. Why? The stress of living in a racist city. Their prenatal care isn't good. Their housing isn't good. My clients ask me for diapers, for car seats, for strollers, clothing, housing, jobs. They lack access to healthy food. All of this affects the way the baby gets nutrients from the mother. Stress wreaks havoc on the womb. Women tend to go into labor earlier due to stress.
I can count on two hands how many black midwives are able to do home births in New York City. I'm going to midwifery school to fill that gap of access to care and to provide home births for clients who otherwise can't afford it. I don't see many white midwives offering pro bono services to low-income black women.
"I remember the doctor saying, 'What's your problem, you have other kids. Didn't you give birth in the jungle, anyway?'"
Regina M.Conceiçaõ, a doula and founder of A Passion for New Beginnings, a doula collective in New York. Regina has also been a doula consultant with the By My Side Birth Support Program since 2010, and she became the program's coordinator this year.
It is amazing what doctors say to women sometimes. I was once assisting a mom from Sudan who didn't want to do a vaginal exam because she was a victim of female genital mutilation. She didn't want to endure the pain of a hand in her vagina. Really, this mom was very afraid. The doctor told her that since she had no problem opening her legs to make the baby, she should open them again to get the baby out. Later, when this mom was having trouble pushing, I remember the doctor saying, "What's your problem, you have other kids. Didn't you give birth in the jungle, anyway?"
Language is so important. What people say and how they say it can really affect the mother. But you have to pick your battles. A lot of times I will stand up and speak up for these women when they are treated with disrespect, but I also have to be careful because I don't want to be in a situation where they kick me out and my client won't have anyone to advocate for her.
As a community doula there's so much more work involved. I'm dealing with a lot of social services. I'm working with moms who are in a shelter. These moms don't have diapers, they don't have clothes for their child, they don't have a crib. There are a lot of added stressers during pregnancy. As their doula, I'm trying to get these resources for them. When a mom says the food stamps aren't enough, I'm connecting her with a supermarket-style food pantry that I like. Then, when you get to the hospital, there's even more to do. Advocating for them, getting staff to actually address them by their names. I don't feel like I have that when I work with my white clients. I do private work as well, and it's really a stark difference.
I've been a doula for 17 years. I'm actually phasing out. I recently had a two-month hiatus. I went through a huge depression. Especially when you're a community doula, it's a lot. I'm dealing with moms who have nothing, who are dealing with domestic violence. There are just so many layers and eventually you burn out. That's why doulas balance it out with private clients who can afford the fee and don't require all the social-work stuff. I'm still working in the reproductive-justice field and supporting other doulas. But I've had enough. I love what I do, but when I get to a point where I'm so depressed I don't want to be around a pregnant woman or a baby, which is normally something I love, that's serious.
In late 2016 I had a client give birth to a stillborn child. She wasn't due for another month, but when she went to her prenatal appointment the doctor couldn't hear a heartbeat, so she had to be induced. I was with her in labor. I asked her if she would like to hold her baby, name her, take pictures with her. I helped her arrange free funeral arrangements by connecting her with an infant-loss organization in Brooklyn. The whole experience was devastating, but it didn't hit me until two months later. I fell into a depression. I was also dealing with an overwhelming schedule, with four people due and jugging two part-time jobs that relate to birth work. I just panicked.
It's hard to fix things, especially things that have been done a certain way for many years. Like providers who don't practice evidence-based medicine. One of my favorites is now women are allowed to eat during labor. The official recommendation changed a few years ago. But I still get, no matter where I'm going, nurses and anesthesiologists saying these women can't eat. It's draining, but I have this thing where I say I'm changing birth one birth at a time.
It's important to have the option of a provider who looks like you, who speaks your language, who understands things that another provider might not. Some of our clients go on to become doulas themselves because they see the impact we have. They felt valued and supported during this special, sacred time, and in turn wanted to do the same thing for others. That's the best reward.
"I have a client who hasn't even had her child yet but already feels like a bad mom."
Maritza Franqui, a birth and postpartum doula who trained with Ancient Song Doula Services
Having a doula can cost upward of $1,000, which is not something a lot of young moms can afford. I trained to be a doula last year, and I work mostly with young clients who don't have much support. If a woman having a child doesn't have the support she needs to be the best mother she can be, then her child is at a huge disadvantage from the start. I have a client who hasn't even had her child yet but already feels like a bad mom. It breaks my heart. She doesn't trust herself or the system, which often sets these girls up for failure.
I have one client who is 23 years old and seven and a half months pregnant. She didn't get her first prenatal check-up until she was six months in because she didn't know she was pregnant at first [she was on birth control], and then she didn't have insurance. She has been diagnosed as high risk, which means she needs bed rest and is unable to work. She is a carrier for cystic fibrosis. The father isn't involved, so we don't know if he's a carrier as well. She applied for cash benefits and had to wait months to be approved. I'm just trying to help her feel empowered, to let her know that better times are ahead. I'm helping her get what she needs for the child, like diapers and clothing. I'm also trying to get her to repair her relationship with her mother. She's staying in a shelter. I'm trying to get her to interact with other women there, but she has trouble trusting other people. She likes to keep to herself.
I have to be careful when I talk about race with my clients. It can put them in such a negative space, and I don't want them to automatically fear care as a woman of color. Instead, I focus more on conversations that help women make birthing choices that they feel are the best for them, and I try to emphasize how physicians can have a big influence on the birthing process. I don't have white clients, so I can't make a comparison. I'm also still gaining experience, so it is hard to know if the kind of care we get at hospitals is how they treat everyone. I'm still learning how to engage with hospital staff so they view us as part of the birthing team. You never know what kind of staff you're going to get.
"No one explained what was going on. Just hurry up and get this baby out."
Annette Perel, a doula and lactation counselor
Women with private health insurance have more agency with their care. They can come in with a birth plan and talk about how they want their care to be. Women on Medicaid often spend three or four hours waiting at a clinic before their prenatal appointments. Whatever resident is on call will end up delivering the baby — and the woman probably has not had that provider before. They don't have anyone to talk to about what they want their experience to be.
I once brought a client to a hospital to deliver her second baby. Her husband had to stay at home with their first child. Residents came in, students came in, and no one really spoke to her. They broke her water without telling her. She wanted to labor naturally, but a nurse came in with a bag of Pitocin [to induce labor]. I had to initiate a conversation about why they were giving her the Pitocin. She was already five or six centimeters dilated, and no one explained why they needed to speed things along. This mom had delivered her first child naturally, without medication, but there was no conversation about that. The next time a resident came in, they were telling her it would be better if she got an epidural. She was trying to avoid that but the contractions from the Pitocin were really painful, so she eventually conceded.
She expressed concerns about one intervention leading to another and then potentially to a C-section, but they told her she was progressing fine. Then the baby's heart-rate went down. People disconnected the machines and rushed her into the operating room. She asked if they could wait because the baby was right there, she was ready to push. I wasn't allowed in the OR because it was an emergency, so she was separated from her support. She pushed for only 30 minutes. She said she didn't want an episiotomy, but they cut her anyway saying the baby was in distress. But the baby's Apgar was 9.9. If the baby had been in distress that wouldn't have been the case. She was just whisked away and told what would happen. No one explained what was going on. Just hurry up and get this baby out. She was traumatized by the whole thing.
Even with private insurance, all hospitals try to rush through the process of birth. They don't have enough rooms. Sometimes you can get a room right away; other times you may have to wait for six hours. People give birth in hallways, in triage, because they have no space. Once you're in a room, they are definitely looking to push things along.
Even with white women, even in private hospitals, there are still problems with childbirth. Many women don't realize they have a right to say no. But women who try to push back against interventions are often told, "You don't want a dead baby, right?" How do you fight that if you're not educated?
I have noticed differences in treatment. There's definitely more of a conversation when the client is white. Even when my white clients are not married, if their partner is there people always assume he's the husband. But when a woman of color comes with her husband, he is referred to as the "partner" or "the child's father". I've noticed that hospitals are more likely to ask a white mom what her name is, but a woman of color they just call "mom".
One client, a Brazilian woman of color with private insurance, delivered her baby and everything was fine. But when she was ready to be released, she was told she had to wait. The hospital had called Child Protective Services on her because she wouldn't consent to all of the newborn exams and tests. Here was a woman who was educated, who knew her rights, who didn't want to expose her child to sonograms unnecessarily, and she almost had her baby taken away from her. I never had something like that happen with a white client. She was ultimately discharged. She articulated her reasoning, and the agent was fine with her answer. But the thought of your doctor calling Child Protective Services on you because you deny a sonogram that you're well within your rights to deny, it's crazy.
For the most part women of color get tested for drugs without being told. If you have a client who you know recreationally uses marijuana, you have to counsel her that if they find that in her system, she'll have issues. They'll call Child Protective Services. It happens routinely in hospitals and no one is talking about it. Some clients refuse the vitamin K shot for their babies. With my white clients, this was not an issue, they just had to sign a release form. But I've had clients of color say the same thing and they're told they have to do it, otherwise the hospital will call CPS.
There used to be communities around birth — now doulas create that sense of community. I've been a doula for 16 years. I wish we could serve more of these women. But as a doula we can only do so much. Medical professionals need to recognize that they are often biased in their care.
"Women of color who just got here, like moms who were raised in Africa, have way less problems than women who were born here."
Maiysha Campbell Kramer, a birth doula, lactation counselor, and childbirth educator
I work with a range of clients, from the poorest of the poor to the super wealthy. I've assisted a number of women of color who are incredibly successful. They seek me out and I enjoy that. But I will say that my black clients have more complications than those who are white. Research has shown that even when you tease out the poverty thing, even if she's financially successful and in a good marriage and she's got support and money and is going to a better hospital where she's not dealing with any crap, even with all of that, they still have more complications. Women of color who just got here, like moms who were raised in Africa, have way less problems than women who were born here. It's not just about being black, it's about being African-American.
If you just got here from another country, you probably have stress. But it's not the same stress as black moms who have been here. You know, all our black girls have fibroids — my friends, my clients, me — and it can cause complications in birth. So, I was coming home the other day, in Harlem, and as I was getting off the train I saw that, as is often the case, there were cops with black teenage kids in handcuffs who probably hopped the train. And I feel this, as a mom of black kids, I feel this in my womb. I'm looking at the black girls coming home from high school and I'm thinking they feel this too. What happens in ten years or five years or 20 years, when she has a baby after she's been watching this. You've got to talk about what that trauma is that we're carrying around in our wombs, that we feel but we need to keep going on with our day. All the things on the news, all that pain.
I'm not saying there isn't garbage that happens at hospitals. That's a definitely a huge part of the problem. The more brown a hospital, the worse it is. But even when the care is adequate, I still see problems. I was at this birth with a Hispanic mom delivering her first baby and she tore really badly. The midwife explained that the tear was because of poor nutrition. Birth is physically demanding. You need to eat well to get healthy tissue, and not just for a week or nine months. A lifetime of poor nutrition creates worse outcomes in everything.
I speak to other doulas of color, and many of us think about the racial dynamic with our clients. With my white clients, I often wonder, am I the nanny? Black women hire us maybe because it's easier to be authoritative with them without seeming condescending. I think they also feel more comfortable with us in their homes, meeting their families. I'm not judgmental. I have my own crazy family, too. I am a bi-racial woman and feel particularly sensitive to the intersections and disparities that I see. I have dual citizenship in these two worlds and speak both languages.
A lot of doulas of color want to support the community, but as a businessperson, how are you going to make a living? I charge money. I do some pro bono work, but it's really hard. Many poor clients don't have a phone. The big issue is how do we educate and help a disenfranchised population about advocating for better care? Many mothers don't even know how bad their care was. The bar here is so low.