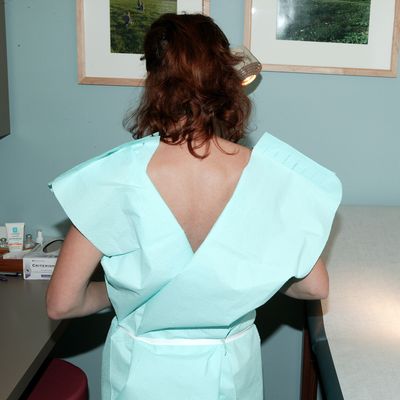 Photo: Angela Cappetta/Getty Images
Just as no two women are the same, each woman experiences abortion differently. While we at the Cut are constantly chasing news about the current status of reproductive rights in our country, we've also dedicated a number of stories to the diverse personal experiences of women and abortion, offering a more nuanced picture of the complexities of abortion — its safety, accessibility, and emotional weight. Here, we've gathered 11 essential abortion stories that help inform our national dialogue.
"My Abortion," 2013
In this New York Magazine cover story, 26 women open up about their abortions in the face of persistent stigma and increasingly byzantine obstacles around access erected by conservative lawmakers in recent years. Mira, a 29-year-old from South Dakota, said:
The day I got accepted to college, I had a positive pregnancy test. I went to a community health center and said I wanted to talk to a nurse about my options. They told me to leave. The closest three clinics were all 300 miles away. I borrowed my mother's car. My boyfriend, now my husband, came with me. I honestly don't remember how we came up with the $700. We left at 5 p.m., after work, and drove to Colorado. It was the dead of winter, cold… I felt very on edge. I wished someone I knew besides my boyfriend was nearby. When we got to the clinic, an escort met us at the car and asked if we wanted a bulletproof vest. Inside the clinic, the doctor took my hand and apologized that I had to travel so far. Ten minutes later, it was done.
"The Mom Who Had an Abortion at 8 Months, Then a Surprise Pregnancy," 2018
In this How I Got This Baby column, a woman named Erika discusses her experience parenting after two pregnancy losses — one which she terminated after learning her fetus had a medical issue that would cause it to choke to death soon after birth.
Erika speaks about how her own experience changed her conception of abortion:
It's embarrassing to me now, but we had never considered the idea of terminating a pregnancy we wanted. It's just not something that, as a culture, we really discuss all that much. In my mind, even being a fiercely pro-choice person, the woman who gets an abortion is someone who doesn't want to be pregnant. The idea of terminating a wanted pregnancy just wasn't on my radar.
"Warning: Abortion's Deadly DIY Past Could Soon Become Its Future," 2017
Rebecca Traister looks at the future under an administration that routinely threatens women's health and a leader who falsely claimed that abortion providers "rip the baby out of the womb of the mother just prior to the birth of the baby." Traister reminds us of what things looked like before abortion (and contraception!) was legalized in America, discussing her own pretty recent family history:
I didn't learn until I was reporting a story about abortion a couple of years ago that my grandmother, a social worker in Hell's Kitchen in the 1930s, had had an abortion after getting pregnant during the Depression… She'd been lucky: Her procedure had been safe, and she'd gone on to have two children in the early 1940s. But my grandmother's friend Rosie, who'd needed two abortions in the 1930s, was left infertile. My grandmother took her daughter and her friends to the Margaret Sanger Clinic in the 1950s to make sure they had diaphragms. When my aunt nonetheless became pregnant as a teen, my grandmother tried to help her get an abortion, but because she looked so young, no doctor would go near her. My aunt had the baby, my eldest cousin, but would go on to have several abortions… one done by someone "who literally used a knitting ­needle." As she told me in 2014, "I am lucky to be telling you about it."




This isn't ancient history; this was the lived reality of many of our mothers and certainly of our grandmothers. And it is entirely possible that it could become our future as well.



"Get Ready for the Next Phase in Planned Parenthood's Fight Against Trump," 2018
In this piece, Dawn Laguens, the executive vice-president of the Planned Parenthood Federation of America, writes about the organization's new plan of attack for the Trump era. Rather than fighting against Trump's vision, Laguens writes:
Equality and justice won't be won solely by fighting against Trump's vision — we must fight for the world we want… Every time we march and rally, we're not just opposing the policies of the Trump-Pence administration. We're taking steps to create a world where all people — no matter where they live, who they love, or how much money they make — have the ability to access the reproductive care they need to live the lives they want.
"What Abortion in America Looks Like Right Now," 2017
Alexis Tsoulis-Reay spoke to seven pro-choice Americans on the front lines of the fight for reproductive justice. Among them: one woman who works in the lone abortion clinic in South Dakota, another who helps women travel out of Texas for abortions, and one who organized the first clinic in Oklahoma in 40 years.
"The Year New York Almost Lost the Right to Choose," 2017
A chilling look back into the New York Magazine archives, the Cut highlighted a story from 1970, written a month before New York State legalized abortion. "No one knows how many girls and women from the city, to say nothing of the rest of the country, will begin demanding the termination of unwanted pregnancies," wrote Lael Scott. "Incredibly, no one knows much about what facilities exist to deal with their distress except that they are grossly inadequate. And no one knows how long it will take the medical profession to sort out its own conflicts and respond to this new and urgent need."
"Why Anti-Abortion Activists Are Obsessed With Late-Term Abortion Bans," 2017
The CDC estimates that 98.2 percent of abortions occur by the end of the 20th week of pregnancy, and 96.9 percent by 17 weeks. So why does legislation keep coming up that aims to ban abortion after 20 weeks? Ed Kilgore dives into that question, making the case that focusing on late-term abortions is the fastest way for anti-abortion advocates to ban abortion for everyone.
"At 16, My Mom Flew to Japan Alone to Have an Abortion," 2017
A woman shares her story of flying from Seattle to Japan to get an abortion — at age 16. This was 1966, seven years before Roe v. Wade, and it serves as a frightening picture of what a world without Roe may look like. She says, of her experience:
The next day, I did indeed have that one day for sightseeing. I walked around Ginza. I wasn't dazed. I wasn't sad. I wasn't afraid. I didn't feel alone. I've never felt remorse. I felt strong for who I was. I felt grateful that I was able to do this and I could go home and didn't have to share [the experience] with my parents… From day one, I never regretted having an abortion.
"The First Legal Abortion Providers Tell Their Stories," 2015
Here, we spoke to seven doctors who practiced on the cusp of Roe; they began providing abortion care before the landmark ruling or in the five years immediately following its institution in January 1973. As one notes, "It was organized like an underground railroad."
"The Abortion Stories That Never Get Told," 2016
The Cut covered two films on abortion that appeared at the Tribeca Film Festival, Abortion: Stories Women Tell, a documentary about 32 Missouri women who have different positions on abortion, and Across the Line, a virtual-reality film that places the viewer in the shoes of a woman on her way to an abortion clinic. The films offer new points of view that often go overlooked in the national conversation.
"3 Women on Banning Abortions for Down Syndrome," 2017
With lawmakers proposing banning the termination of pregnancy due to prenatal diagnosis of Down syndrome, the Cut spoke to three women about their personal experiences with the issue. On the people who blocked her on her way to the abortion clinic with signs like Stop killing babies!, Lillian said, "I don't think a lot of those people are out there, raising disabled babies."