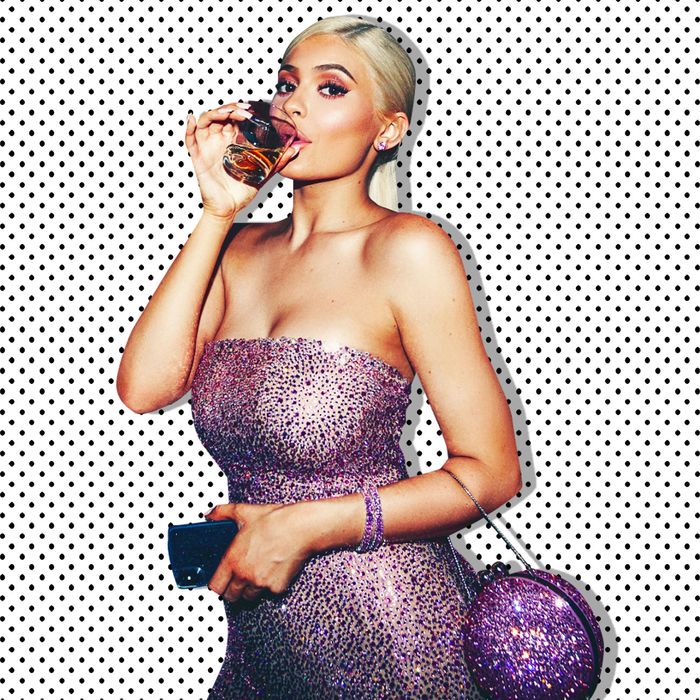 Photo-Illustration: @kyliejenner/Instagram
Just about a week ago, the Earth quaked, the tides shifted, and the manes of horses near Calabasas and Woodland Hills were snatched and contorted into a variety of wigs and hair extensions for the Kardashians and the Jenners. The day had finally come. Our billion-dollar baby, Kylie Kristen Jenner, at long last turned 21. We expected nothing less than "You and Your Middle American Wealth Could Never"–level party vibes, and Kylie delivered. After an intimate dinner at Craig's with select friends and family, an exclusive-ish blowout bash at Beverly Hills hot spot Delilah followed. It was perfect and glamorous. Ball pits! Murals! Kylie Cookies! Women leaving on stretchers! Wait — you didn't know about that last one? Obviously, I'll explain:
So, what happened?
It started with a rogue photo of an unidentified woman being loaded into an ambulance, while strapped into a stretcher. Unfortunately for Kylie, this was the leading news Friday morning after her party. In the photo, the woman was pictured facing down. Like, she was on her stomach (as one would be while preparing to plank), and her shoeless, dirty feet were poking out of the stretcher's sheets. It also looked like the woman may have had a bruise on her face, but who was she??
Personally, I was late to therapy the morning of August 10th because I could not bring myself to move from my bed until I solved the greatest mystery in Hollywood since Tyga's hair plug dispute. Luckily, TMZ offshoot The Blast had the identity of the woman by 1:16 p.m. PT
The woman: Tammy Hembrow or "Tammie" according to one of the many Daily Mail articles written about her. Despite what Tammy with a y's name might suggest, she's a 24-year-old mom of two from Australia. Tammy also runs an incredibly popular Instagram focused on fitness. And, two of her 8.6 million followers include Khloé Kardashian and Kylie Jenner. According to a recently released video on E!, last year Tammy was introduced to the Kardashians after she got a call saying that Khloé and her Good American colleagues loved her look and wanted her to model for them. She agreed, and since that phone call last year, she's become a distant acquaintance of the Kar-Jenner sisters. She thinks that all of them are "super normal."
Why, then, did Kris Jenner claim not to know who she was in a recent interview on Australian radio? "I honestly did not know who she was when she got stretched out," she told the hosts of Kyle and Jackie O when asked about Tammy's appearance on the stretcher outside Kylie's birthday. It's hard to believe that Kris wouldn't know the name of a family friend who models for Khloé's denim brand. This seems like very deliberate distancing on Kris's part, but why? More on that in a minute.
Okay, but why was she on a stretcher, Mariah?
That's an excellent question, and I'm glad I forced you to ask. Tammy, who laid low for 12 hours after the incident (she posted a very serene photo of herself shopping in L.A. the day after her hospital visit), worked up the courage to record a vlog on her YouTube channel to give some insight about what exactly happened. She posted it the Monday following the party. In this 3-minute-20-second vlog, titled "Update: Back Home," Tammy explains what happened.
Through tears, Tammy says, "I probably, definitely shouldn't have been drinking because of how jet-lagged and exhausted I was and I already wasn't feeling well." She was also running on 30 hours of no sleep. All of this caused her to "collapse." Tammy also says that her recent split from her boyfriend and father of her children has left her focusing less on herself as she spends most of the time with her kids. It's an interesting excuse, especially because she posted on Instagram the morning of August 9 (the night of the party) a photo of herself enjoying the California weather. She also has at least one cocktail near her. If I were Tammy, and I hadn't slept in 30 hours, I'd get a nap in before Kylie Fucking Jenner's 21st birthday party and abstain from sun. Simple stuff. However, she didn't do that, and according to The Blast, she was rolled out of Kylie's party at 11:59 p.m., right before Kylie officially turned 21.
How do the Kardashians feel about the incident?
As I said before, Kylie and Khloé were following Tammy before the incident, and still are now. And, although it can't really be confirmed if any other family members were following Tammy before the party, the Daily Mail says that Kris, Kourtney, Kim, and Kendall all unfollowed Tammy. So what happened? In the interview on Australian radio, Kris said she "did not know," Tammy — not "I don't know," and "when," not "when I heard." This is important because Kris claims that she left the party before this incident even occurred. "Well, I hope she's okay. I actually left before any of that happened, cause I typically go to bed at around nine o'clock, so it was way past my bedtime. So I am not sure… I still don't know. I've asked several people, like, you know. And then I saw that she did a video, explaining that she was that was very jet-lagged and didn't feel well. I hope that she's okay."
Oh, you left the party, Kris? Before the clock struck midnight on your youngest child's milestone birthday? There's a massive hole in Kris Jenner's narrative, beloveds. She did not leave the party before this happened, because according to E! Online and Snapchat, Kris gave a birthday toast to Kylie at midnight. E! writes, "Kris also addressed the crowd at midnight, calling Kylie one of the 'biggest blessings' of her life. She then expressed her gratitude to Kylie and Travis for bringing daughter Stormi Webster into the world." Meaning, while the doors to Tammy's ambulance were closing, Kris was raising a glass to her billionaire.
This, mixed with the possible unfollowing, and Kris's deep desire to distance herself from the Tammy Hembrow tale, means she's pissed. It's possible that because Tammy's scene was going down during the biggest point of the night, it took attention away from Kylie. That's something Kris doesn't play.
Okay, thanks, Mariah. But, WHY WAS SHE FACE DOWN IN THE STRETCHER!?
I wish I knew.