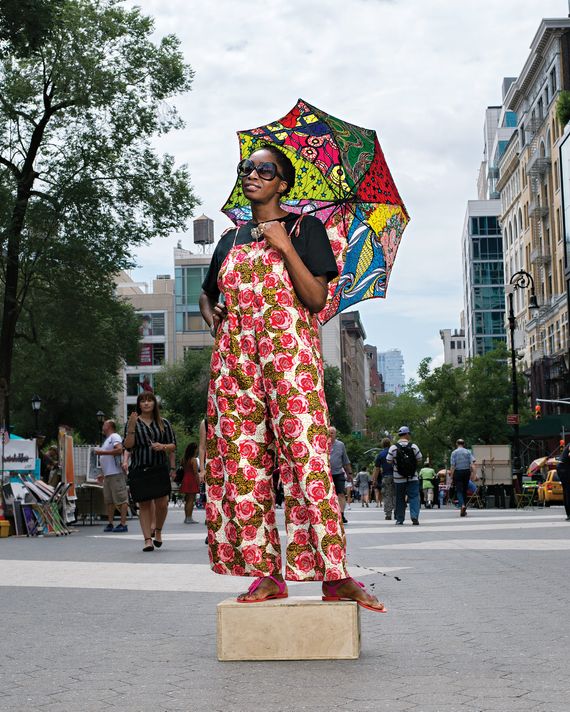 Photo: Katelyn Kopenhaver
Every day, we put out into the world a version of how we want to be seen — and, of course, we're always misunderstood. We asked strangers in Union Square to size each other up.
GUESSES
"She's an artist who lives in Brooklyn and does printworking. She's living her best single life."—Liz, 29
"She's definitely a millennial because the look is not structured and she exudes a particular confidence." —Debra, 54
"Lower East Side, went to high school in Queens. Taking a pottery class. A solo venturer." —Britina, 23
REALITY
Blogger/former banker, "legal to drink." I happen to be on the way to my child's doctor's office. And I'm a big collector of parasols.
GUESSES
"He looks like an explorer. He has been to the Amazon rain forest. He can start a fire. If I was on a deserted island, I would take him." —Kaitlin, 17
"He's a beekeeper. He has kids, but he's divorced."—Jiali, 28
"I think he's a troubadour, a single artisan."—Greg, 45
"Maybe he is a hitchhiker?"—Grace, 14
REALITY
Artist, 69. I'm a sculptor and play piano, and prior to that I was a mediator and a businessman. I'm a native New Yorker. I walk about ten miles a day. Wandering is good for my thinking process. My walking stick is not because of disability; it's become a companion. In New York, I think it's important for self-defense.
GUESSES
"His outfit's great, but I think he might actually do something a little boring. Sells life insurance, works at a bank." —Ariela, 27
"I think he's an awesome grandfather. Looks like he really took care of his wife. Or maybe he just lived a jolly good life as a single man. Positive, fun attitude." —Eloise, 27
"He's a professor at a university in the South. He's got a Ph.D. Philosophy or English. He's got a wife, three or four kids, a house with a big backyard near the campus where he plays jazz and blues in the background on the weekend." —Liz, 24
REALITY
Photographer/broadcaster, 71. My professional life is equally divided between photography and broadcasting, but I'm always flattered when people think I'm an academic. I've always worn a bow tie. My mother started me at 5 years old. I'm on my way to see a round of clients. In my briefcase are a bunch of different varieties of cookies I've baked for them. The last thing you would think of, right? My clients know, Oh, today is cookie day, you have the briefcase out again.
GUESSES
"Oh, man. Maybe she calls herself the Queen of New York, and she lives in a penthouse in Tribeca, and she walks through Union Square strutting her looks. She's not married — she's a strong, independent woman and doesn't need anyone." —Henry, 17
"She works in finance." —Leda, 36
"I think she's probably young. Maybe in marketing. And I bet she's nice to a lot of people, but there are some people that she's not so nice to. You need to be on her good side." —Hannah, 20
REALITY
Artist/housewife, 43. I'm a mom of four, married, and Queen of New York is the opposite of who I am. Sometimes you have this personality that you can really see a person through looking in their eyes or looking in their gestures. You have this kind of gift. I have that.
GUESSES "Maybe they study music. They look a little bit scared, maybe shy. Shy, guilty." —Maria, 21
"They are in school. Friends. Straight girls, though they don't like dating. They might be asexual. Maybe they were babysitters of a baby, and they, um, killed the baby?" —Gustavo, 23
REALITY
Filmmakers/waitresses, 25 (twins). Monica: Most people think we're one person until they realize we're twins. We are best friends. We like the same things. Just quiet, very reserved. We're some of the nicest people you'll ever meet.
GUESSES
"They met at random. She approached him — I think she's the power type. She looks confident. I'm loving it, with the bangs and everything. They seem happy." —Vanessa, 22
"She looks like a writer, and he's like her fashion-model boyfriend. Maybe they lived on the same street and just bumped into each other." —Gustavo, 20
"I thought they were models at first, but then I saw the Sprite can. Maybe they're tourists." —Barry, 36
REALITY
Students, 22. Peng: I'm a photographer at Parsons. I live here, but for just one year. This is both me and my boyfriend's first time that we've come to New York. We met online. I just find something I like and follow it.
GUESSES
"She looks like one of those people who buy art and sell it to other people." —Brittany, 20
"She's working in communications, events, something like that." —Flo, 30
"She's a fashion designer, I'm sure. She has a ring, so she's probably married. She's on her way to meet with someone important — a client or a boss." —Nate, 22
"She works maybe at a cosmetics store. Did you see the movie I Feel Pretty? Remember that? I could imagine a boyfriend, no kids, a small dog." —Babette, German tourist
REALITY
Video-Game Designer, 47. I'm one of those nerds who dress up like superheroes at Comic Con. Most of my time is spent hunched over a computer, typing in code or writing dialogue for characters. No boyfriend; I actually like girls, and I'm married. I didn't make the outfit I was wearing that day, but I do sew clothing just for fun or because I want to wear something that doesn't exist, so I make it.
GUESSES
"Former pro surfer. Definitely went to Woodstock. LSD transformed his mind in the mid-'70s — that's why he finds himself here, a teacher now in his older age. Professor at NYU." —Pete, 29
"Opera director. Looks like he could be in there if you throw a tux on him." —Dave, 56
"Dog groomer. Most people who take care of their mustache that much are not married. At least to a woman."  —Julian, 16
"Auctioneer." —Lupita, 36
"Vegan. He just looks it. Definitely has his own business." —J.C., 40
REALITY
Dog walker, 54. I always mind my own business. I don't care what people say about me. If they have a good reaction, that's fine. If not, well, good-bye.
*This article appears in the August 20, 2018, issue of New York Magazine. Subscribe Now!