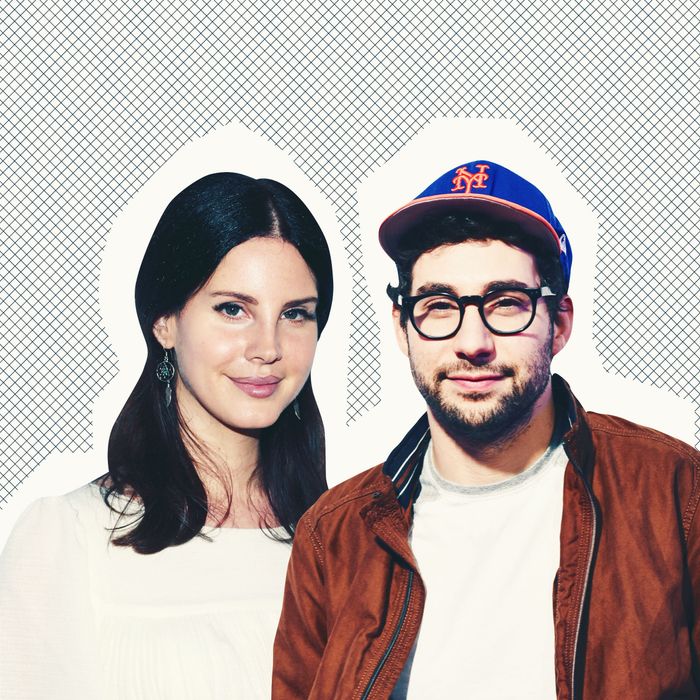 So much of celebrity culture leaves us asking, "Why?" Justin Theroux's renaissance, for instance, or the rash of young, fast engagements. Yesterday, the question was raised very loudly when Lana Del Rey, noted Priscilla Presley look-alike and singer, posted an Instagram photo with Lena Dunham's ex Jack Antonoff, looking like they stepped off the set of a buddy comedy.
The photo, which Del Rey captioned "Just because," showed them both in wrinkled, ill-fitting linen suits. The cuffs of the pants were rolled up about six inches, giving the impression that their buddy comedy was going to take place mostly while standing in the middle of a stream.
Many who were bemused by the photo took it as evidence that Del Rey and Antonoff are working together on Del Rey's next album. They've been rumored to be partnering up since February of this year. But that doesn't explain the suits. Even for Del Rey, who is no stranger to weird things, it's odd — after all, she's known for her obsessive image curation (at least in her music videos and performances) and nostalgic aesthetic. True, Blues Brothers is technically nostalgic, but it's not quite as classically pretty as Hedy Lamarr.