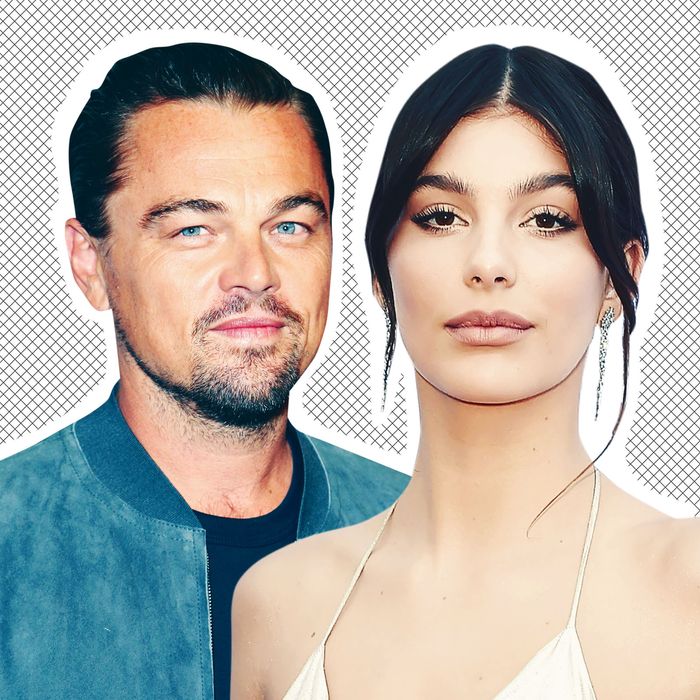 Leonardo DiCaprio
,
Cami Morrone.
Photo: Getty Images
Welcome to You Know What I Heard, the Cut's weekly celebrity gossip column about the peregrinations of the rich and famous.
This summer in Malibu, Leo DiCaprio, 43, has been having a nonstop beach volleyball party. Several celebrities and models have come to play with DiCaprio at his mansion on the beach: Gerard Butler, Jamie Foxx, and loyal Pussy Posse sidekick Tobey Maguire were all there this past weekend. Sean Penn and Ansel Elgort have also stopped by. The most regular participant in DiCaprio's games, however, has been his model girlfriend Cami Morrone, who was born in 1997.
DiCaprio and Morrone have reportedly been dating since the end of last year. In the recent past, DiCaprio has cycled through about one model girlfriend a year, which means this relationship has just about run its course. But wait: According to a new exclusive from Us Weekly, DiCaprio and Morrone have "talked about getting engaged."
The quotes in this story are wild: An insider claims DiCaprio and Morrone are "very in love and serious," and that DiCaprio has "never loved a girl like this." The source adds that DiCaprio is "ready to have kids" (!) and that Morrone, 21, is also ready to have kids. "She loves having little kids around and wants to have kids with Leo," says the source, "but she wants to get married to him first. She's very traditional in that way."
Could any of this be anywhere close to true? I don't know. But Morrone does differ from DiCaprio's past girlfriends in one key way: She was already a family friend when the two started dating. Morrone's mother, Lucila Sola, has been in a relationship with DiCaprio's pal and mentor Al Pacino for many years. So that makes DiCaprio's relationship with Morrone sort of serious by default. It would certainly be more difficult for him to break up with her than it was for him to break up with, say, Kelly Rohrbach, or Toni Garrn, or Nina Agdal. But get engaged? I will say: I would love to see it.
Elsewhere in Malibu, Ben Affleck is officially back in rehab. Before he entered treatment at the end of last week, things weren't looking great: He reportedly broke up with SNL producer Lindsay Shookus, started running around with a 22-year-old Playboy model named Shauna Sexton, and he got photographed receiving an alcohol delivery at his $19 million Pacific Palisades mansion in the middle of the day. Affleck's estranged wife Jennifer Garner was reportedly the one to convince him to go into treatment — she was photographed driving him to a facility in Malibu, along with a sober coach. (They stopped at Jack in the Box on the way.)
What's interesting is that Affleck's decision to go to rehab may have finally pushed his divorce forward. If you've been following along the last couple of weeks, you know that L.A. Superior Court told Affleck and Garner earlier this month to stop dawdling and finalize a settlement. As soon as Affleck was safely ensconced in rehab, several outlets reported that the estranged couple reached a financial settlement and custody agreement, and that they plan to sign the whole deal when Affleck finishes treatment.
Is this what Garner wants to be dealing with right now? Probably not. Last night, she walked the red carpet alone at the L.A. premiere of her new film Peppermint. After she finishes promoting the movie, she'll have to start talking about Camping, her new HBO show that premieres in October. At every stop along the way, people are going to want to ask: How's Ben?
Shookus, meanwhile, does not plan to answer any questions about Affleck. She deleted her Instagram last week, after Affleck started hanging out with Sexton. A source told People that Shookus let the relationship go after Affleck started to spiral. "It was very hard for her to break up with Ben," the source said, "but she knew he wasn't getting better and that it was time for her to step aside."
Sexton seems fine! She has been photographed by paparazzi all week, one time carrying a copy of Us Weekly with Affleck's face on the cover. Over the weekend, she posted a photo of herself holding a glass of wine with the caption, "Happy as shit man."
I miss Christine Ouzounian.
One small blessing from this week:
Scott Disick's girlfriend is no longer a teenager. Sofia Richie celebrated her 20th birthday with Disick and Girls Gone Wild criminal Joe Francis in Puerto Vallarta this past weekend.
Finally, I'll leave you with this photo of Chris Pine wearing a caftan on vacation in Italy. He was with his girlfriend of about six months, Annabelle Wallis. (She used to date another Chris: Gwyneth Paltrow's ex-husband Chris Martin.) Do you like this look? Or do you prefer Pine's overalls?
Thanks so much for gossiping this week. Don't forget to send me a message on Twitter, or contact me on Signal, if you'd like to chat.