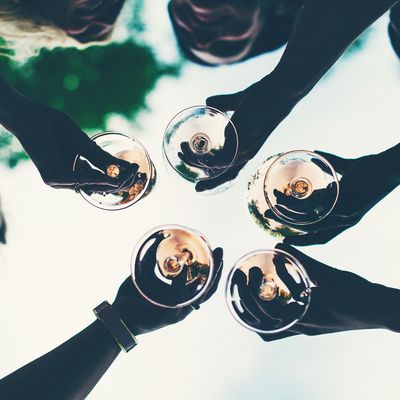 Photo: knape/Getty Images/iStockphoto
As poet WH Auden once wrote, "Stop all the tequila shots, cut off your friend Dawn / Prevent the maid of honor from peeing on the lawn / Silence the chants of 'Rosé all day!' and shut up about your 'thirst' / Because bachelorette parties are the freakin' worst."
According to the New York Post, several Long Island wineries have begun banning bachelorette parties from their premises, because all of their screaming and human pyramid-ing and dick accessories are disturbing the other discerning day-drinkers.
"They would literally be doing a pyramid of women in the vineyard," Suellen Tunney, the retail-sales director of Wölffer Estate Vineyard in Sagaponack, told The Wall Street Journal. "You would have bridezilla after bridezilla."
Wölffer's website reads, "We are delighted when guests choose to celebrate an occasion with us. However, we do not allow bachelorette parties. To be respectful to our other guests, we kindly request that any celebratory birthday or anniversary décor or accessories be left behind."
CBS2 reports that more and more wineries across Long Island are doing the same, and requesting large parties leave bachelorette essentials — like penis straws, tiaras, sashes, glitter, and tears — at home.
"It's just not what we go for," Montauk Beach House operations manager Yannis Papagianni told the WSJ. "Half of them end up crying about something. It came to the point where, is it a bachelorette party or a carnival?"'
But bachelorette Lindsay Adler told CBS2 that she doesn't see what the big deal is.
"I personally had a great time and didn't see anyone who was particularly wild or crazy," adding, "I got the sense it was probably pretty good business for the wineries to have a bunch of bachelorette parties."
Now, what about divorce parties?