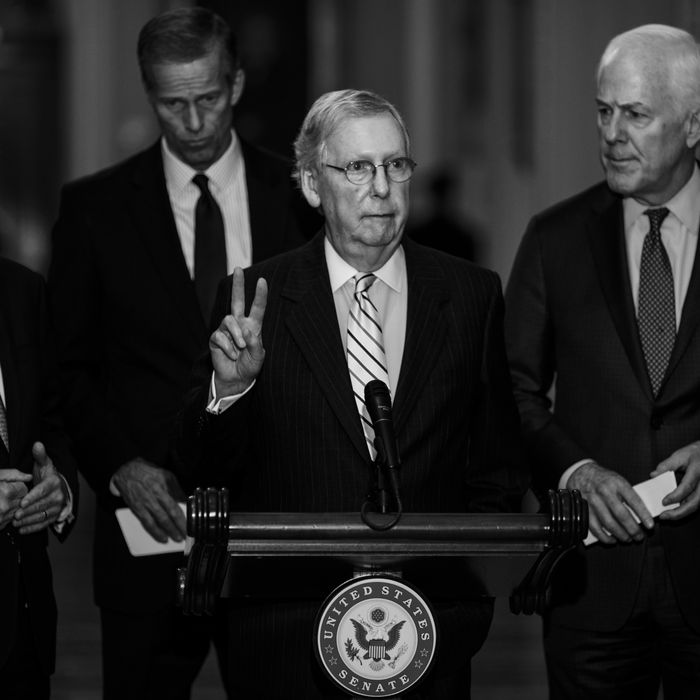 Senator Mitch McConnell, Senator Roy Blunt, Senator John Thune, and Senate Majority Whip John Cornyn.
Photo: Zach Gibson/Getty Images
While Donald Trump's nomination of Brett Kavanaugh to the Supreme Court is worrisome on its own, the judge with the questionable views on abortion is not the only federal nomination to cause concern.
Donald Trump now has 60 confirmed federal judges, according to Bloomberg, which reports that 33 district court judges and 26 appellate court judges have been confirmed by the senate, with seven judges being confirmed on Tuesday. In November, it was reported that 91 percent of Trump's federal court nominees were white men.
The rapid confirmations have come under GOP Senate Majority Leader Mitch McConnell, who reportedly plans to confirm another eight judges by next week. This has long been a stated goal for McConnell, who has actively worked to confirm judges as quickly as possible.
"In August alone, the Senate confirmed another 15 judges — with eight more locked in for next week. These are judges who will be in place for decades," McConnell's deputy chief of staff, Don Stewart, told Bloomberg.
The confirmation of so many federal judges can have profound and lasting effects on the United States. Federal judges make rulings that can impact civil rights, reproductive rights, immigration, and healthcare.
One such nominee, Wendy Vitter, is reportedly an unqualified, birth-control conspiracy theorist, and was loudly protested by reproductive rights activists. "Wendy Vitter is dangerous, untrustworthy, and unfit for a lifetime appointment as a federal judge," said Planned Parenthood vice-president Dana Singiser.
The seven nominees confirmed on Tuesday were Terry Fitzgerald Moorer, R. Stan Baker, Charles Barnes Goodwin, Barry W. Ashe, James R. Sweeney II, Susan Paradise Baxter, and Nancy E. Brasel.
Brett Kavanaugh's Supreme Court confirmation hearing begins on September 4. Groups across the country have organized to protest his nomination.