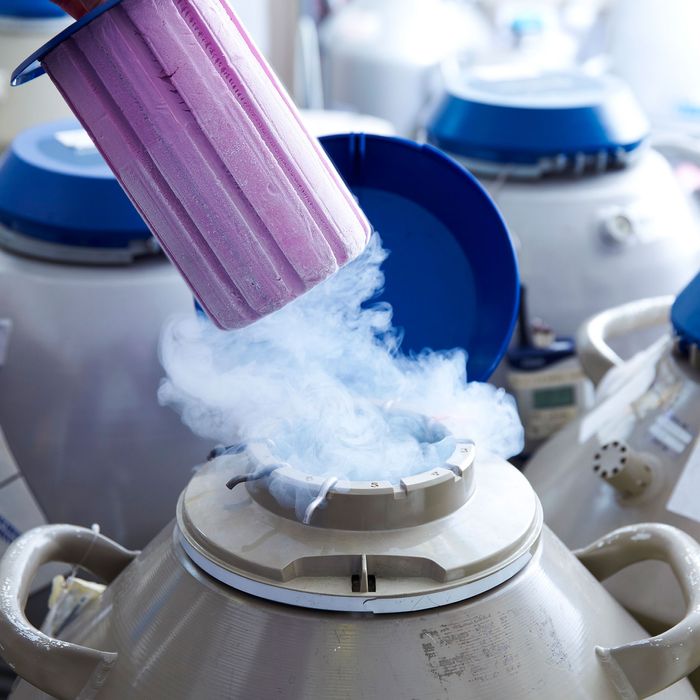 Photo: Science Photo Library/Getty Images
In a story for the New York Times, reporter Ruth La Ferla describes a supposed new trend in fertility preservation: women freezing their eggs in their mid-20s. The evidence is largely anecdotal (La Ferla includes personal stories from a handful of urban, upper middle-class women), but it's clear that fertility clinics and newer "boutique-like freezing facilities" are targeting the 20-something demographic like never before. Egg freezing, once considered the province of women in their late-30s (already past the point at which one's fertility declines), is being packaged as an investment made on one's childbearing future.
Susan Herzberg, president of Prelude — a large, nationwide network of fertility centers — explicitly told the Times, "We are now targeting women in their 20s and early 30s." Their site features attractive young models alongside reassuring blocks of text, such as "Find that right person. Pursue your career. Finish your education. When you bank your eggs, you take the pressure off." The implication, of course, being that freezing one's eggs is something you do before all those things happen, in your 20s, so that later, you don't have to worry about it, and you will get pregnant.
But fertility isn't so simple or reliable as that, and many young women aren't well informed as to their own reproductive cycles, and some activists and doctors worry that companies like Prelude are taking advantage. Tanya Selvaratnam, author of The Big Lie: Motherhood, Feminism, and the Reality of the Biological Clock, told the Times that by promising young women they'll be able to have children in the future if only they freeze their eggs now, some of these clinics "are dealing with women's existential desire to start a family" and "playing to their vulnerabilities."
There is also a lot we don't know about how long one's frozen eggs remain viable, says Dr. Janis Fox, an assistant professor of reproductive endocrinology and infertility at Harvard University. In an earlier interview with the Times, Fox said, "Assuming you have normal fertility and nothing unusual in your family history, there's definitely a point where it's too early." Though egg freezing procedures are not so exorbitantly expensive as they once were, the average fee today runs between $4,000 and $7,000 for a single cycle, according to the Times — not an insignificant sum, particularly for young women still paying off student-loan debt and other typical 20-something expenses.
There are also still questions as to egg freezing's efficacy, particularly at some of the newer clinics, like the two-year-old Extend Fertility, which the Times reports has yet to see any client thaw her eggs. And according to the American Society for Reproductive Medicine, there is only a "2 to 12 percent chance" that any given frozen egg will result in a birth. Sometimes, eggs are lost in clinic refrigeration failures — Prelude Fertility and the Pacific Fertility Center both face a class-action lawsuit for one such failure, about which several hundred women received emails stating that their stored tissue "may be impacted." Nonetheless, according to the Society for Assisted Reproductive Technology, some 76,000 women in the United States are expected to freeze their eggs this year — and if all goes according to these clinics' hopes, many of them will be in their 20s.