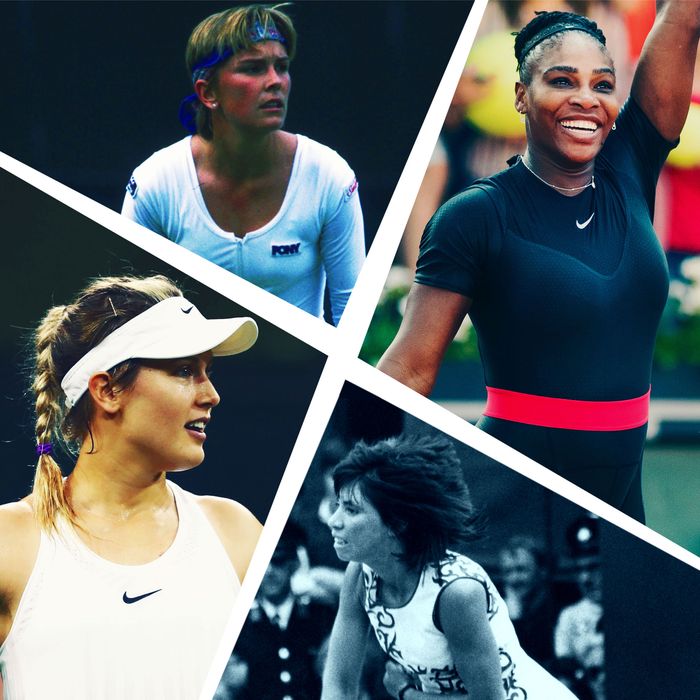 Clockwise from top right: Serena Williams, Rosemary Casals, Eugenie Bouchard, and Anne White.
Photo: Getty Images
Serena Williams wore an all-black Nike bodysuit during the French Open in May, less than one year after suffering dangerous complications while giving birth to her daughter. At the time, Williams indicated that the bodysuit's design was functional: She had suffered several blood clots since her delivery. "I've been wearing pants in general a lot when I play so I can keep the blood circulation going," she said in a May press conference.
But in a recent interview, French Tennis Federation president Bernard Giudicelli said Williams's bodysuit will be barred under a new dress code, saying "it will no longer be accepted. One must respect the game and the place." The ban on Williams's outfit was met with immediate backlash: Tennis legend Billie Jean King wrote on Twitter, "The policing of women's bodies must end," while tennis player Andy Rodick also called the ban "dumb and shortsighted." not the first time a woman athlete's tennis outfit has been met with controversy or an attempt to police her attire. Here, a brief look at others.
2018: Serena Williams's Bodysuit, French Open
It was recently revealed that the French Open has instituted a new dress code to ban bodysuits similar to the one Serena Williams wore in order to prevent blood clots this year. Williams reacted by saying in a press conference, "I feel like if and when, or if they know that some things are for health reasons, then there's no way that they wouldn't be okay with it. So I think it's fine."
2016: The Nike Babydoll Dress Worn by Several Athletes, Wimbledon
Certain brands, like Nike, have deals with certain athletes to wear their apparel during play. In 2016, several women competing in Wimbledon wore a babydoll dress that Nike had designed for the tournament. But the women wearing the dress struggled to cover up, as the billowy outfit would float up during play. The dress was quickly called back for alterations by Nike, with the brand telling athletes (per the Daily Mail), "We need to make a small change to your dresses per Wimbledon rules."
2011: Bethanie Mattek-Sands's ball jacket, Wimbledon
In 2011, American tennis player Bethanie Mattek-Sands showed up on the court at Wimbledon wearing a white Alex Noble jacket that was covered in white (but real) tennis balls. But after spotting a tournament official with a walkie-talkie in hand, Mattek-Sands said, "I'm not hitting a ball in it, so don't worry. It's too heavy to wear." The news was then transmitted back to the Wimbledon powers that be, and the player was given a "warning" (as the rules state that "any competitor who appears on court dressed in a manner deemed unsuitable by the Committee will be liable to be defaulted.").
1985: Anne White, Wimbledon
The rules at Wimbledon state that competitors must wear all-white, conservative attire, so an all-white bodysuit with long sleeves should be fine, right? Wrong (duh). In 1985, American Anne White ran into some trouble when she competed wearing the catsuit above. She played against American tennis player Pam Shriver during the tournament and won — but afterward, Shriver complained to officials that White's outfit had distracted her. The All England Club later found the outfit to be unfit for competition.
1972: Rosemary Casals, Wimbledon
In 1972, American tennis player Rosemary Casals was ordered to change out of the dress she during a Wimbledon match by officials of the tournament. The dress — white with purple letters stitched into it — was found to violate the tournament's strict dress code. She had to change into a white dress instead.
1958: Karol Fageros, French Open
Back in 1958, American tennis player Karol Fageros wore gold lame underpants to the French Open — and she was promptly banned from competing at the upcoming Wimbledon tournament as a result. A Wimbledon official even said at the time that her underwear "might put her opponents off." However, Fageros was reinstated at Wimbledon after agreeing to cover the gold up with white lace.
1949: Gertrude Moran, Wimbledon
American tennis player Gertrude Moran — who was known as "Gorgeous Gussie" in the press — shocked Wimbledon in 1949 with a display of her frilly, lace knickers while playing in the tournament. At the time, it was the norm for women tennis players to wear knee-length skirts — and not only were her undies visible, but her skirt was also shorter than usual. The All England Club, which runs Wimbledon, decried her outfit and claimed she brought "vulgarity and sin into tennis."