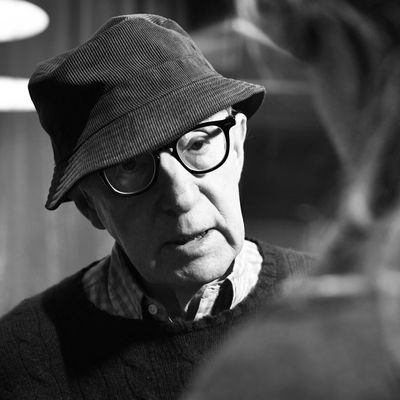 Woody Allen.
Photo: Dimitrios Kambouris/Getty Images
In case anyone has forgotten, Woody Allen was accused in 2014 of having sexually abused his adoptive daughter, Dylan Farrow, when she was just 7 years old. The acclaimed director and self-described "poster boy" for the #MeToo movement has since filmed another movie, titled A Rainy Day in New York, garnering funding from Amazon and a cast that includes Timothée Chalamet, Selena Gomez, Jude Law, and Elle Fanning. Filming wrapped last fall, before the post-Weinstein reckoning refocused the public's attention on Allen's alleged history of abuse.
But now, it seems A Rainy Day in New York may never see the light of day. While the film was slated for 2018, representatives from Amazon have said that "no release date has ever been set for the film," according to "Page Six." Amazon bought the finished film for $25 million, with a deal to produce three more of Allen's movies. He has nothing slated for 2019.
Responding to the backlash of working with Allen, several actors have said they would donate their salaries from A Rainy Day in New York to Time's Up, a legal defense fund that provides support to those who have experienced sexual harassment in the workplace. In January, Chalamet said, "I don't want to profit from my work on the film, and to that end, I am going to donate my entire salary to three charities: TIME'S UP, The LGBT Center in New York and RAINN." He added, "I want to be worthy of standing shoulder to shoulder with the brave artists who are fighting for all people to be treated with the respect and dignity they deserve."
Rebecca Hall, who also acted in the film, as well as other Allen projects in the past, said she too would donate her Rainy Day salary to Time's Up. Greta Gerwig, Mia Sorvino, and Colin Firth are among the actors who publicly denounced Allen and refused to work with him again (though others have clumsily defended him).
According to one "Page Six" source, Allen isn't too worried about all this. "Woody loves working. He never takes a vacation. But he will be taking time off this year until he can find a backer."