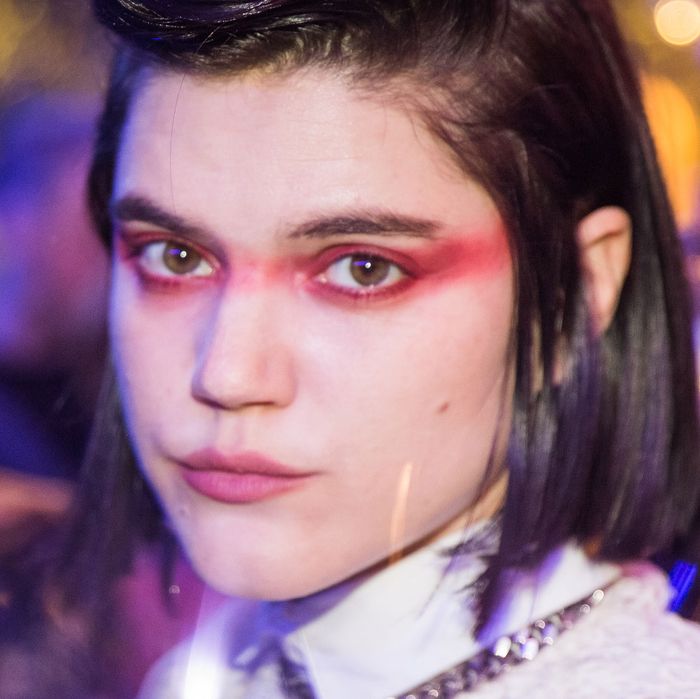 French "It" girl Soko in her signature look.
Photo: Cyrille George Jerusalmi/Getty Images for Dior
At this point in my life and the geopolitical climate, I am attracted to the irritated. The personality traits of the irritated are intoxicating: fierce, assertive, smart, independent, analytical, with precise enunciation. I had never considered what the eye makeup of the irritated would be, until two weekends ago at the Pitchfork Music Festival in Chicago, where I saw it over five times.
It's big red smoky eye shadow. It's been a semi-staple among grumpy babes for years, but this seems the enraged time for the red eye to come into its own. It's a look that does the glaring for you. It's repulsive and gorgeous, it's sultry, it's luxurious. I love your angry red eye shadow. I can't get enough of it.
I'm usually a subtle people-watcher, but when I saw this red sickly eye, I gawked. Pitchfork, in my experience, mostly seems to be attended by people who are a little too cool to have an outré style, so the red eye particularly stood out as bold and directed. Michelle Zauner of Japanese Breakfast was wearing a laterite shade during her show. It's the only aesthetic I noticed, and it's very noticeable.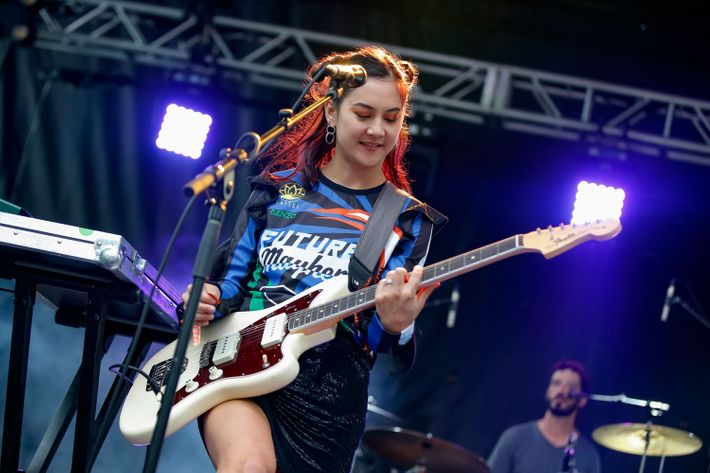 The reasons that red eye shadow might be repulsive seem obvious. It's conjunctive, allergic, associated with sobbing and sleeplessness. Hay fever, for example, has never been my most appealing season. But the exaggeration turned it into something alluring. Smoky depth has always been a vixen staple, I think because it makes your eyes look big and bright. The red shade jars. I think because it's so commanding about being ugly/hot? The combination of sexy and hideous is subversive! Who knew that accentuating the irritation would bring the whole thing around!
Anais Nin, the poet sage of smut, anticipated the appeal. Nin is often in a rapture, and in Little Birds, she is enraptured by feverish, angry eyes: "With her eyes alone she could give this response, this absolutely erotic response, as if febrile waves were trembling there, pools of madness … something devouring that could lick a man all over like a flame, annihilate him, with a pleasure never known before." As a writer and thinker and intellectual empress, Anais Nin is a hot red smoky eye. She's into all the passions. The fever here is an adrenalized, uncontrolled body-response situation. Play "Fever" by Peggy Lee — that hot red smoky eye energy.
My particular interest is its messy moody careless quality. Musician Soko, a red-eye prodigy and a French goth innovator, just sketches a lip liner around her eyes and then wildly smudges it around. Solange's frequent red eye is very resistant to boundary. Like a shirt tied around a waist or a messy bun, it's a look that works best when it's messy. It's chaotic and cavalier.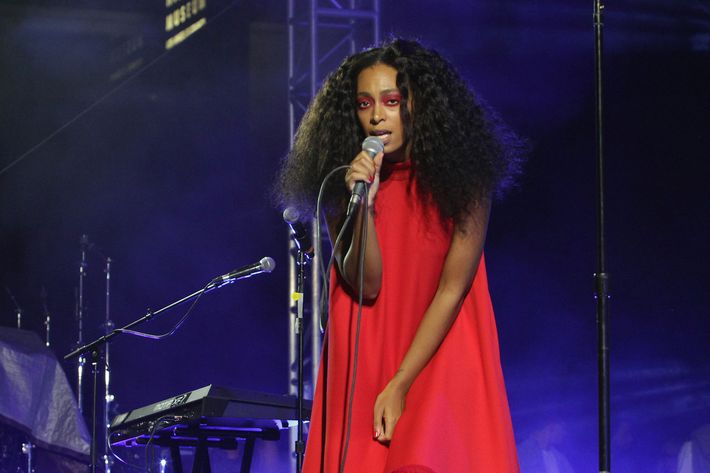 The red eye also, importantly, is a look that pushes back. It's not self-deprecating. It's like: Look at my flaw! I painted it and it's shimmering. Go away now.
The reference point could be Ladies and Gentlemen the Fabulous Stains, a cult punk movie featuring Laura Dern playing the guitar. The enticing front-woman has a signature lightning bolt of bright-red eye shadow. It's orderly, but it carries the DNA of the red eye's independent streak.
Red eye shadow loves to be noticed but doesn't care what you think about it, like ugly pants. But it's more raw than ugly pants. It's nasty, interested in thrills, independent, provocative, cranky, exhausted, bold, arrogant, hung over, mean. I remember a description of Courtney Love's image, by Ariel Levy: "Her wildness sparkled with the possibility that she just didn't give a shit." That's the red smoky eye.
So much makeup is meant to efface: to hide unsightly blotches and discoloration. But red eye shadow accentuates. It begins as what might be a mistake (lip liner instead of  eye liner, oh no!) and then becomes intentional. It's goes right into the mistake and it comes out the other side looking careless and appealing. It's exhausted about the future, but shows us how to go into it, looking as bleary, sleepy, mad and irritated as we want.