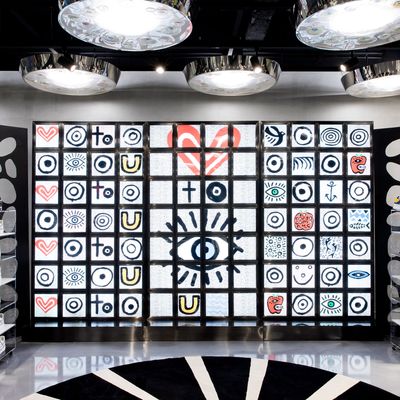 Photo: Courtesy 10 Corso Como
The last time I found myself shopping at the South Street Seaport, I was a middle-school student in desperate need of Abercrombie & Fitch polo shirt. I made my poor mother come with me to the store, which still stands on Water Street, and I distinctly remember her telling an employee that they should file a class-action lawsuit because the music was so loud.
Needless to say, this was not a pleasant shopping experience, which is why I was so relieved when I walked into the new 10 Corso Como store across the street this week. Instead of loud music and overbearing perfume, I found Aperol Spritzes and 28,000-square-feet of well-curated designer fashion. The South Street Seaport has come a long way since I was a teenager.
Founded in 1991 by the late Italian Vogue editor Carla Sozzani, 10 Corso Como has become a must-visit "slow shopping" destination in Milan, as well as in Asia, where there are three different outposts. (Like slow food, slow shopping emphasizes quality over quantity — it's the opposite of fast fashion.) This is 10 Corso Como's first American location, but they've brought all the best that Italy has to offer to the South Street Seaport, from fashion to design to aperitivos.
What I love most about 10 Corso Como is that it's all on one floor. When you walk in, you'll immediately find whimsical design objects and furniture, like a $4,950 chair shaped like a hamburger complete with pickle and tomato-shaped pillows. This piece, which was created by Seletti and Studio Job, is just one of many exclusive collaborations the store has to offer that bridge fashion, art, and design.
Pulling you in further is a sneaker wall — this is New York, after all — with men's and women's clothes located all the way in the back. Of course, Italian brands like Prada are front and center, but the fashion gang's all there. I spent a good amount of time looking at Alaïa pieces, for example, which were displayed an approachable-yet-magnificent museum-style.
Really, you could spend the whole day there, from the restaurant to the art gallery in the back, which currently features a Helmut Newton exhibit. For fashion fanatics, it is a feast, and for passersby, an eye-opening (but not stressful) experience. Next time you find yourself at Abercrombie & Fitch, be sure to walk across the street.