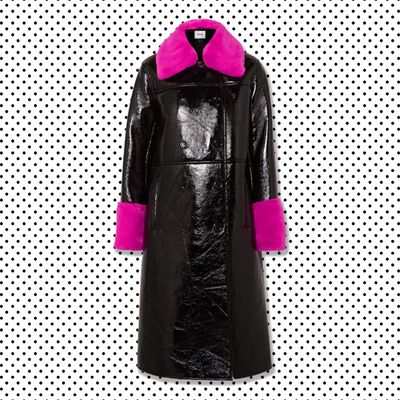 Photo: Stand's faux leather trimmed coat via Net-a-Porter.
Back in February, I wrote about how Nanushka was one of the sleeper hits of New York Fashion Week. Seven months later, the brand's popularity has exploded — fans include Gigi Hadid and Uma Thurman — in large part thanks to its signature vegan leather.
Not long ago, the only faux leather items on the market were plastic-y leggings. But designers like Nanushka's Sandra Sandor have caught up with the times, creating bags, jackets, and boots that feel soft and luxurious and aren't made out of animal skin.
Of course, as the quality of vegan leather has gone up, so have the prices. You can find some deals if you look, but faux no longer equals cheap. Still, I've found at least 15 faux leather pieces that I'm obsessed with this fall. Nearly every item below is currently sitting in my cart — unless I've bought it already. Scroll down to see them all.
A Deceptively Luxe-Looking Bag
A bag that looks like it cost $500 for under $50 is always a yes. And the mustard color feels very on-trend for fall.
A Slick Jacket
The perfect thing for when you don't want to try too hard, but want to look like you did. Just toss it on over a white T-shirt and jeans and you're all set.
Available in sizes XS–L.
An Oxblood Dress
I love how classy this dress is, and in maroon it feels so right for fall.
Available in sizes 14–28.
A Pair of Everyday Boots
This one's a popular choice for those who insist on vegan leathers with no chemicals or PVC. They come with a natural cork insole and a sturdy two-inch heel. Look at the reviews, and you'll see the same thing again and again: "I can't stop wearing these boots!"
Available in sizes 5–12.
A Modernist Tote
I bought this bag a few weeks ago, and every time I wear it, my friends ask if it's vintage Celine. Pro tip: Take off the removable tassel. It looks much more refined without it.
A Matrix-y Jacket
Dressing like Neo is still trending, but the silhouette of this faux leather trench coat will keep it from looking too much like a costume.
Available in sizes XS–L.
If You Want to Look Like a Fashion Girl
Wear this jacket with an all-black outfit, or clash it with other prints for that eccentric Alexa Chung vibe.
Available in sizes XS–L.
Some Sophisticated Boots
These classic camel boots look expensive, but they're cheap enough that if they get scuffed up on the streets, you won't be mad about it.
Available in sizes 4.5–10.
A Cruelty-Free Shearling Coat
The shearling jacket from Acne Studios is a fashion-world staple, but if you can't afford it or don't feel right about it ethically, this is your best bet. It's thick and cozy, and the cracked texture makes the material look like the real thing.
Available in sizes 4–10.
The Coolest Shirt
Every single time I see this shirt on Instagram, I wonder why I haven't bought it already. It's so rock star but also so sophisticated. I could imagine Kate Moss wearing it over jeans with trendy western boots.
Available in sizes XS–M.
Sexy, Slouchy Boots
These cool, louche '70s-style boots are everywhere right now. Eloquii's come in sizes 7–13 wide and are designed to have 30 percent more width on the calf than your average boots, making them easier to wear.
Available in sizes 7–13W.
A Cherry-Red Skirt
New Seoul-based brand We11done is really popular right now, and this bright, feminine-but-edgy pleated skirt demonstrates why.
Available in sizes XS–M.
The Most Perfect Non-Leather Pants
Another Nanushka favorite are these wide-leg pants. Most faux leather pants are slick and shiny, which makes them look cheap. But these are soft, unfussy, and feel like luxury.
Available in sizes XS–L.
A Standout Coat
I see this coat as a savior piece in the winter when I'm trying to make my sweater-and-jeans rotation feel more exciting.
Available in sizes 0–12.
An Ice-Blue Pencil Skirt
Pyo's designs are what we call street-style bait. Her pieces are expensive, and heavily hyped, but for good reason. I've had this in my cart for months — the combination of the unusual color and the classic silhouette is unlike anything I've seen in a long time.
Available in sizes 4–10.
If you buy something through our links, New York may earn an affiliate commission.