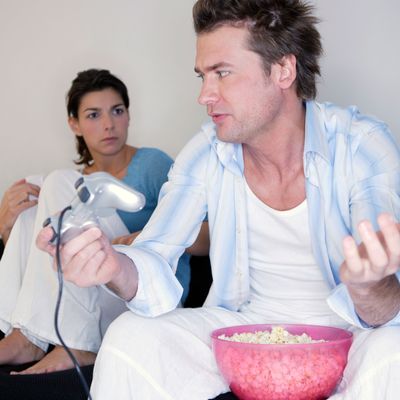 Photo: Hill Creek Pictures/Getty Images/Uppercut RF
In Anna Karenina, Leo Tolstoy wrote, "Happy families are all alike; every unhappy family is unhappy in its own way." According to the website Gamebyte.com, however, 5 percent of divorcing families in the U.K. are currently unhappy in the same way, and that way is being mad about Fortnite.
The massively popular multiplayer game was reportedly cited as a reason for separation in 200 of the 4,665 divorce petitions U.K. website Divorce Online received in 2018.
We don't know what role Fortnite played exactly, and it's not polite to speculate about the dissolution of people's marriage and ask questions like, "Is it because one of you was playing so much that you couldn't hold down a job? Was it affecting your sex life? Were you both really into it but you ended up on opposing teams and ended up falling in love with a stranger on your team?" That would be rude so I won't do it.
Gaming is hard on relationships, we've seen. Earlier this summer, pro gamer Doug "FaZe Censor" Martin announced in a ten-minute YouTube video that he had dumped his longtime girlfriend, "World's Sexiest Weathergirl" Yanet Garcia, to recommit himself to Call of Duty. And really, if they can't make it, what chance do the rest of us have?