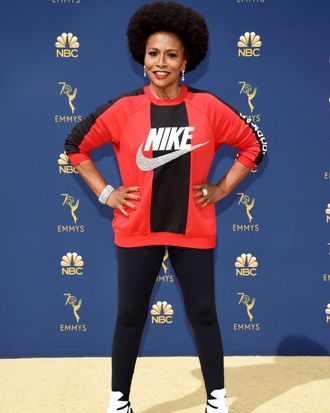 Jenifer Lewis.
Photo: Kevin Mazur/Getty Images
Jenifer Lewis wore head-to-toe Nike on the 2018 Emmys red carpet in support of the company's recent decision to make Colin Kaepernick the face of their latest ad campaign. Kaepernick's activism against racial inequality and police brutality — which began by kneeling during the national anthem — has made him a national figure.
Lewis, star of NBC's Black-ish, told Variety that she was wearing all-Nike for the purpose of "supporting Colin Kaepernick and his protest against racial injustice and police brutality."
Lewis said that she wanted to wear something that had meaning, and could make a statement. "What can I do that's meaningful? I'll wear Nike," she said on the red carpet. "I'll wear Nike to say thank you. Thank you for leading the resistance! We need more corporate America to stand up also."
After Kaepernick's ad campaign was announced, people posted photos and videos of themselves cutting and burning Nike merchandise in protest. Despite all the burnt shoes, Nike's stock reached new highs. The campaign has been widely supported and has opened dialogue about the future of corporations in social justice movements.