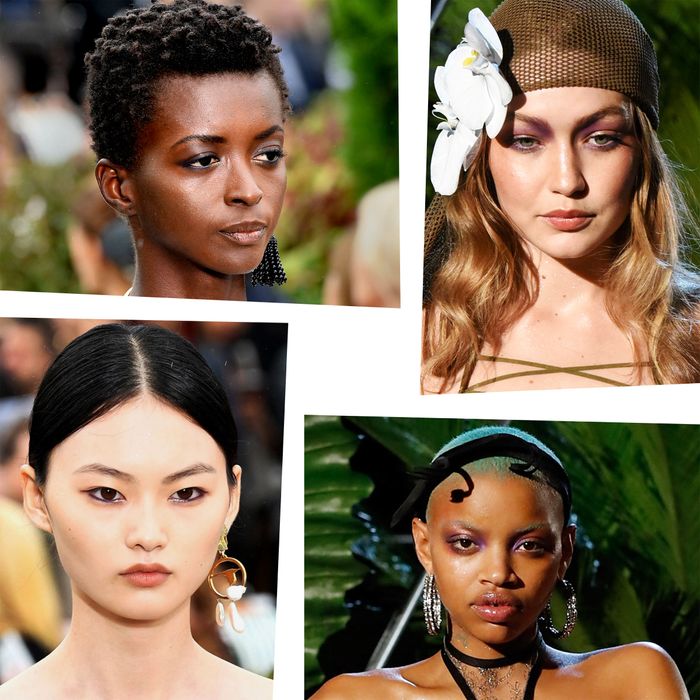 Unlike certain fashion designers, you can't be an hour-and-a-half late for your next appointment. (In Marc Jacob's defense, putting together 37 totally new hair colors takes a lot of work.) If you're having trouble getting out the door on time, perhaps what you need are quick and easy beauty tricks that don't require a ton of equipment or experience. This next installment of backstage beauty lessons is exactly that.
1. Highlight Your Body Like Rihanna
Everyone at Rihanna's Savage x Fenty's show glittered. It was partially from basking in her light, but also due to a liberal usage of Fenty Beauty highlighter. If you want to feel good, Rihanna says, "You cannot fake sexy, what you need to do is find it. Clear all that negative shit out, get to your sexy, and own it — that shit is yours." Once you've owned it, follow makeup artist Priscilla Ono's lead and make your body twinkle by brushing the Diamond Bomb All-Over Diamond Veil everywhere.
2. Make Your Mascara Work Harder
Every makeup artist at 3.1 Phillip Lim was using the new NARS Climax Mascara, but the formula wasn't being applied to the lashes. Lead artist Francelle Daly used an angled shadow brush — rather than the mascara wand — to gently tap the formula onto the lash line, creating a liner look that's subtler than a traditional liquid or kohl liner. She then continued to push the formula upward onto lashes using the same angled brush, focusing on the roots — her favorite way to fake fullness if you don't have a lot to work with in the lashes department.
3. Wear Mismatched Eyeliner
The eyeliner colors of your top and bottom lash line don't have to match. Non-matchy liners will make your eyes subtly mesmerizing without requiring much work. At Oscar de la Renta, lead makeup artist Tom Pecheux nixed the idea of a typical smoky eye and created an easy, blended eyeliner look. He used a warm rich violet shade (M.A.C Kajal Crayon) smudged outward on the top lash line and a copper on the bottom. "It makes the eye not look too heavy," he explained. "The deep color doesn't drag down your eyes."
Darker-skinned models got an extra touch of navy on top of the violet to make the line more defined. A little gold shimmer (M.A.C Dazzleliner in Holidaytime, out in October 2018) in the inner corner brightened the look.
4. Skip the Curling-Iron Tutorial
If your hair is stick-straight but you want to get waves with little effort, master hairstylist Garren has a trick. Coat your hair with a wave spray (like R+Co Sail Soft Wave Spray) and plait your hair into two loose braids. Either let it air-dry or use a blow-dryer with a diffuser. Once you undo your hair, it will have the soft whorls of waves that look nothing like pageant barrel curls.
5. Instead of Foundation, Buff on Concealer With a Tiny Brush
For light "Why is your skin so good?" coverage, keep your brushes fluffy. Backstage at Proenza, lead makeup artist Lisa Eldridge was using tiny brushes to buff concealer (Lancome's Teint Idole Ultra Wear Camouflage Concealer) onto Amber Valetta's skin. There were about five to ten fluffy eyeliner and eye-shadow brushes blended out over the face (and no foundation). As Daniel Martin told the Cut before for his no-makeup-makeup tutorials, the fluffier the brush, the more diffused and blended the coverage. She likened the method to "restoring paintings" — only putting coverage where it was needed.
If you buy something through our links, New York may earn an affiliate commission.