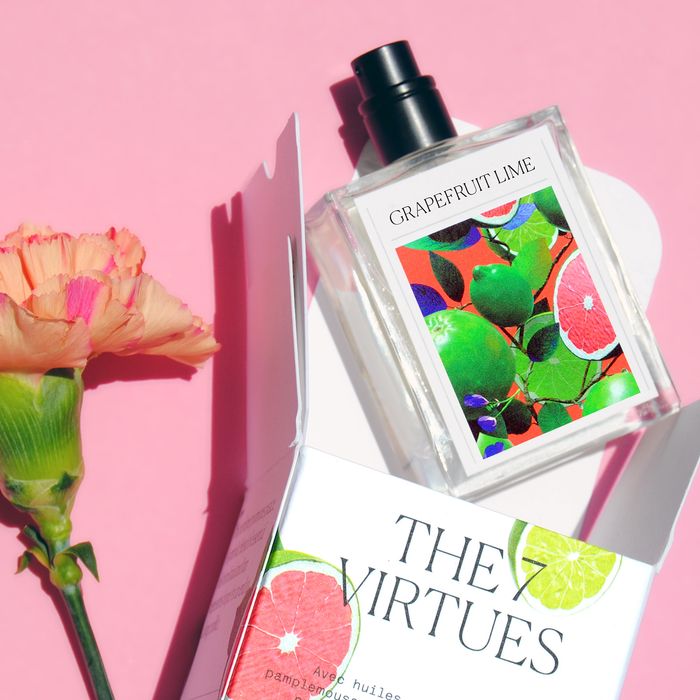 The Grapefruit Lime perfume.
Photo: Courtesy of the Rym Group.
Natural beauty and skin care may have taken off, but natural perfume has a lot to catch up on. There hasn't yet been a hit Drunk Elephant or Tata Harper–type brand to bring natural perfume out of the "hippie" category. But slowly, the Clean at Sephora fragrance section — the area of the store containing products formulated without sulfates, parabens, or anything else Gwyneth Paltrow is afraid of — is expanding. Among the best is The 7 Virtues, a fragrance collection which is now available at Sephora stores in the U.S.
Each 7 Virtues fragrance is fully traceable — call it the Everlane approach to perfume. Founder Barb Stegemann knows that statistics like paying $12,000 USD for one liter of rose oil and using over 150 farmers in Rwanda to grow patchouli paint a larger picture of transparency within the company. Online, each bottle of perfume comes is accompanied by a small blurb describing the communities where their essential oils are sourced from, which ties to how Stegemann became involved with perfume in the first place.
Stegemann "never intended to get into perfume." She started out as a journalist and later an author of a book, The 7 Virtues (sense a theme?) She started her perfume brand in 2009 after reading about a man in Afghanistan, Abdullah Arsala. He was growing orange blossom and rose to provide an alternative for Afghan farmers so they could get out of the illegal poppy trade which produces 70 to 80 percent of the world's opium. Stegemann quickly partnered with Arsala. "I always say if Abdullah had been selling saffron, I would be a spice lady right now," she said. The 7 Virtues perfume line was born and slowly her list of farmers around the globe grew. "It's about my farmers, the story, and you, the buyer," Stegemann told the Cut.
Everything is organic. The alcohol is made from sugar cane and serves as the base of perfume, which Stegemann says helps the perfume last longer. There also isn't an alcohol top note when you immediately spray the perfume. It's then mixed with either natural essential oils from the aforementioned farms or hypoallergenic synthetics and packaged in recycled eco-packaging. While it is important to note that the brand is ethical and transparent, it isn't entirely sustainable. There is some division in the perfume world about whether synthetics are better for the environment than natural oils. Unlike many perfumes, it doesn't include UV inhibitors, formaldehydes, beeswax (which also makes it vegan), and is never tested on animals. PETA loves them, and PETA doesn't love anybody.
The 7 Virtues's other big selling point are its labeling. Yes, the bottles have pretty packaging with a Kinfolk-like vibe, but they also list out all of its ingredients. The Food and Drug Administration does not require companies to list out the exact ingredients in perfume. Their reasoning is so that perfumers don't have to give away trade secrets, but it makes it difficult to tell what you're spraying on your body. The tides may be slowly turning — last year P&G resolved to list their fragrance ingredients and Chopard announced they would work on a sustainable fragrance with consulting firm Eco-Age. The 7 Virtues regulates themselves where the FDA does not (The 7 Virtues is a Canadian company, but the rules regarding ingredient listing are similar).
So why haven't you heard about them before? The 7 Virtues has been around for years, but were recently rebranded by Sephora's Accelerate program just as Stegemann was worried about going out of business. As Stegemann puts it, they ended up with a product that her Gen Z daughter would actually love and wear ("My daughter would not wear my original line, at all"). The new packaging is sleek (much of it is eco-friendly) and their scents are named after two prominent notes in the perfume. For me, their Vanilla Woods and Vetiver Elemi fragrances drew me in, along with the tropical-looking packaging. The scents are more sophisticated than their simple names would suggest and they truly do last all day. They're now available at Sephora stores in the U.S. Embrace the wellness epidemic while smelling good and feeling a little virtuous.
If you buy something through our links, New York may earn an affiliate commission.