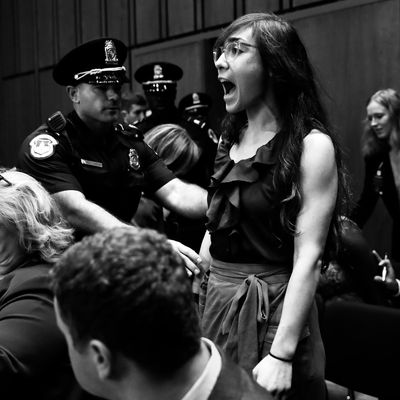 Protester at Brett Kavanaugh's confirmation hearing.
Photo: Jacquelyn Martin/AP
Just 30 minutes into the first day of Brett Kavanaugh's Senate confirmation hearing, the energy in the room was already chaotic, with Capitol Hill police escorting groups of protesters out of the room. By the end of the morning session, the law enforcement agency announced that it had arrested and charged nearly two dozen demonstrators, the majority of whom were women; by the end of the day, the number of arrests had more than tripled.
Early Tuesday morning, leaders from a number of women's and reproductive rights groups lined up to observe Kavanaugh's hearing, as his confirmation would represent a crisis for abortion access, LGBTQ rights, voting rights, and more. Shaunna Thomas, the executive director and co-founder of women's advocacy group UltraViolet, tells the Cut that when she first entered the hearing room with a group of 22 other members of the public, she felt like she was walking in a "funeral procession." She described the room as "very somber" and "quiet in a negative way," though the energy quickly shifted after Muslim activist Linda Sarsour became the first protester to get up from her seat, calling to "adjourn the hearing."
Following Sarsour's move, other protesters — including actress Piper Perabo and #VOTEPROCHOICE co-founder Heidi Sieck — loudly decried the hearing as a "travesty of justice" and demanded that Senators "cancel Brett Kavanaugh" until Capitol Hill police forcibly removed them from the room.
"You cannot confirm someone who does not represent the majority opinion," cried another, referencing Kavanaugh's historically low approval ratings.
At this moment, Thomas says, she realized nearly everyone in the room who wasn't a member of the press or a Senate staffer was there to protest Kavanaugh. "It was a really affirming experience," she told the Cut.
By 11 a.m., Sarsour, Perabo, Sieck, Thomas, and 18 others were arrested and charged with civil disobedience. After she was released, Perabo tweeted, "I cant be silent when someone is nominated to the Supreme Court who would take our equal rights away.
By 5 p.m., NBC News Congressional reporter Frank Thorp tweeted that 70 people had been arrested during the confirmation hearings, 61 of whom were removed from the committee room in the Hart Senate Office Building, and nine of whom were removed from the Dirksen Senate Office Building. All arrests were related to unlawful demonstration charges.
In Thomas's opinion, this type of action is more necessary than ever. In the 10 to 15 years that she has advocated and organized around women's rights, she adds, she considers this moment to be one with the "highest stakes."
"The outcome of this will impact our generation and our children's generation," she told the Cut. "[Kavanaugh] is on the wrong side of the American people, and we know that if we put him on court, he will overturn Roe v. Wade, criminalize abortion, gut the Affordable Care Act, roll back LGBTQ rights, end affirmative action, and chip away at voting rights. There is no community who wouldn't be deeply touched in an incredibly dangerous way."
Tomorrow, many of the women who faced charges will be back in the hearing room, prepared to put their bodies on the line again.
We've also covered day 2 of the Kavanaugh confirmation hearing.