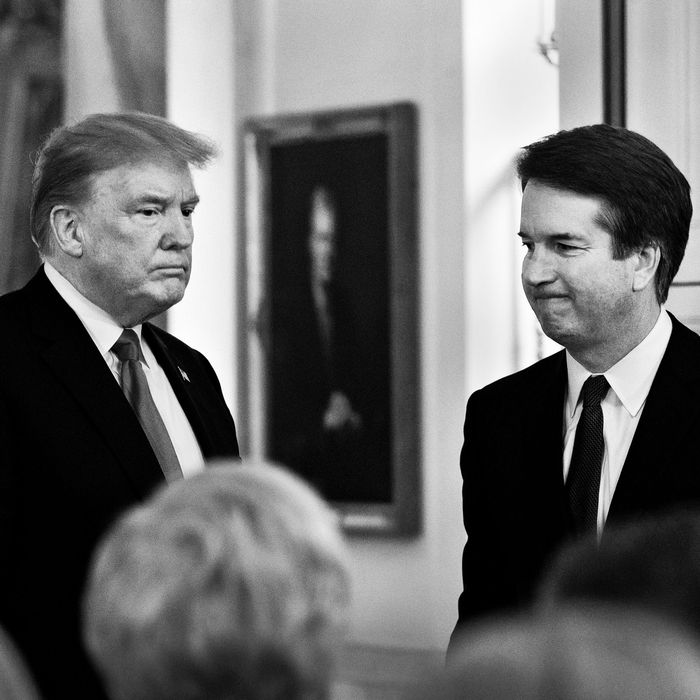 Donald Trump and Brett Kavanaugh.
Photo: Bloomberg/Bloomberg via Getty Images
Eight women who have accused President Donald Trump of sexual assault or harassment released a joint statement in support of Dr. Christine Blasey Ford and Deborah Ramirez, two women who accused Supreme Court nominee Brett Kavanaugh of sexual misconduct.
The women — Lisa Boyne, Rachel Crooks, Samantha Holvey, Jessica Leeds, Melinda McGillivray, Natasha Stoynoff, Temple Taggart, and Karena Virginia — put out the statement through Brave New Films on Wednesday afternoon. "President Trump's attacks on Dr. Christine Blasey Ford and Deborah Ramirez are beyond the pale and utterly lacking credibility," it reads. "We know from personal experience that he is a serial sexual harasser and abuser."
Trump has been accused of, among other things, groping a woman sitting next to him on an airplane, promising a date to a 10-year-old when she's older, groping pageant contestants, and kissing women against their will.
Since Ford publicly came forward with her allegation that Kavanaugh tried to rape her while they were both in high school, Trump has continuously attempted to discredit her. He has also discounted Deborah Ramirez's allegation that Kavanaugh put his penis in her face while they were at a dorm party at Yale.
"Trump has dismissed our claims, lied about his conduct, and attacked us. Now he's painting with the same brush to salvage the Kavanaugh nomination," the statement continues. "It's a standard move from his playbook."
The women behind the statement are calling for a full, independent investigation into Kavanaugh's conduct, and asking senators to not vote on his confirmation until they have the facts. "We believe women, and we believe Dr. Christine Blasey Ford, Debbie Ramirez and [Kavanaugh's third accuser] Julie Swetnick deserve to be heard," it reads.
Ford and Kavanaugh will testify before a Senate Judiciary Committee on Thursday. The next day, the Senate will vote on Kavanaugh's confirmation. At this time, there is no scheduled hearing for Deborah Ramirez or Kavanaugh's third accuser, Julie Swetnick, who alleges that Kavanaugh was in the room while she was gang raped in high school.
Kavanaugh has denied all allegations.