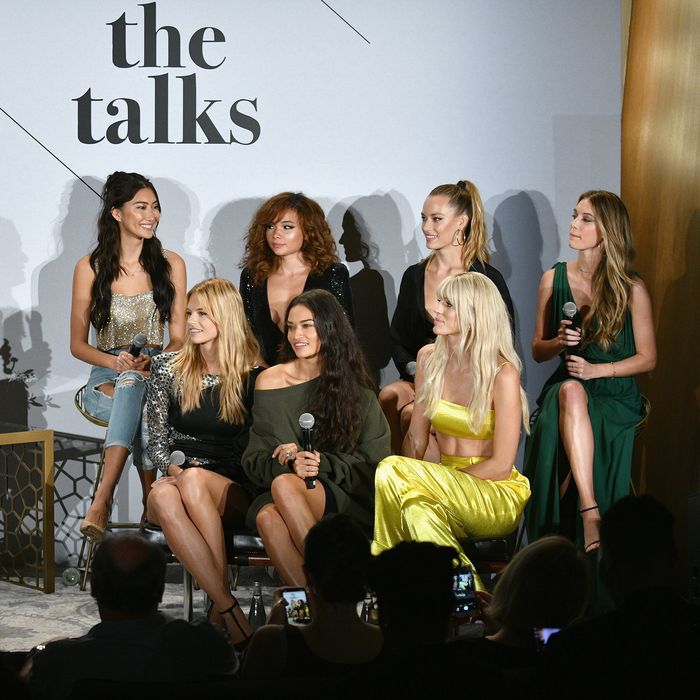 The cast of
Model Squad
at a panel interview moderated by IMG Models vice-president, Lisa Benson.
Photo: Bryan Bedder/Getty Images for IMG
Last night's Model Squad panel was the New York Fashion Week event to attend for those who haven't quite started their careers in the industry. FIT students were among those who braved the wind and rain for a panel interview with the cast of the new E! reality-TV show, which covers the lives and careers of rising talents in modeling.
Cast members present at the panel and screening included Shanina Shaik, Devon Windsor, Ashley Moore, Caroline Lowe, Nadine Leopold, Ping Hue, Hannah Ferguson, and Daniela Braga. The women sat down with IMG Models vice-president Lisa Benson to talk about building their personal brands, solidifying their identities in the industry, and even missing their families. A round of enthusiastic applause accompanied announcement of Shaik's casting in this year's Victoria's Secret Fashion Show, after having been rejected twice before.
"I'm really excited about everything that's happening with my career at the moment," said Shaik, beaming in an interview before the panel. "It gets tricky at times when there's so much rejection. But you've got to keep on pushing through and never give up, and I'm finally starting to see the results of that."
Later, during the panel, Shaik reminisced about getting the phone call confirming her spot in the 2018 Victoria's Secret fashion show. "I had been in makeup for hours and was on set when I was told that I had been booked for the Victoria's Secret Fashion Show. I was so happy, I wanted to cry, but I had to be professional and not ruin the makeup."