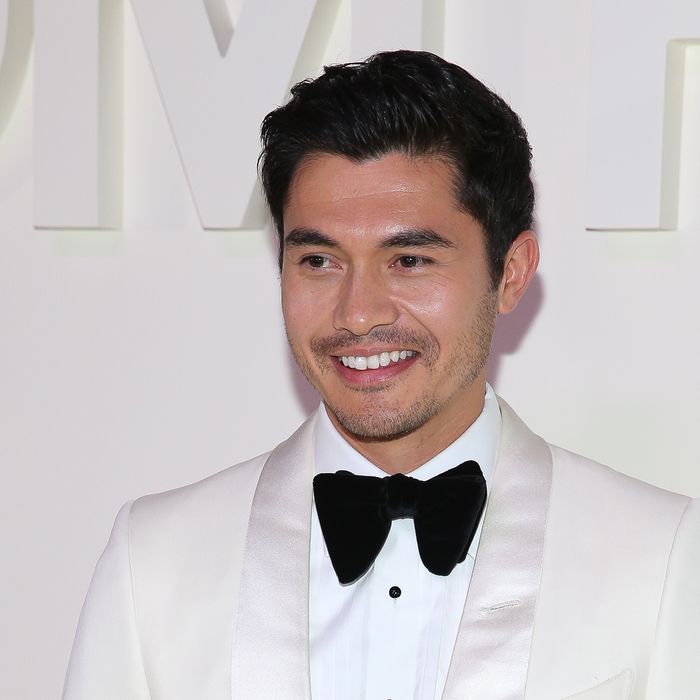 Henry Golding at the Tom Ford fashion show.
Photo: ROB KIM/WireImage
Henry Golding is a gift of a man. Aside from starring in Crazy Rich Asians, his presence on red carpets and at fashion shows has warmed our hearts and fostered a minor obsession with the travel host turned movie star. To facilitate our infatuation, we will be compiling a collection of photos of Henry at various events all throughout New York Fashion Week.
Day One: Henry Golding at Tom Ford
Henry stunned us in an extremely well-fitting tux for the Tom Ford spring 2019 show. He sat front row, between Cardi B and Anna Wintour. One can only wonder what the small talk was like, and maybe give endless thanks to Henry's tailor.
Day Three: Henry Golding at Ralph Lauren
Henry really left us hanging on day two of NYFW, neglecting to be photographed at any of Thursday's shows; not even John Elliott's sweaty skatepark show. Thank goodness he was on the guest list for Ralph Lauren's fabulous 50th-anniversary runway show, and that he decided to wear another insanely well-fitted suit.
Day Four: Henry Golding at Prada
The consistency of Henry showing up at two events in a row feels blessed. He stepped out at Prada's very hypebeast party on Saturday, accompanied by his wife Liv Lo. He ditched the suit this time around and instead opted for a blazer, slacks, and a color-blocked pullover. Thanks for making it out, Henry!
Day Five: Henry Golding at Boss
The Henry sightings keep coming. Yesterday, he graced us with two front row appearances at Prabal Gurung, where he was reunited with his Crazy Rich Asians co-stars Gemma Chan and Awkwafina, and Boss shows. He posted two photos from the latter this morning, including a slideshow with his wife, Liv Lo. He also promised in his caption that the "blush pink trousers" were on his "hit list!" Fingers crossed.