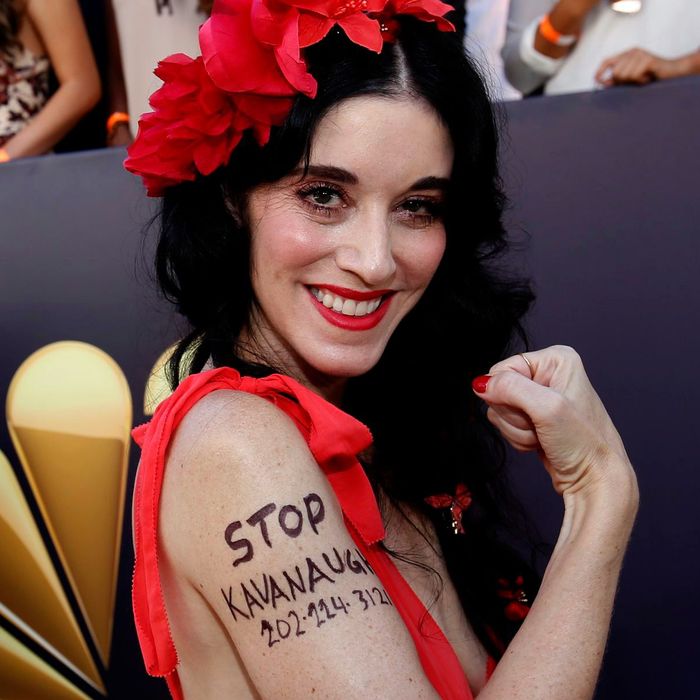 Sarah Sophie Flicker.
Photo: Eric Jamison/Invision/AP/REX/Shutterstock
From clumsy #MeToo jokes to a self-congratulatory intro skit on Hollywood's diversity, hosts Colin Jost and Michael Che made an attempt to bring politics to the Emmys stage Monday night. But it was women who made the more powerful statements, with Rachel Brosnahan urging everyone to vote in her acceptance speech; Jennifer Lewis wearing head-to-toe Nike to support Colin Kaepernick's activism; and Sarah Sophie Flicker, an activist who is married to Glow director Jesse Peretz, writing "Stop Kavanaugh" on her arm — hours after a swirling sexual-assault allegation prompted the Supreme Court Justice nominee and his accuser to agree to testify before the Senate next week.
Flicker, who helped organize the Women's March, paired the message with a red gown, flower headdress, and matching red lipstick — as well as the phone number of the Capitol switchboard, written below. On Instagram, she encouraged people to call their senators, and to believe Christine Blasey Ford, the woman who came forward with her allegation that Brett Kavanaugh sexually assaulted her in high school, and will testify before Congress.
"For the Senate Judiciary Committee to move forward with a vote to confirm Brett Kavanaugh this week, without pausing for a thorough investigation of the allegations of sexual violence, would be a gross injustice and an insult to women," Flicker wrote in an Instagram caption. "Stop the vote."