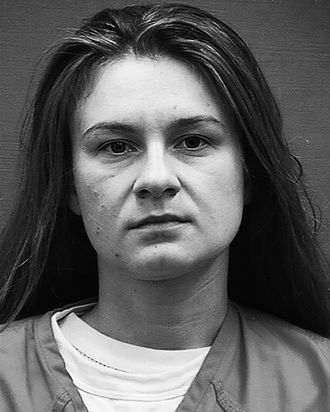 Maria Butina.
Photo: Alexandria Sheriff's Office/Getty Images
When 29-year-old Maria Butina was arrested and charged with "conspiracy to act as an agent of the Russian Federation" this summer, prosecutors also claimed that she traded sex for power. But in a new court filing, prosecutors say they made a mistake about that last part — turns out, they misinterpreted a joke she texted a friend as an attempt to use sex to infiltrate Republican politics.
As the New York Times reports, prosecutors in the U.S. Attorney's office made the admission in a court filing late Friday. Apparently, they were "mistaken" in taking literally some joking text messages between Butina and a pal who helped her renew her car insurance.
Butina has been in federal custody since July, after the Justice Department accused her of working as an unregistered Russian agent in the U.S. for several years. Among other things, Butina — who has close ties to the NRA — has been accused of infiltrating gun and religious groups, as well as helping with two efforts (that ultimately failed) to broker meetings between Donald Trump and Vladimir Putin of Russia in 2016.
Prosecutors had also accused Butina of trading sex for "a position with a special interest organization." The Washington Post reported back in August that Butina's attorney, Robert Driscoll, slammed the allegations as a "sexist smear." According to Driscoll, prosecutors had simply taken literally joking text messages between Butina and a longtime friend.
A bond hearing for Butina is scheduled for Monday. Yet, prosecutors argued in the Friday filing that despite the error, Butina should not be released from federal custody — nor should she be permitted to be released on bail. The Times reports that prosecutors are arguing that if she is released, Butina will likely flee the country, as her alleged work as a Russian operative has only become more apparent since her arrest. (Russian officials have visited her at least six times in jail, and the Russian foreign minister has reportedly complained about her prosecution twice to the State Department.)