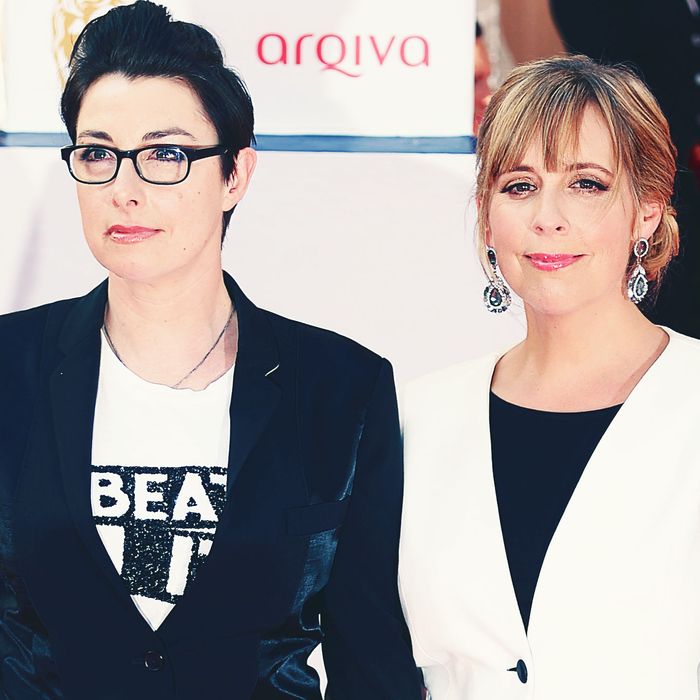 Sue Perkins and Mel Giedroyc.
Photo: Dominic Lipinski - PA Images/Getty Images
When beloved presenters Sue Perkins and Mel Giedroyc made the somber announcement in September 2016 that they were leaving the Great British Bake Off, fans were left reeling. "I imagine the fallout from this will be worse than Brexit," one journalist joked on Twitter. Writer Jess Zimmerman, who mourned the departure of the show's "kooky, filthy-punning, daffy-aunt hosts," published an Eater essay under the headline, "What We Lose When We Lose Mel and Sue." And while Bake Off may never be the same, fans of the comedic due need not despair any longer — Mel and Sue are coming back, but this time, in their own sitcom.
British magazine Radio Times reports that come 2019, Mel and Sue will star in Sky One's comedy TV show Hitmen, where they will play two best friends who stumble into the field of contract killing. While Mel, who plays Jamie, is described as an "affable goof," Sue, who plays Fran, is much more sensitive, and frequently ponders whether she was destined to be a hitman. As the pair embarks on every ensuing mission in their beat-up van, their incompetence and nonstop bickering will increasingly derail their plans, leaving them to wonder, Will our friendship survive? Will we ever again taste a classic Victoria sponge cake, or a perfectly crisp stroopwafel?
After telling countless puns about soggy bottoms and burnt caramel for seven seasons of Great British Bake Off, Mel and Sue decided to leave the show when it was announced that it would no longer air on BBC, and would instead air on Channel 4. "We're not going with the dough," they revealed in a statement from September 2016, in which they stressed they wished to remain with their Bake Off family.
"We made no secret of our desire for the show to remain where it was," the statement continued. "The BBC nurtured the show from its infancy and helped give it its distinctive warmth and charm, growing it from an audience of two million to nearly 15 at its peak. We've had the most amazing time on Bake Off, and have loved seeing it rise and rise like a pair of yeasted Latvian baps."
Thankfully, Mel and Sue are coming back. Speaking of her upcoming role, Sue said she's "delighted to be part of this project," and that she "can't wait to sit for months on end in a hot van with [her] old, flatulent, double act partner." Mel, similarly, is looking forward to reuniting on-screen with her second-half.
"It's thirty years ago that I met Sue Perkins, and we had happy times together playing ridiculous characters, then spent hours in a fetid van in order to release them around the country," she said, per Deadline. "Essentially nothing has changed in the Mel/Sue collective. And that's a great comfort."