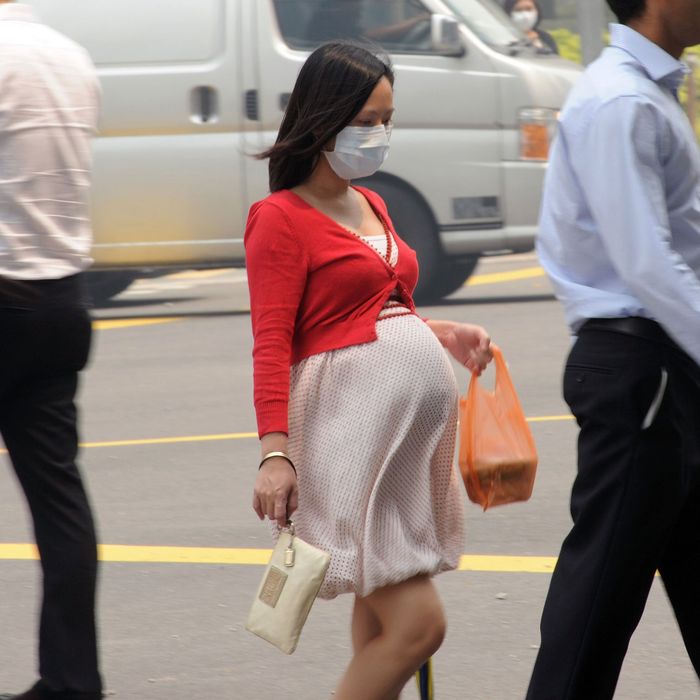 Photo: Roslan Rahman/AFP/Getty Images
While the health risks associated with air pollution are well established, the question of whether or not the human fetus can be negatively affected by pollution has remained open — until now, according to the authors of a new study presented at the European Respiratory Society International Congress in Paris.
The study, led by Dr. Norrice Liu, a pediatrician and clinical research fellow at Queen Mary University in London, examined the placenta of five pregnant British women who consented to the experiment. Researchers found "sooty particles" in each subject's placenta, suggesting that pollution was ingested by the mother's lungs and then transmitted to the placenta. Liu also said that while the study does not prove that the particles they found can (or will) can move through the placenta to the fetus, it's certainly possible — and even if they can't, they still have an adverse effect via the placenta, which connects the mother to the fetus.
All five of the women subjects gave birth by planned cesarean section, and all gave birth to healthy babies after uncomplicated pregnancies. And obviously, five women is not many — a study that relies on pregnant women to submit to additional testing is perhaps necessarily self-limiting. But researchers argue that even these five cases constitute a landmark finding likely to influence the direction of future research.
Dr. Lisa Miyashita, another of the study's authors, says air pollution has previously been correlated with early birth and low birth weight, both of which can affect babies well after their birth. For that reason alone, Professor Mina Gaga, the President of the European Respiratory Society, said of the study: "This new research suggests a possible mechanism of how babies are affected by pollution while being theoretically protected in the womb. This should raise awareness amongst clinicians and the public regarding the harmful effects of air pollution in pregnant women."
Last year, UNICEF published a report which concluded that nearly 17 million babies under the age of one live in areas "where pollution is at least six times higher than international limits."