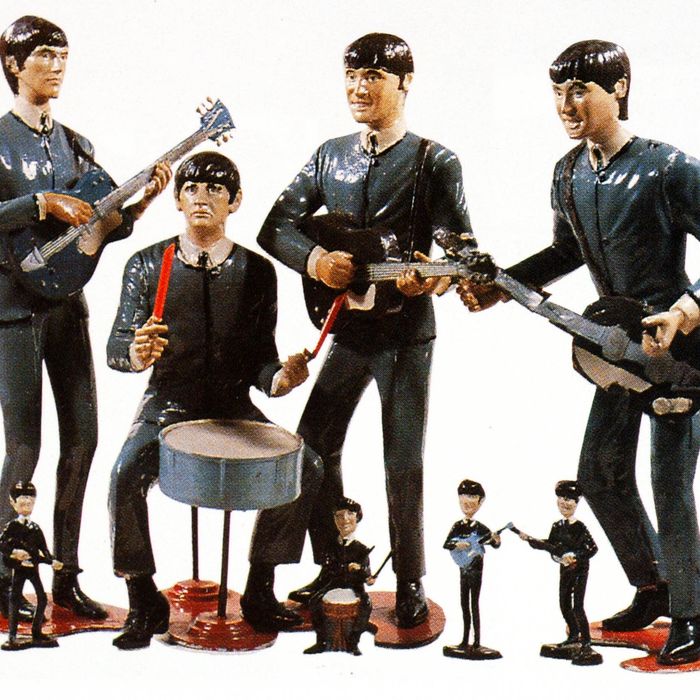 Photo: GAB Archive/Redferns/Getty Images
As I'm sure you've heard, the Beatles masturbated together. The fact is with us now and will be with us forever from this moment on. In the future we will think of this not immediately upon hearing the Beatles (the first thought will remain "this song is a Beatles song"), but close to it ("this song is a Beatles song — they masturbated together"). Paul McCartney revealed the anecdote (handecdote) in a GQ profile published this week, saying, in part, "We were all just in these chairs, and the lights were out, and somebody started masturbating, so we all did."
The reliably horrible New York Post seized on this story today for an, admittedly, terrific headline: "BEAT THE MEATLES." Writer Emily Gould tweeted a great point, and a great idea, regarding this great headline.
Yes, it's true. Many tweeted Beatles masturbation puns in response:
Amazing. Of course, we at the Cut also want to write Beatles masturbation puns, and so we have. Here are the ones we could "come" (semen come) up with this afternoon, some admittedly better than others and many not "puns" by the strict definition of pun but instead parentheticals added onto song titles in order to make them dirty.
Pull MyPartme
Me Please Me
"And in the end, the love you take is equal to the love you yank."
"Here Comes the Come"
"Twist and Shout"
"I Want to Hold My Penis"
"We Can Jerk it Out"
"I Feel Mine"
"Elanore Tug-me"
"All You Need Is Self-Love"
"Hello Good-bye (Me Talking to My Penis)"
"Love Me Do"
I Don't Need Help!
Beat-le-me-nia
"Malehand, Bring Me Yes More Ooze"
"Eight Yanks a Week"
Rubmy Troll
"'Til There Was Goo"
"Come and Pull It, Not In That Order"
"I Like Me Too Much"
"Don't Bother Me (I'm Masturbating)"
"Tug It"
"Hold Me Tight"
"I Call My Penis 'Long Tall Sally'"
"Jerk Off Time (Is Here Again)"
"Tug King"
"All Together Now"
"Yank Me, You're a Rich Hand"
"Meatchelle"
"Two of Us (Me and My Hand)"
"Sexy Yankmie"
"Sgt. Pepper's Lonely Hearts Club Hand"
"Tug a Bone-Me"
"P.S. I Love You (Me Talking to My Penis)"
"What Bones On"
"I Wanna Be My Hand"
"Masturbating (That's What I Want)"
"I'm Happy Just to Dance With Me"
"I Don't Need Someone"
"Dong, Dong, Dong"
"Why Don't We Do It Just in These Chairs, and the Lights Were Out, and Somebody Started Masturbating, So We All Did"
"Do You Want to Know a Secret About the Beatles — It's That They Masturbated Together"
"You Really Got a Hold on Pe(nis)"
"Yeswhere Hand"
"I'm Only Sleeping — Don't Come In!"
"My Come Is Here, There, and Everywhere"
"She's Leaving Bone"
"Whacksman"
"The Long and Winding Bone"
"I Want Me (Me's So Heavy)"
"Paperback Yanker"
"NorMEgian Wood"
Thanks! Let us know if we missed any!