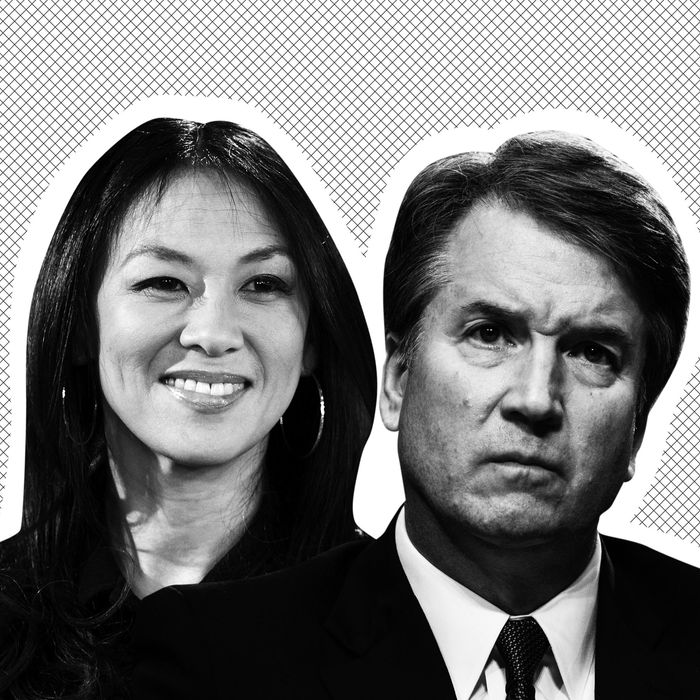 Amy Chua and Brett Kavanaugh.
Photo: Getty Images
The Yale professor who praised Brett Kavanaugh as an outstanding mentor to women also told her female students that if they wanted to clerk for the SCOTUS nominee, they should give off a "model-like" femininity, The Guardian reports.
Source say that Yale professor Amy Chua, who is best-known for her parenting book Battle Hymn of the Tiger Mother, had a reputation for advising her female law students to dress a certain way when they were interviewing with Kavanaugh in order to improve their chances of winning a post in his chambers.
Per one source, Chua privately told a group of law students in 2017 that it was "not an accident" that all of the SCOTUS nominee's female clerks "looked like models." Another source said that there was at least one student who had decided not to pursue working for Kavanaugh because she was so disgusted by Chua's advice regarding physical appearance, and all that Chua's suggestions implied. It was especially disheartening to students, sources said, that Chua played a major role in vetting Kavanaugh's prospective clerks.
But she apparently wasn't the only Yale professor directing her students' attention to Kavanaugh's female clerks. Jed Rubenfeld, another powerful professor at Yale who is married to Chua — and whose conduct with female law students is currently under investigation at Yale — allegedly told one of his students that Kavanaugh liked the women who worked for him to have a certain "look."
"He told me, 'You should know that Judge Kavanaugh hires women with a certain look,'" one woman who was a prospective clerk told The Guardian. "He did not say what the look was, and I did not ask."
The Guardian report comes in the wake of Christine Blasey Ford's sexual-assault allegation against Kavanaugh. She says that Kavanaugh held her down and attempted to rape her when they were in high school in the 1980s. (Kavanaugh "categorically and unequivocally" denies the accusation.) Democrats and Ford have called for an internal FBI investigation into these claims, while Chairman of the Senate Judiciary Committee Chuck Grassley wants to rush to a hearing.
However, sources told The Guardian that they weren't ready to jump to the conclusion that Kavanaugh had instructed Chua and Rubenfeld to send him attractive clerks; instead, they believed it to be entirely possible that "they were making observations but not following edicts from him."
"I have no reason to believe he was saying, 'Send me the pretty ones', but rather that he was reporting back and saying, 'I really like so and so', and the way he described them led them to form certain conclusions," one law student told the publication.
In a statement to The Guardian, Chua countered the report, saying that "for the more than 10 years" that she has known Kavanaugh, his "only litmus test in hiring has been excellence."
"There is good reason so many of them have gone on to supreme court clerkships; he only hires those who are extraordinarily qualified," she continued before referencing her glowing op-ed about Kavanaugh that was published in July. "As I wrote in the Wall Street Journal, he has also been an exceptional mentor to his female clerks and a champion of their careers. Among my proudest moments as a parent was the day I learned our daughter would join those ranks."
A law-school official said in an emailed statement the university is looking into the claims against Chua's alleged conduct, claiming the university did not know until now.
"If true, this advice is clearly unacceptable," they wrote.
Yale Law School Dean Heather Gerken also sent an email to the law school community, writing that the reports about Chua and Rubenfeld's alleged behavior are "of enormous concern to me and to the School."
The email continued: "While we cannot comment on individual complaints or investigations, the Law School and the University thoroughly investigate all complaints regarding violations of University rules and take no options off the table."
This post has been updated.