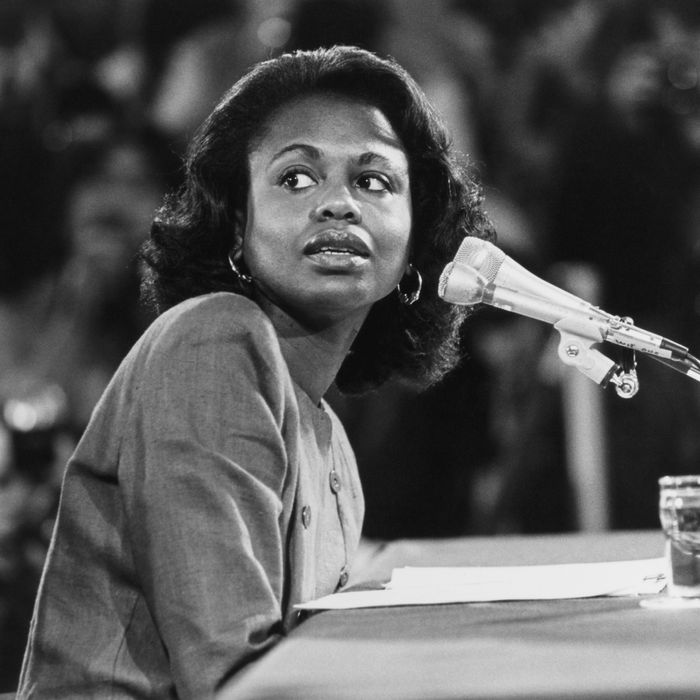 Anita Hill.
Photo: Laura Patterson/CQ Roll Call via Getty Images
In 1991, Anita Hill testified before the Senate Judiciary Committee that her former boss, then–Supreme Court nominee Clarence Thomas, had subjected her to repeated sexual harassment. During the hearings, she was subjected to degrading questions and personal attacks; used as a political pawn as the committee's senators, one by one, attempted to humiliate her. Now, in an op-ed in the New York Times, Hill warns that the same could happen in the upcoming Brett Kavanaugh hearing — and provides a framework to keep history from repeating itself.
Kavanaugh, President Donald Trump's pick for the Supreme Court, has been accused of sexually assaulting Palo Alto University professor Christine Blasey Ford at a party when they were both in high school. Kavanaugh has denied the allegations, and both he and Ford have agreed to testify before the Senate. A hearing is now scheduled for Monday.
In the Times, Hill writes that with Ford, the Senate Judiciary Committee has the chance to do a better job than it did when she testified, even though some of the current members also presided over her testimony back in'$2 91. "Today, the public expects better from our government than we got in 1991, when our representatives performed in ways that gave employers permission to mishandle workplace harassment complaints throughout the following decades," she writes.
The committee, Hill explains, still lacks a protocol for properly handling sexual harassment and assault claims that pop up during confirmation hearings, which she says suggests it hasn't learned much since the Thomas hearing. She goes on to provide the committee with some basic ground rules to follow, including:
• not pitting the public interest in confronting such allegations against the need for a fair hearing;
• selecting a neutral investigative body to look into the allegation;
• not rushing the process;
• and actually calling Christine Blasey Ford by her name, rather than referring to her simply as Kavanaugh's accuser.
Hill also writes of the difficulty Ford will face testifying about her assault allegation on national television, and that she will be "outresourced" while testifying in front of the committee. Read the full op-ed here.