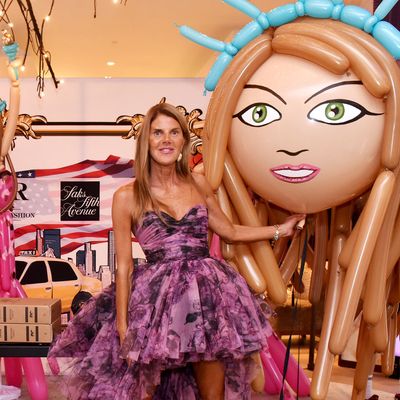 Anna dello Russo.
Photo: Sean Zanni/Getty Images for Saks Fifth Aven
Anna Dello Russo is the original street-style star. Back when everyone wore their normal clothes to fashion shows, the Vogue Japan editor-at-large was wearing ballgowns and ripped-from-the-runway looks. Now though, she thinks it's time for fashion to move on. Last night, at a party with Saks Fifth Avenue celebrating the launch of her children's fashion book, AdR: Beyond Fashion, she told the Cut, "Part of street style is still very strong …. But everything has to be rescripted, you know?"
She elaborated, "Now is a rare moment. After 50 years of Ralph Lauren, a new year is coming. Now with Virgil at [Louis] Vuitton and all these new communicators, it's a new era. Street style will be redundant. It will be reset in a certain way. I wish I could be reborn and redo my career, because everything will be changing."
This pro-change mindset is clear in her book, which she describes as a "magic box" that introduces fashion to children via pop-ups and faux magazines. In one of the ten mini-books included in the box, fashion editor Simone Marchetti explains that Dello Russo believes in fashion that's focused on the new, rather than some eternal notion of good taste. "Style is here to stay, whereas Anna is interested in what passes, what passes in the most beautiful, sublime, and marvelous way … Anna knows you can't stop fashion." It's another thing that makes Dello Russo an outlier in the industry; many others, most notably Coco Chanel, say they're driven by style rather than fashion.
Last night's party, held in Nolita, featured a host of Dello Russo's friends, including Jeremy Scott, Joan Smalls, Irina Shayk, and Saks fashion director Roopal Patel. A whole cohort of young models Juuled throughout the dinner, signaling one way times have changed: smoke breaks are now obsolete.