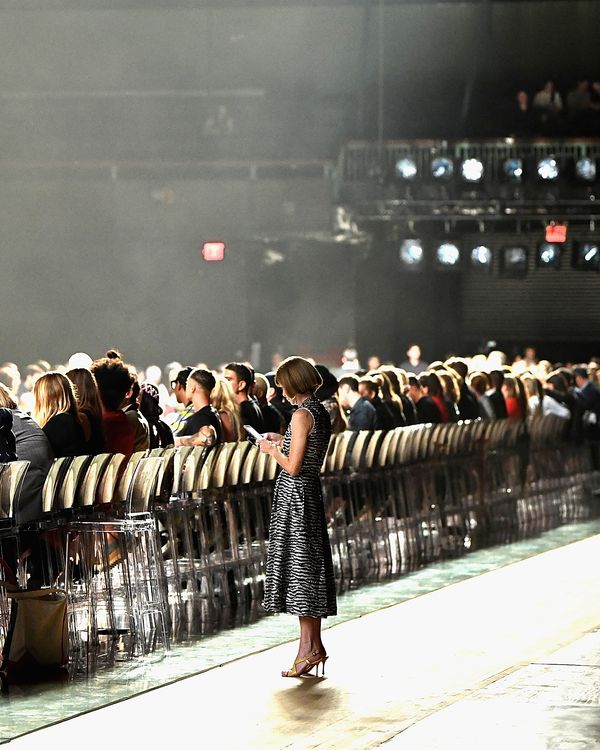 Anna Wintour at Marc Jacobs Spring 2019.
Photo: Dimitrios Kambouris/Getty Images
Legend has it that years ago, Marc Jacobs made Anna Wintour wait over an hour, maybe even two. She walked out of his show at New York Fashion Week, and the designer never ran late again. Not even by a minute.
On Wednesday evening at the Park Avenue Armory, where Marc Jacobs was scheduled to show his spring 2019 collection at 6:00 p.m., fashion waited. Nicki Minaj waited. And then everyone waited some more. The show was running over an hour late, with no explanation other than the sewing machines seen being carried in at the time the show was originally supposed to start.
As the finale of New York Fashion Week, Jacobs's show is always one of the most anticipated. Which is why attendees sat in a tense (but still respectful) silence, whispering about what could possibly be happening backstage, and sharing stories of their favorite Marc Jacobs shows of yore.
An hour in, Anna Wintour got up from her seat, causing people to gossip that she had given up and left. She didn't fully exit, though. Instead she paced like a lioness, talking on her cell phone in the cavernous dark space behind the lucite chairs lined up for more patient guests.
Eventually, certain editors with flights to catch had to leave. And then, at approximately 7:25 p.m., surely to the relief of Marc Jacobs public relations, Wintour took her seat again. The lights went down.
When they went up again, models in cotton-candy gowns took the runway as a Phillip Glass symphony echoed throughout the space. It was impossible not to smile. Fashion week may have ended a little later than usual this season, but beautiful clothes are always worth the wait.
Update: Marc Jacobs posted the below statement on his personal Instagram Thursday night.