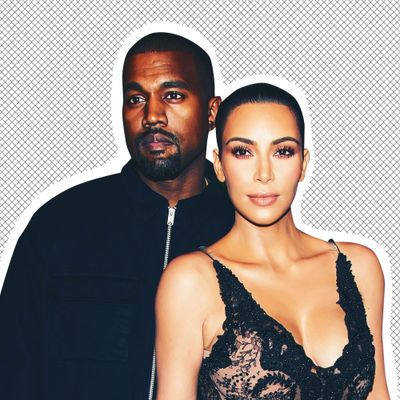 Over the course of the past week, Kanye West has made several comments about his plans for the future, which apparently include moving back to his hometown of Chicago. What does his wife of four years, Kim Kardashian, think about that? Sources close to Kardashian with contacts at People magazine will tell you!
According to People, Kardashian (a) doesn't believe West will really move, and (b) doesn't care too much if he does. When he first announced his plan to return to Chicago at an event there with Chance the Rapper last week, People quickly reported that Kardashian has no plans to move herself. "Kim plans on spending more time in Chicago, but she isn't moving there full-time," a source told the tabloid. "She thinks it's best for the kids to continue their schedule in L.A. North is in school and everything is working great. Kim doesn't think a permanent move to Chicago benefits the kids."
A day later, another source (or perhaps the same Kardashian publicist) told People that Kardashian thinks West will eventually reconsider the move. "He changes his mind like he changes his underwear," the source said.
And then, over the weekend, a source told People that West's plans are "overwhelming" to Kardashian, and that she thinks a "long-distance" marriage will be the best way to handle everything. "She doesn't necessarily love when people now keep asking her if she is moving to Chicago and she has to explain to everyone what's going on. It can be exhausting," the source said. "When it comes to their living situation, Kim and Kanye have had a long-distance marriage in the past. She isn't concerned about this … Kim has help when she is alone with the kids. She is amazing at balancing her family's needs with her career. If Kanye starts spending more time in Chicago, she will manage."
So that's three People stories in the span of week that all say the same thing: Kim Kardashian is over it. Of course, every time West makes the news for behaving erratically, the tabloids report that Kardashian is planning on getting a divorce. This time, however, it seems that Kardashian might be more serious about splitting up, or, uh, doing "long-distance." What have you heard?
In happier celebrity relationship news, Chris Pratt and Katherine Schwarzenegger are totally getting engaged. Here's the latest from a source who talked to People: "It's only been a few months but Chris and Katherine are both very serious about the relationship and their friends wouldn't be surprised if they got engaged sooner rather than later. Katherine has spent time with Chris's family and they all love her too. She fits in really well with them and vice versa."
This definitely seems to be coming from a Schwarzenegger source. But given how many pap strolls Schwarzenegger and Pratt have been doing lately (often with Pratt's six-year-old son, Jack), I do think Pratt will propose before the end of the year. They'll get engaged at Christmas and have the wedding next summer on his farm. Cool Pentecostal pastor Chad Veach will officiate!
Here's an interesting tidbit from Page Six: Al Pacino, 78, has a new girlfriend. Her name is Meital Dohan, she's an Israeli actress, and she's exactly half his age (39). Until recently, Pacino was dating Lucila Sola, 42, an actress and the mother of Cami Morrone, 21, who is currently dating Leo DiCaprio, 43. All of this adds up to … hmm. Maybe not great news for Morrone?
Morrone and DiCaprio met through Pacino, and their relationship has been a bit more serious than DiCaprio's last few because of the family connection. At the end of August, Us Weekly exclusively reported that DiCaprio was thinking about proposing to Morrone. I don't think that's true, but the quotes made it seem like that's what Morrone wants. A source said that she is totally ready to have DiCaprio's babies, and that "she wants to get married to him first. She's very traditional in that way."
Does DiCaprio want any of that? And will he be as serious about his relationship with Morrone now that her mother is no longer involved with his mentor, Pacino? We shall see. DiCaprio and Morrone haven't done a pap stroll since Us Weekly's story came out, but they did go to Beyoncé and Jay-Z's show at the Rose Bowl this past weekend. DiCaprio wore a hat and a hood and did not hold Morrone's hand on the way in.
One small blessing from this week:
Michelle Williams went shopping for antiques in upstate New York with her new husband, Phil Elverum. They look so happy!
Finally, I'll leave you with this photo of a nine-months-pregnant Hilary Duff shopping in L.A. I hope you all find some time for yourselves this week.
Thanks so much for gossiping. Don't forget to email me at allie.jones@nymag.com, send me a message on Twitter, or contact me on Signal, if you'd like to chat.