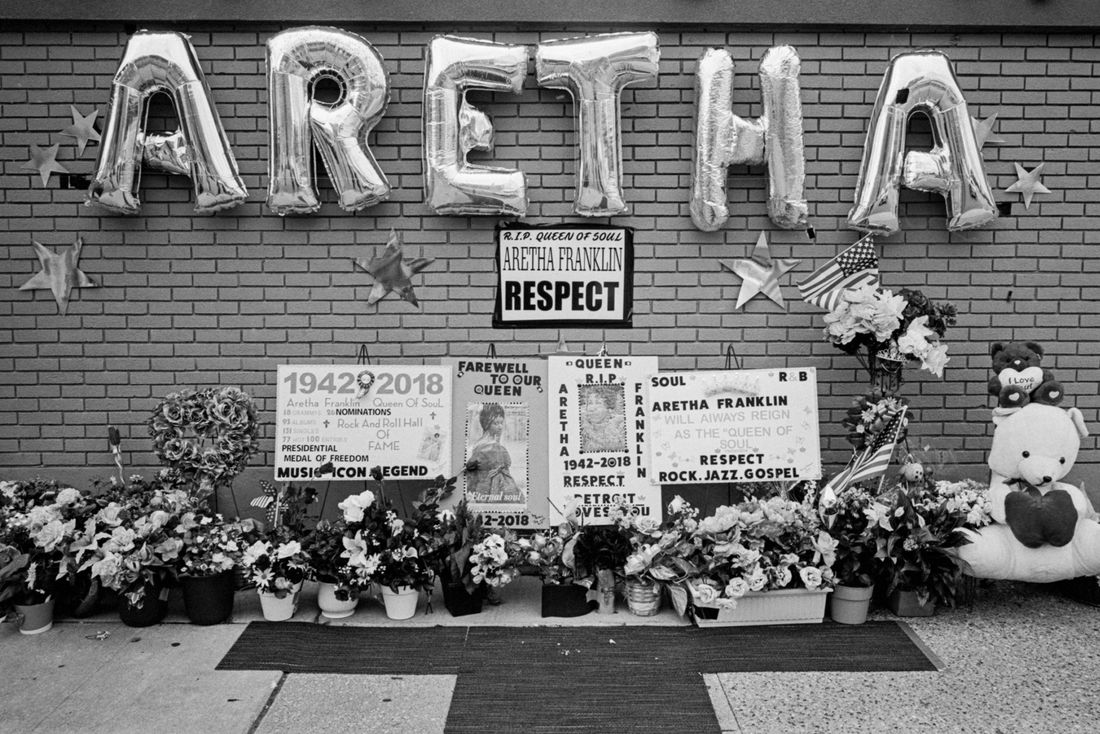 Display and fan flowers at the front of New Bethel Baptist Church, where Aretha's father previously served as pastor.
Photo: Andre D. Wagner
Aretha Franklin knew how to demand respect, and her funeral in Detroit was no exception. After a week of commemorations celebrating her legacy, she was laid to rest on Friday in a gold coffin at the Charles H. Wright Museum of African American History — dressed in a floor-length gold dress and gold sequined heels to match. Her funeral at the Greater Grace Temple brought over 100 pink Cadillacs and a world of loyal devotees to the streets of Detroit, lining up to pay their proper respects.
The Cut sent photographer Andre D. Wagner to capture the emotion. "The native Detroiters are just so proud of her legacy, the way she held down Detroit and never forgot her roots," he said. "Everywhere you looked, even outside the funeral, at the hotel or at a restaurant, she was the talk of the town."
Franklin's undying presence in the city is evident in Wagner's black-and-white photos of people proudly wearing her face on their earrings and T-shirts, and others painting murals that say, "Rest in Respect." While the tears rolled, the energy remained upbeat, Wagner said. He stumbled upon a shrine for Franklin, complete with flowers, teddy bears, and giant silver balloons that spelled out ARETHA. The photo — a fusion of local pride and relentless glamour — is pure Aretha. She wouldn't have had it any other way.