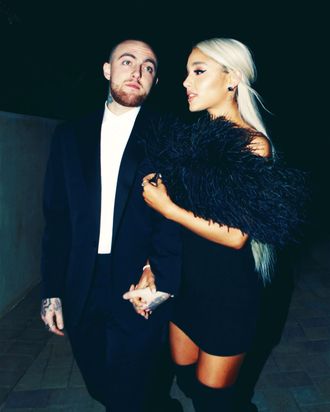 Photo: GC Images/GC Images
Without saying a word, Ariana Grande memorialized Mac Miller. On Saturday evening, she posted a photo of the late rapper to Instagram without any caption. The wordless tribute reads as particularly moving, given the online harassment Grande has faced in the hours after his death. She received death threats and many blamed her for Mac's death.
The harassment is not new. Following the Pittsburgh rapper's DUI in May, Grande received similar online hate. She responded then by pointing out the misogyny of blaming a woman for a man's substance abuse issues.
The photo Ariana posted was a simple black and white shot. They broke up earlier in the year, though Ariana has said in the past that he would always be one of her "best friends."