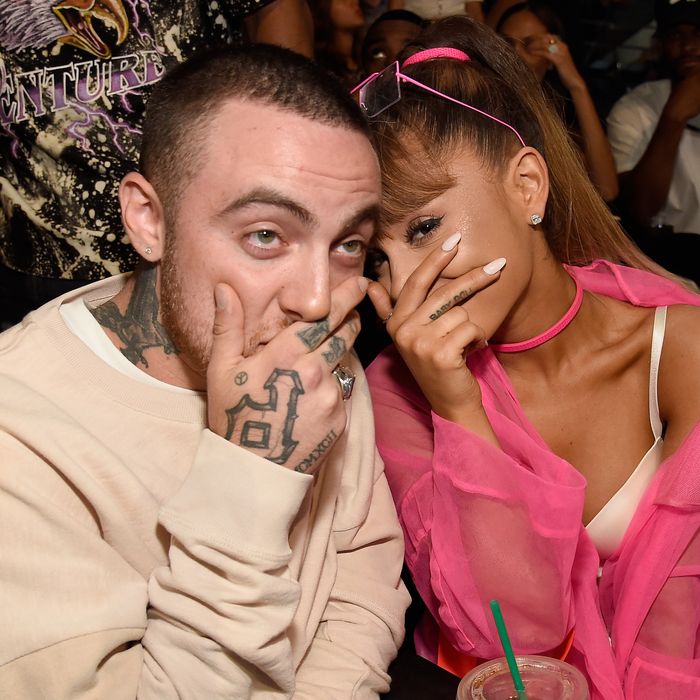 Mac Miller and Ariana Grande at the 2016 MTV VMAs.
Photo: Kevin Mazur/WireImage
Hours after 26 year-old rapper Mac Miller was found dead on Friday afternoon, internet trolls started harassing his ex-girlfriend Ariana Grande.
Vitriolic comments flooded her Instagram account, and her comment section was turned off within a few hours of the news. Miller fans appeared to go after the singer, blaming her for his death. Similar comments, including death threats, appeared on Twitter.
Mac Miller and Ariana Grande broke up earlier this year, but the singer expressed that she had unconditional love for the Pittsburgh rapper. She posted to her Instagram stories after the breakup that he was still a "best friend" and that she wanted to "know him forever."
This is not the first time Mac Miller fans have gone after Grande. When Mac Miller was in a car accident and charged with a DUI in the spring, a similar wave of hate was directed toward her. She responded to all the comments with note rebuking all of the misogynistic posts.
"I have cared for him and tried to support his sobriety," she wrote. "Of course I didn't share how hard or scary it was while it was happening, but it was. I will continue to pray from the bottom of my heart that he figures it all out and that any woman in this position does as well."
Others online were quick to point out that it was sexist, cruel, and unfair to blame Ariana for Mac Miller's substance abuse issues or his death.
Miller died of a suspected drug overdose, and struggled with substance abuse issues for years, long before he was involved with Grande.
If you or someone you know is struggling with addiction, please call the Substance Abuse and Mental Health Administration's 24/7 National Helpline at 1-800-662-HELP.