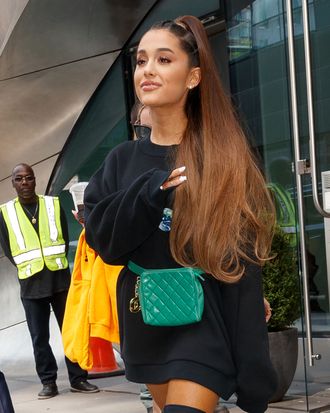 Ariana Grande.
Photo: Jackson Lee/GC Images
Ariana Grande has a new pet! Maybe. And not just a dog or a cat, which are the more common options. She got a pig. Maybe.
She posted photos and videos of the little guy to her Instagram story on Saturday night. The baby pig looks like it could easily fit into two hands.
The snippets of video show the little pig snuggled up in Ariana's neck, at one point making munching sounds.
The photo that Ari posted to her Instagram story showed the baby pig sleeping on Pete Davidson's lap. In terms of cuteness, this ranks extremely high.
Again, there's no telling if they actually own the pig or it's on loan or they're babysitting the pig, but it does seem like a splendid and joyous addition to the Grande-Davidson household.